When a stock reaches a record high, as Lululemon Athletica (NASDAQ:LULU) has, it draws the attention of bulls and bears alike. The bullish case for LULU is well documented - the company has grown at an incredible rate over the past several years, has exceptional margins, has a customer base loyal to its products and still has significant future growth potential. To justify investing in LULU now at 55 times earnings, however, one would have to completely buy into that story, and then some. A bull might also perceive the stock's recent surge as momentum and attempt to parlay that into profit. Investors, who are less likely to make the connection between momentum and value, will be more concerned with the actual business; and, there are two serious issues facing LULU's growth potential -which is essential to the companies' success- that make this stock a sell.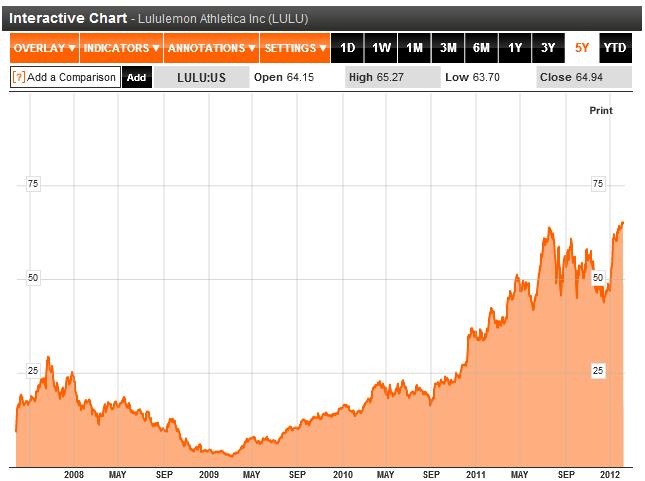 Source: Bloomberg
Brand Loyalty is a Charade
Many investors cite LULU's brand loyalty as reasoning to buy the stock; however, this perceived loyalty is hollow and could easily disappear. Women are seemingly addicted to their products, but there have not been any real alternatives that compare in terms of style and comfort. The fact of the matter is that there are significant players in the retail industry, such as Nike (NYSE:NKE), Gap (NYSE:GPS) and Under Armour (NYSE:UA), who are beginning to understand the popularity and success of LULU's products. This inevitable increase in competition will certainly have a negative impact on the companies' profits as either they will lose market share or be forced into lowering prices. This lack of competitive advantage makes the company extremely vulnerable. In the very near-term, LULU is still a preferred outlet for many looking to buy premium athletic clothing, but that has the potential to change quickly. Aside from that, there are no significant barriers to entry for a rival company.
Growth Opportunities Limited to North America
LULU may have additional opportunities for North American expansion, and indeed, this is the companies' primary focus; but, international opportunities are limited. Aside from the obvious issues associated with entering a new international market, there is one glaring problem - LULU's products are designed for North Americans and are not suited to the tastes of many consumers, including those in Japan, China and India. With an ever growing middle class, China and India represent enormous markets which LULU will not be able to penetrate. The Chinese and Indians will not be willing to pay an exurbanite amount of money for premium yoga, and other athletic attire, as customers in those markets are more price sensitive than their North American counter-parts. Of course, that type of rudimentary analysis may seem like an oversimplification, but it is also accurate. LULU has had success in Australia; unfortunately, that is an even smaller market than Canada. The company could attempt to access the European market, but I foresee similar problems associated with consumer tastes. LULU plans to be in the UK by 2014, which represents their best chance for success in Europe, but there are no guarantees. Having already failed in their efforts to enter the Japanese market, it seems LULU's growth opportunities are limited, for now. The company has conceded this in the short-term and is focusing on expanding in North America, where consumers who are willing to overpay for products they do not necessarily need are abundant. So, how much would LULU have to grow in order to justify this high valuation?
Growth Prospects Do Not Justify Valuation
LULU is currently trading at $65, which, as previously mentioned, translates into 55 times earnings. Also, the companies' book value per share is just under $5. To justify that kind of high multiple, LULU would have to increase its sales by at least 35% for each of the next five years and 15% in perpetuity. The companies' success is dependent on growth and there are two red flags associated with that growth; mainly, a lack of competitive advantage and limited international growth opportunities. I will not go as so far to suggest this is a short, although one could easily make that case, but at $65 LULU is certainly not cheap and is definitely a sell.
Disclosure: I have no positions in any stocks mentioned, and no plans to initiate any positions within the next 72 hours.