The USDA published its February World Agricultural Supply and Demand Estimates report and as expected Argentina lowered its production estimate for corn due to damage from drought during its key pollination period. The USDA lowered corn production estimates by 4 million to 22 million metric tons. There is hope that late planted corn will stem production losses if the country receives more rainfall.
Despite the 4 million ton reduction in production, global ending stocks were only reduced by 2.8 million tons as small production increases in the European union, Southeast Asia and Former Soviet Union (FSU-12) partly offset losses in Argentina. Argentina has reduced corn production estimates by 7 million metric tons since December. Production estimates in Brazil remain unchanged.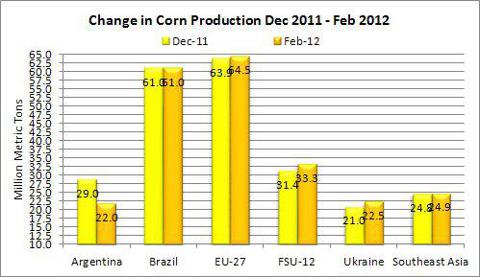 Source: The Mays Report
The USDA has also reduced ending corn stocks in the U.S. by 1.14 million metric tons due to increased export opportunities created by reduced exports from Argentina. Many countries including the U.S. have reported higher corn exports to offset the 4.5 million metric ton reduction in exports from Argentina.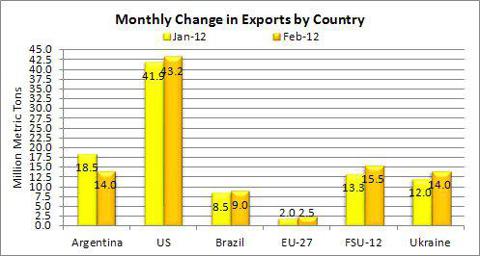 Source: The Mays Report
The fertilizer stock mentioned most often with corn is CF Industries (NYSE:CF). Historically, the stock has maintained a high correlation with corn prices due to corn's nitrogen requirements. Looking at monthly closing prices over the last five years the correlation between the two is strong. However, using a shorter time period such as daily prices over the most recent 45 trading days the relationship between the two becomes more volatile.
Last month I wrote an article entitled, "Will Lower Corn Ending Stocks Fertilize CF Industries' Share Price" and since that time the stock gained 9.8%, closing at $189.51 the evening before the USDA released its report as the market expected lower production estimates and ending stocks.
As with the other fertilizer companies, in the most recent 45 trading days, CF Industries correlation with corn has abated while its relationship with the S & P 500 (NYSEARCA:SPY) has grown stronger.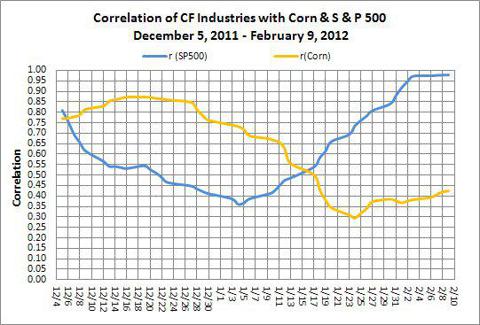 Source: The Mays Report
As the above graph illustrates, corn's short-term relationship with CF Industries tumbled while its correlation with the S&P 500 has reached 0.98, a near perfect positive correlation. With South American weather already priced in and the EUR/USD exchange rate stabilizing traders have begun to use the S&P 500 as a proxy. Stocks tend to move in tandem with a standard benchmark if the market has priced in all known industry specific news until a new catalyst emerges.
With the EUR/USD exchange rate a non-issue for the foreseeable future the market will need to turn to good ole' supply / demand fundamentals. At the moment those fundamentals, while not meeting the market's immediate expectations, are fairly bullish for corn, given the low stocks-to-use ratio and possibility of spring drought conditions as the La Niña weather pattern persists.
The National Oceanic and Atmospheric Administration recently issued an updated seasonal drought report, which is valid through April 30, and it shows persistent drought in many places around the country.
This map shows that most corn-growing states can expect normal levels of precipitation. However, weather changes are unpredictable and if La Niña decides to stay awhile longer anything could happen.
Disclosure: I have no positions in any stocks mentioned, and no plans to initiate any positions within the next 72 hours.