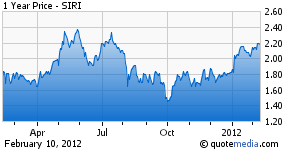 As part of my ongoing investment due diligence, one of the things that I have always followed and to which I pay very close attention continues to be the fluctuating levels of short interest in the stocks in my portfolio - and this is for every stock I own or trade. The reason for this is simple - I prefer instead to allow the market to tell me "what it feels" instead of me fighting the losing battle of telling it how wrong it is. In other words, where I sometimes make decisions on a gut-feeling, I tend to value the gut of those who really move markets. You see, I am not as smart as you think I am and nor do I deserve the credit that I sometimes receive.
Devil's Advocate
My goal when I sit at my computer and punch away at the keyboard is to hopefully provoke thought into areas that might have been neglected. Seeking Alpha is gracious enough to allow me this privilege, so it is not something that I take very lightly. It's this understanding and appreciating my sometimes "intellectually challenged" state of mind that I value the bi-monthly short interest report to give me the "devil's advocate side" of my bullish trades. I bring it up from time to time and hopefully readers get a sense that "the person on the other side of the trade" does just as much due diligence as we sometimes give ourselves credit for doing. That's another way of understanding there are two sides to every trade.
That brings us to Sirius XM (NASDAQ:SIRI) which has the dubious distinction of being the most highly shorted stock on the Nasdaq. As of Thursday's report its SI is now at 304 million shares - including a slight drop from the previous report of 305 million as shown in the table below.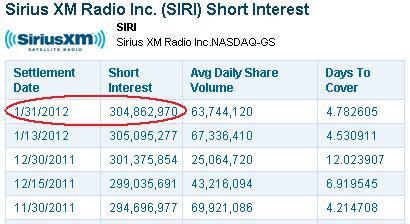 I would not be honest if I did not say that this reality and the significant upward pressure did play a role in my decision to sell earlier this week ahead of earnings, which were also released on Thursday to very little fanfare.
The company reported a quarterly profit in line with expectations, as net subscriber additions jumped 65%, but revenue came in slightly below Street estimates. Sirius announced that Q4 net subscriber additions rose to 542,966 but this news was over one month old and baked into the current stock price. Included in the numbers were revenues of $784 million which were short of estimates of $785.5. Ti also recorded net income of $71 million, or 1 cent a share, compared with a net loss of $81 million, or 2 cents a share, a year ago.
Cognitive Sissonance
The disappointing numbers were one thing, but the real disappointment was guidance where the company only projects 1.3 million net subscriber additions for 2012 versus consensus estimates of 1.5 million - keeping with its conservative M.O. of under-projecting to over deliver. But we're not going to rehash the disappointing numbers. Instead I would like to focus on the merits of due diligence and how it is impacted by the human condition known as "cognitive dissonance."
"The truth," as hard as it is sometimes to deal with, is that every once in a while investors have to look at themselves in the mirror and ask some very important questions. But the very moment we don't like our answers we change the logic to justify and/or rationalize our decisions. This is a psychological condition, "cognitive dissonance," or simply the idea that we will try rationalize even the most aversive conditions - if we are forced to live with them.
For every Sirius retail investor who does due diligence and arrive at a valuation that suggests the stock should trade higher, I think it is important for these same investors to appreciate that retail investors (for the most part) do not short stocks and neither do most mutual funds. Additionally, the very act of selling a stock short including all of the rules involved suggest that nobody enters a short position just casually without doing - again, extensive due diligence. Anytime short interest on a stock approaches double-digits it is often cause for concern, but when a stock reaches 304 million, investors need to ask the important question, do I know enough about this stock and what are the shorts seeing that I'm not?
Blame It on Wall Street
Another notion that needs to be put to rest regarding short selling is the idea that there is the so called "unlimited loss potential" - this is a myth and an untrue representation of those with the capital to take such a high risk. Some short positions are simply a byproduct of a fund manager's belief that a stock is simply overvalued - often it is a bet on the notion that there is something more fundamentally wrong with the basic business. While this may or may not be proven true over time, simply dismissing the idea or worse, underestimating the prowess of the person on the other side of the trade, is a dangerous practice. The end result is often the ever popular shedding the blame - "this stock is manipulated" or the "Wall Street crooks took my money."
For several weeks Sirius' stock has been saying that $2.18 is where the market thinks it should be. And even Barclays analyst James Ratcliffe who on Tuesday issued a price target of $2.00 on the stock while offering an "underweight rating" saying he does not seem too enamored with its recent movement. But the investor response was the typical cognitive dissonance reaction of "he does not know what he is talking about." I think part of the investor due diligence process requires that we all (including me) start doing more listening and less complaining.
Summary
The fact of the matter is, every stock on Wall Street has a certain level of short interest. I do not want you to believe that this is a concern that is unique to Sirius XM nor should it serve as a reason to sell the stock. I am merely pointing out that with all of the confidence that many Sirius investors have in the company, there is an equal level of weight placed on the short side. The debate will always continue as to whose viewpoint is right and which one is wrong. On that note, it should be stated that the "professional shorts" do more due diligence than many investors realize, and their willingness to swim against the tide and bet on share price declines should not be ignored.
Disclosure: I have no positions in any stocks mentioned, but may initiate a long position in SIRI over the next 72 hours.
Additional disclosure: Author may also initiate a short position at any time.