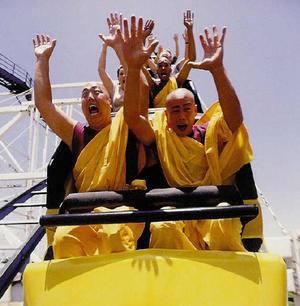 Wheeeeeee!
I love it when a plan comes together. We were in "take the bullish money and run" mode on Wednesday and yesterday was a white knuckle day for the bears as the dollar and TLT made new lows but we stood our ground as my 1:12 comment to members was:
TLT - That move down in TLT was ridiculous, it had nothing to do with the auction and nothing to do with the dollar - not natural at all.
TLT bottomed out at $114.62 and we were forced to roll our weekly $115 calls along to next week $114s (taking full advantage of the discount being offered) at just $1.80 and almost entirely in the money - those should be looking good this morning as the dollar flies back over 79. Speaking of the dollar, at the end of yesterday's post I drew a line in the sand at 78.50 and our bearish outlook rested on that line holding and the euro failing to break $1.33 and the pound failing at $1.59 despite the relentless Yentervention on the euro. Check out the action: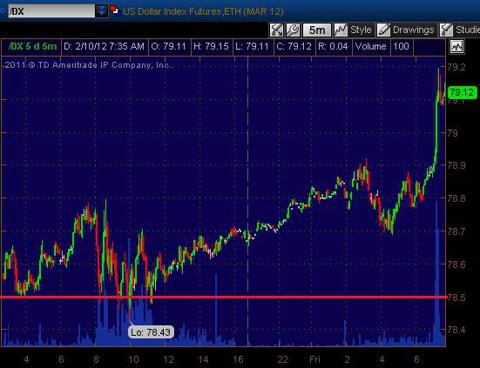 That was a pretty good call and firms up our view now that the dollar at 78.50 is indeed the spot where we once again hit some bullish plays but, for now - color us skeptical. Our bear trade ideas were flying fast and furious as we had the opportunity to once again short oil at $100 (now $98.50) and our trade idea from Wednesday morning's alert to members was the SCO Feb $34/36 bull call spread at $1.60, selling the $37 puts for $1 for net .60 on the $2 spread. Even at yesterday's $98.50 close, the net of the spread had already climbed to .80, which is up 25% in a day or what we call "on track" toward our expected 233% gain by next Friday.
We're not all bearish of course - after having been burned by the relentless move up on our earlier bear bets we've been "keepin' it real" with a mix of long-term bullish and short-term bearish bets to reflect our current outlook. What would be perfect for us is a nice little pullback of 2.5-10% that scores us a huge win on our short-term puts and gives us more cash to press our longs as the trillions of dollars in cash currently being stockpiled by banks and corporations eventually does SOMETHING other than gather dust in vaults. Hopefully, the next good pullback ignites a little M&A activity but we'll be happy to take the money and run on today's little dip and get nice and cashy into the weekend.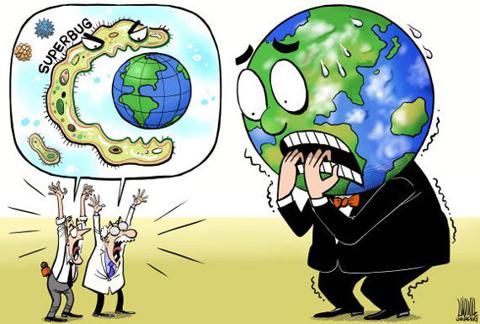 Click to enlargeLet's shift gears for a moment and discuss how the Greek crisis CAN KILL YOU! That's right, even as we speak those "necessary" austerity measures that cut back medical care in Greece and caused a crisis in their pharmacies, making medicine unavailable to millions has already spawned a pneumonia-causing superbug that most existing antibiotics can't stop. According to Bloomberg:
The culprit is spreading through health centers already weighed down by a shortage of nurses. The hospital-acquired germ killed as many as half of people with blood cancers infected at Laiko General Hospital, a 500-bed facility in central Athens.

"We're not used to seeing people die of an untreatable infection," said John Rex, vice president for clinical infection at London-based AstraZeneca, which is developing a new generation of antibiotics. "That's like something in a novel of 200 years ago."

"We know what to do, but if you don't have the personnel, you can't do it," Daikos said in an interview in his office, deep in a side wing of the sprawling hospital. "If you don't have enough nurses, how can I assign a dedicated nurse to carriers?"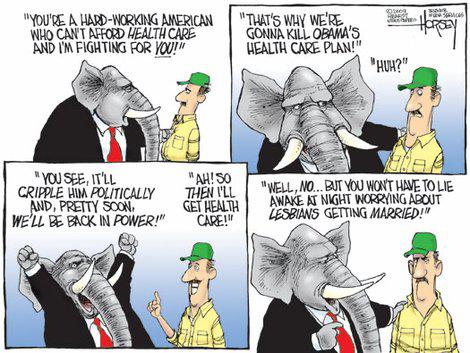 Welcome to the Republican dream of independent health care without government aid. I'm sure my conservative readers aren't worried even though Greece remains a major tourist hub and many of them are flying on planes that may have been in Greece the day before but what happens when this is the news out of Detroit or Miami? Will you still not care? What happens when depriving the poor of adequate healthcare means your maid shows up for work with a very nasty-sounding cough or you see you waiter wipe his nose - will you care then?
Just like crime, which is relatively under control these days, the top 10% tend to forget how bad things can get when you let that social safety net collapse. For good or bad, we are one big global family now and what happens in one country absolutely affects another and Greece is just a preview of what will happen under the crushing austerity programs that are being demanded by the ECB, the IMF and the GOP.
We are just a 10% cut in Social Security away from creating millions of more underwater mortgages as food costs, energy costs and local taxes are impacting the ability of senior citizens to continue paying their mortgages with fixed incomes. Out of 4.5M homes in Florida with outstanding mortgage loans, 2M (44%) are already underwater.
"People have no safety net. They get ill, a spouse dies, they lose their jobs and they have no support. All of these things can lead to foreclosure," said Carolina Lombardi, a senior lawyer with Legal Service of Greater Miami. "We are seeing all kinds of people, middle earners who are now on food stamps."

David Chandler Hicks, of Alliance Legal Group, which operates all over the state, has many clients who are 65 or older but who have been forced to come out of retirement because "they are about to go broke."
President Obama's budget proposal Monday will offer measures to trim the federal deficit but will barely touch Medicare, Medicaid and Social Security. In 2011, the U.S. government spent $1.56T on the big three, 43% of all federal spending but, what conservative pundits tend to forget is that FICA accounts for over 50% of all federal collections as well and that, in theory, there was a huge surplus to draw down on (which has been stolen from the "lock box"). The GOP plan calls for continuing to collect that money from the poor but cut the money spent on the programs to fund tax cuts for the rich - who can afford to pay cash at the doctor's office.
Let's not pretend we weren't warned about this a long time ago:
Oh well, no use crying over lost elections is there - go Romney!
Have a nice weekend.
Disclosure: I am short DIA, IWM, USO, GLD.
Additional disclosure: Positions as indicated but subject to change (very quickly!).