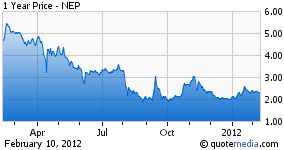 China North East Petroleum (NEP) is an independent oil company that engages in oil drilling project management and the extraction of crude oil in several oilfields in Northern China. As with many other Chinese firms, the company had a significant decrease in its stock price during 2011 owing to fear of fraud spreading among investors. However, looking closely into NEP's legitimacy proofs, operating performance, financial condition and business outlook, I do believe that NEP is one of the best investment opportunities I have ever seen.
Legitimacy Proofs:
NEP legitimacy was not just proved by third party reports, but was actually cleared out by court. A few months ago, United States District Court for the Southern District of New York dismissed the three consolidated securities class actions pending against NEP, giving shareholders unbeatable proof of legitimacy, giving shareholders unbeatable proof of legitimacy.
The company's close relationship with PetroChina makes it practically not possible to deceive the media with inflated production reports.
Financial Condition
As of Sept 30, 2011, NEP had over $88.00 million in cash, with little or no debt. In addition, NEP continues to generate cash in a tidy fashion. NEP's cash position has increased from $50.5 million in 3Q10 to $88.4 million in 3Q11 or about $2.47 per share. Furthermore, NEP' has 20 year oil leases with PetroChina (PTR), a company that is bigger than Microsoft (MSFT). This means that NEP's accounts receivable are almost guaranteed to be collected.
Business Outlook:
Clearly there are a lot of things to like about the company. Higher oil prices seem here to stay, and crude oil has consistently sold at above $90 over the past 3 months. Increasing demand and inflationary concerns are both conspiring to maintain high prices for the foreseeable future. In China the situation is even more favorable, as oil demand is increasing by about 7.5% per year and the country is desperate to limit imports by finding more sources domestically.
Two major drivers are poised to boost NEP cash generation in the near future:
NEP has got exclusive exploration and drilling rights to the Qian 122 oilfield in Jilin Province. According to a PetroChina geological reserve report, the Qian 122 oilfield has a geological reserve of approximately 47.6MM barrels. Upon closing the acquisition deal during the current quarter, Q122 is expected to "immediately" contribute to NEP's revenue and cash generation. Again, all oil produced in Q122 is secured to be sold to PetroChina
The Durimu oilfield, via the Shengyuan acquisition, will strongly increase NEP's profits over several years. Based on geologist study conducted by PetroChina, the Durimu oilfield has a geological reserve of approximately 573.5MM barrels; the recoverable reserve is approximately 143.4MM barrels. With the profit contribution from this oilfield, NEP was forecasted to reach one billion in cash by 2020.
Most importantly, the company's CEO has stated that they have sufficient reserves to develop both Q122 and Durimu simultaneously. Combined with the share repurchase program that was started lately, this clearly means that any possibility of share dilution is remote.
Now, how is NEP valued?
At the current price of $2.31, NEP has a P/E of only 2.12 and has a market cap that is below its cash in banks. Thus, the current price ignores all NEP's oilfields and business relationships, not to mention the continued cash generation by the company.
In Conclusion, based on current operating performance, legitimacy settlement, and business outlook, NEP looks to provide another unbeatable investment opportunity. I do believe that NEP has taken the right steps in becoming a major independent, regional oil producing and oilfield services company in China.
Disclosure: I am long NEP. I might sell or buy any mentioned stock at any time without prior notice.