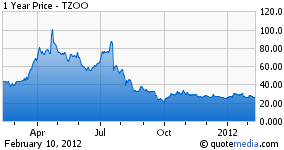 Recently, we have suggested that Travelzoo Inc. (NASDAQ:TZOO) get serious about growth and take the company to the next level. In light of Groupon's (NASDAQ:GRPN) earnings that show growth but unforeseen losses, Travelzoo has the ability distinguish itself with its profitable strategy if it can develop a sustainable growth plan.
The challenge is to articulate a plan that does not conflict with the controlling shareholders agenda of continued control with conservative balance sheet management; not a perfect combination with a high growth initiative.
Travelzoo and AOL Inc. (NYSE:AOL) could merge their "Local Deals" s units. AOL calls theirs Patch Deals. The companies have worked together in the past in Germany and presumably still have each other's contact information. With or without AOL's Patch, Travelzoo can spin off its Local Deals business and make it a pure play windfall to shareholders. We saw the successful result in such a deal at Expedia,Inc. (NASDAQ:EXPE) and TripAdvisor, Inc. (NASDAQ:TRIP) which has created tremendous value for Expedia shareholders. Even a controlling shareholder may like this strategy. We know TZOO has said many times it doesn't want to be a Groupon competitor, but we really think they are just afraid of the capital burn associated with the challenge. Yes, the local deals space is crowded, but TZOO is good at it and they should be given the resources to expand it under this new pure play strategy.
As far as valuation, the companies seem to be on different planets with Travelzoo being more fit for liftoff. Groupon announced 2011 annual revenue of $1.6 billion and a market cap of approximately $13.5 billion with Travelzoo generating about $158 million in 2011 revenue with a $419 million market cap, which is just 3% of Groupn's as Jeremy Bowman at Motley Fool reveals. Travelzoo has less than 1/3 the multiple to revenues for its market cap than that of Groupon. Given the irregularly high ratio of 4.2 milion shares short in Travelzoo's 7.5 million share float, one must conclude that TZOO shares are certainly in need of recalibration.
We created ChaPaVe Partners and the Tactical Tender Offer to align minority shareholders' interests with controlling shareholders' interests. We know these companies are often very incalcitrant and therefore often overlooked by activist investors. By reasonably showing a path to a compelling opportunity for all shareholders, we look forward to a transaction to unleash real value for the both AOL and TZOO. We invite private equity firms and other long term investors to contact us to participate in this effort.
Disclosure: I am long TZOO.