Many years ago, I bought shares in Tupperware (NYSE:TUP) at around $15.50. It has a great brand name and the 88 cents dividend offered an attractive yield. The stock lumbered along for about 10 years in the high teens, not bad and reinvested dividends help make it a respectable investment. In the last five years, the stock tripled because of rapid growth (even through a very difficult global recession) and TUP is guiding for a bright future.
TUP has an independent sales force of 2.7 million women selling premium branded products, which feature preparation, storage and serving products for the kitchen and home under the Tupperware brand. Just about everybody knows the Tupperware brand. It also has beauty and personal care products sold under names of Avroy Shlain, BeautiControl, Fuller, NaturCare, Nutrimetics and Nuvo. Tupperware parties create an enjoyable environment where participants have fun and are able to purchase company merchandise. Products are sold in almost 100 countries in emerging and established market economies. Countries with the greatest successes in Q4 2011 include Austria, Brazil, France, India, Indonesia, Malaysia/Singapore, South Africa and Turkey. TUP is able to increase its business with very little investment because growth comes from a worldwide sales force. For over 50 years TUP says it has been committed to empowering women across the globe.
The table below shows growth in the last five years. EPS is diluted EPS and 2012 EPS is based on management guidance given last week (when the quarterly dividend was raised to 36 cents).
| | | |
| --- | --- | --- |
| | EPS | Dividends |
| 2006 | $1.53 | $0.88 |
| 2007 | $1.86 | $0.88 |
| 2008 | $2,55 | $0.88 |
| 2009 | $2.75 | $0.91 |
| 2010 | $3.53 | $1.08 |
| 2011 | $3.55 | $1.20 |
| 2012 est | $5.00 | $1.44 |
In 2011, TUP reported sales of $2.6 billion, a 12% increase over 2010. GAAP diluted EPS was $3.55, up 2cents over the prior year. Excluding certain adjustment items, diluted EPS was $4.45, 20% above 2010. Business is divided into five regions: Europe, Asia Pacific, TW North America, Beauty North America, and South America. While the North American market has become mature - Asia Pacific, Europe, and South America, have had excellent growth from 2006-2011. The fastest grower was Asia Pacific. Sales doubled and segment profits almost quadrupled (from a low base), accounting for a third of profits last year. That area has great growth potential with 1/3 of the global sales force for TUP products.
Increased cash flow is used to reward shareholders with dividend increases and by purchasing treasury shares. Recent dividend growth is shown above. By the end of 2010, TUP had 900,00 treasury shares. In 2011, it purchased another 7.1 million shares costing $628 million and intends to purchase an additional $572 million worth in 2012.
Because its base market in the U.S. was maturing, TUP expanded in foreign markets. That brought higher earnings and dividends, which have been rewarded in the stock market. For 2012 it's guiding GAAP diluted EPS of $4.85-$4.95. Excluding certain items, diluted EPS should be $5.00-$5.10. The annual dividend was just raised from $1.20 to $1.44. The future looks bright because of its greater involvement in emerging economies that are growing rapidly and an independent sales force of largely women selling to other women. More women around the world are becoming managers and professionals with higher incomes. TUP is positioned to supply quality products for this market. A $63 stock price with a 2.4% yield and a modest 12 P/E spells opportunity for value investors looking for growing dividends to accompany growing stock prices.
(Click to expand)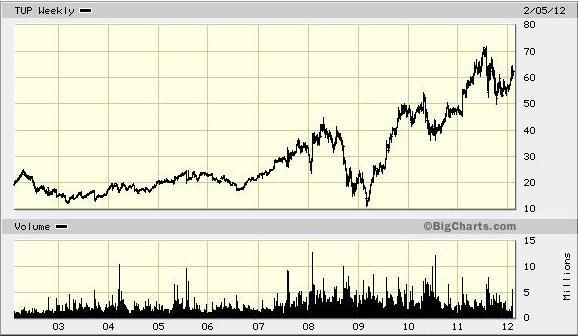 Click to enlarge
Source: tupperwarebrands.com
Disclosure: I am long TUP.