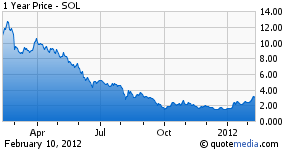 Despite primarily dependent on its single vertical silicon wafer segment, Renesola (NYSE:SOL) has done a good job managing its bottom line. Renesola had already posted positive earnings in both the first and second quarters of 2011 despite challenging industry conditions which pulled many direct peers into the loss column. SOL's third quarter losses were also dramatically minimized by non-operating gains realized by proactive initiatives taken by the company. Well managed headline results nevertheless only mask Renesola's vulnerability as primarily a single vertical manufacturer.
Unlike its closest structured U.S. listed Chinese solar peer, LDK Solar (NYSE:LDK), Renesola chose to remain in large degree an upstream silicon wafer supplier whereas LDK and many other peers shifted to a more fully integrated manufacturing model. As described in a previous article, silicon wafer pricing has collapsed since the start of May leaving many single vertical producers little hope of generating enough gross profits to maintain corporate profitability. As inventory liquidation by defunct companies drove spot market average selling prices("asp") for silicon wafers below production cost even for the most efficient producers such as SOL, gross margin collapsed.
Gross margin in the wafer segment using real time procurement costs and sales metrics have dropped close to zero for some of the industry's lowest cost producers such as SOL and LDK. Less competitive manufacturers generally those outside of China have shut down wafer capacity indefinitely or even permanently. Even large incumbents such as REC were forced to shut down 60% of its wafer capacity due to the pricing situation. More recently Sumco Solar announced a shutdown of its entire solar wafer capacity citing pricing declines of 70% since the start of 2011. Although less public, many smaller peers have suffered similar fates.
Operationally, Renesola fared no better in the third quarter of 2011. Total revenues declined by 24.2% sequentially to $189.1m despite a consolidated shipment increase to 328.5MW from 295.5MW. Wafer and module asps dropped by 21.7% and 22.2% quarter over quarter, respectively. In its Q3 earnings conference call, management stated gross margins for its silicon wafer segment was just 4% before an inventory write down of $19.4m. Excluding this inventory provision, gross profits came to $11.7m, or 6.2% gross margin suggesting the company's module division generated higher proportions of profits.
Where many peers such as Suntech Power (NYSE:STP) had repeatedly failed, Renesola did an excellent job of managing its foreign exchange risk. In the third quarter, SOL booked a net foreign exchange gain of $9.2m, or almost 0.11 in earnings per share("EPS") as it forward hedged its euro denominated exposure. I had estimated the company's net currency gain could reach as high as $15m assuming a constant currency exposure. Although this gain only reversed a similar in magnitude loss booked in the prior quarter during euro strength, Renesola did not rack up additional cumulative losses which may have resulted had the company shifted its currency hedging strategy. In contrast, many peers such as Trina Solar (NYSE:TSL) and Canadian Solar (NASDAQ:CSIQ) recorded larger cumulative foreign exchange losses as a result of inconsistent currency hedging.
In addition, Renesola also booked a large $20.2m gain from the repurchase of convertible debt below par value. Based on the reduction in the company's convertible debt, SOL bought back approximately $70m worth of convertible debt at around a 30% discount to face value. While not operational in nature, this was a positive proactive step that not only buffered quarterly losses but also eliminated portions of the company's debt at a discount. Other peers such as LDK have also taken similar steps of repurchasing discounted debt, and this practice was not uncommon during the last industry down cycle of late 2008.
Excluding these two large non-operational items, Renesola's adjusted net loss would have totaled $37.5m, or -0.43 in EPS vs. my revised estimates for a loss of $37m or -0.43 in EPS.
While Renesola's large $19.4m inventory provision in the third quarter helped reduce the company's blended inventory cost, indications of continued sequential declines in wafer and module asps point to continued losses for the fourth quarter. Both unit shipments as well as consolidated revenues were also guided down sequentially to 280-300MW and $140-150m, respectively.
Based on this guidance as well as other information provided by the company during its earnings conference call, an estimate for SOL's fourth quarter earnings has been compiled. As usual, the estimates below only reflect information stated or implied by the company and do not speculate beyond those metrics. Given the exchange rate data during the quarter while assuming Renesola kept a constant currency strategy with the prior quarter, a small non-operational currency gain was also included.
Renesola Q4 Earnings Estimates:
Revenues: $148m
Wafer Shipments: 230MW at 0.37/watt = $85m
Module Shipments: 65MW at 0.97/watt = $63m
Total Shipments: 295MW
Unit Cost:
Wafer: 230mw at 0.36/watt = $83m
Module: 65mw at 0.86/watt = $56m
Total COGS: $139m
Gross Profit: $9m
Gross Margin: 6%
Operating Expenses: $23m
Net Interest Expense: $7m
Foreign Exchange Gain: $3m
Tax: $0m
Net Loss: -$18m
Diluted Share Count: 87m
EPS: -0.21
These estimates mainly represent operational earnings and with the exception of foreign exchange translations, exclude all other unannounced gains or charges. Given SOL still carried over $130m in convertible debt at the end of Q3, additional debt buybacks may occur. With debt pricing still heavily discounted for most solar companies during the quarter due to extreme investor negativity, any repurchase would likely be at similar discounts to face value as reported in the third quarter. As a result, similar magnitudes of non-operational debt repurchase gains could potentially reverse Renesola's expected net loss into a U.S. GAAP net profit. Additionally, no taxes were estimated due to an estimated operational loss. Tax benefits such as ones reported in the third quarter could also positively add to the estimates above.
Moving forward, Renesola is still caught in a difficult situation. The company has committed to a strategy where most of its shipments would rely on silicon wafer sales and unlike most peers almost entirely ignored development of its downstream solar cell and module segments. SOL hopes though upstream polysilicon and horizontal component expansion combined with research and development of a differentiated higher end wafer product, enough gross profit can be generated to keep the company profitable even as a primarily single vertical wafer manufacturer.
To this end, the company has found success at several levels. First, its internal silicon wafer processing costs have gradually been reduced to 0.21/watt at the end of the third quarter with a target of 0.19/watt by year end. These metrics are among the lowest in the industry. Secondly, SOL has been ramping up its next generation "quasi-mono" silicon wafer dubbed Virtus. Offering a higher end product may have been a reason for the company's sequential increase in wafer shipments from 230.5MW in Q2 to 294.8MW in Q3 despite extremely challenging market conditions for wafer suppliers as inventory was liquidated into the channel.
Had Renesola remained solely a wafer manufacturer, operating expenses as an OEM supplier may have been low enough to generate corporate profits. However, SOL committed to a small scale cell and module business which disproportionately raised the company's operating expenses as a higher portion of revenues. Operating expenses as a percentage of revenue were above 14% in the third quarter and almost 10% for the first nine months of 2011, well above historical levels of below 5% prior to Renesola's acquisition and expansion into solar cells and modules. With marginal emphasis in expanding its module business and distribution channels, SOL's module shipments have been on a gradual decline from 126.8MW, 86.9MW, 65MW, and 33.7MW in the past four quarters, respectively in sequential order. Management did expect a sequential uptick to 60-70MW in the fourth quarter but continued low utilization of this segment may continue to disproportionately affect the company's operating margins.
Thus, Renesola needs to either fully concentrate on being a large scale low cost wafer manufacturer where it could keep operating costs minimal or follow peers in further expanding its cell and module business to a fully integrated level where overall per watt gross margin on module sales could be high enough to cover the additional operating overhead required to maintain the segment. With larger fully integrated module producers such as Trina Solar and Yingli Green Energy (NYSE:YGE) spending tens of millions on research and development annually, smaller scale operations in any vertical maybe become less and less competitive moving forward.
Ironically, the complete collapse in silicon wafer pricing could benefit Renesola moving forward. Just a year prior, the wafer segment was heavily constrained which resulted in disproportionate expansion in gross margin for manufacturers. As pricing collapsed, many inefficient producers which were only able to exist under boom type conditions started to shut down.
Perhaps every wafer producer was profitable at 0.90-1.00/watt pricing witnessed in late 2010. Below 0.70/watt many became crippled. As pricing collapsed further below 0.50/watt, likely only a handful of extremely large scale and cost effective producers could still operate profitably. In essence, a lot of capacity in the wafer segment may have effectively been removed from the market. In contrast, overall demand for photovoltaic solar products continued to boom with estimates ranging from 24-28GW during 2011 up from around 17GW in 2010. With demand stable and capacity reduced, pricing in verticals which saw irrational activity due to forced liquidations could stabilize to more sustainable normalized levels. While pricing may never increase back to boom cycle margins seen in 2010, normalized gross margin could return high enough where the largest scale and low cost leaders in the industry such as Renesola could maintain corporate profitability.
Disclosure: I am long TSL, YGE, LDK. No position in SOL, CSIQ, STP.