Diamond Foods (NASDAQ:DMND) has become a hot topic these days because the stock has experienced a 75% fall in price. In the period of 2006 - 2011, DMND used to be a money-making symbol for its shareholders. It consistantly paid out dividends, and the stock price rocketed from $15 to $90 in just five years. In April 2011, DMND announced that it intended to buy the Pringles business from Procter & Gamble (NYSE:PG) for $2.35 Billion. And the stock kept climbing up on the acquisition news.
Suddenly, PG announced that the sale of Pringles to DMND had been moved from the first half to the second half of 2012 fiscal year. The cause of the delay was the investigation on the accounting of crop payments to walnut growers. It was found that DMND had misled the accounting for payments to walnut growers, and it would need to restate the financial statements for the past two fiscal years. As announced on Wednesday, the amounts of $20 million in 2010, and $60 million in 2011, were not recorded for the correct periods. On those negative developments, its stock price dropped to $23 per share.
(Click chart to expand)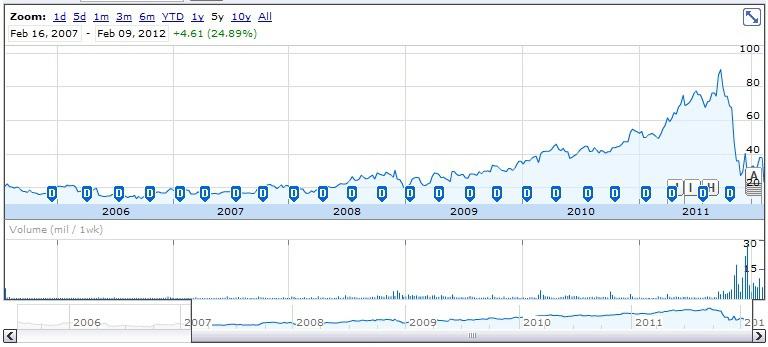 In DMND's balance sheet, the two largest items are Goodwill and Intangibles, with the amount of $950 million, accounting for more than 66% of the total asset. And those two "intangible" items are financed by as high as $490 million long-term debt. However, DMND seems to generate positive but fluctuating cash flow over time. In 2010, the cash flow from operations was negative because of a $46 million increase in its inventory. And in the 2011 fiscal year, it generated $66 million operating cash flow, and $38 million free cash flow. The restatement will certainly have an effect on its earnings, but its effect on cash flow might not be material.
At the current price of $23.13 per share, its total market capitalization is approximately $510 Million. When we adjust the company's cash and debt, the enterprise value is $1.36 Billion. Are you willing to pay $1.36 Billion for the company, which generates $66 million operating cash flow and $38 million free cash flow? Personally, I am not.
Disclosure: I have no positions in any stocks mentioned, and no plans to initiate any positions within the next 72 hours.