MarkWest Energy Partners LP (NYSE:MWE), together with its subsidiaries, "engages in the gathering, processing, and transportation of natural gas. The company also transports, fractionates, provides storage for, and markets natural gas liquids. It gathers and transports crude oil, and it owns a crude oil transportation pipeline in Michigan. It operates in the Southwest, the Northeast, Liberty, and the Gulf Coast "(Yahoo Finance).
More specifically MWE has long term contracts with high quality producers to develop the Marcellus Shale, the Utica Shale, the Huron/Berea Shale, the Woodford Shale, the Haynesville Shale, and the Granite Wash formation. Since its IPO in May of 2002, it has increased distributions 204% for a 12% CAGR. It has grown the company by approximately $5B with organic growth, expansion projects, and acquisitions. Its growth projects are well diversified across its asset base. It is also committed to maintaining a strong financial profile. It has a debt to book capitalization of 44%, a debt to adjusted EBITDA of 3.2x, and an adjusted EBITDA to interest expense of 4.3x.
MWE is using the new unconventional resource discoveries to expand quickly. In fact its capital expenditures of over $1B for 2012 are almost all for unconventional resources. It was/is among the first to get into the Utica Shale. In fact it recently announced plans for the Marcellus and Utica that include more than 600 MMcf/d of additional processing capacity and 140,000 barrels per day of incremental fractionation capacity. Once complete MWE will operate approximately 2.3 Bcf/d of processing capacity and nearly 300,000 barrels per day of fractionation capacity serving the Northeast shales (Huron, Marcellus, and Utica). These are just a couple of the projects MWE has ongoing and planned. This is truly a growth oriented company.
The natural gas arena has suddenly become more exciting for the future with President Obama's State of the Union endorsement of plans to convert much of the trucking industry to natural gas. T. Boone Pickens estimates that at least a 50% conversion could be accomplished within 5-10 years. If you estimate that each truck uses approximately 30,000 gallons of diesel per year, Pickens' estimated $1.50 per effective gallon price differential will save the trucking industry nearly $50,000 per truck per year. Natural gas will be cleaner. Natural gas will stop some of the drain of the oil trade deficit, which stoppage should stimulate the US economy. There are also many plans to develop liquefaction terminals for the export of LNG. The earliest of these, the Sabine Pass terminal, is expected to come online in 2015. Both of these new developments (nat gas for trucking and liquefaction, LNG terminals for export) should raise the prices of natural gas substantially in the near future, especially since natural gas is selling at many times the current US prices in other places in the world. On top of these there are specific demand situations developing, for instance the forecast is for strong ethane demand growth in the near future (40% in the next 6 years). The chart below shows the forecast supply and demand growth over the next five years.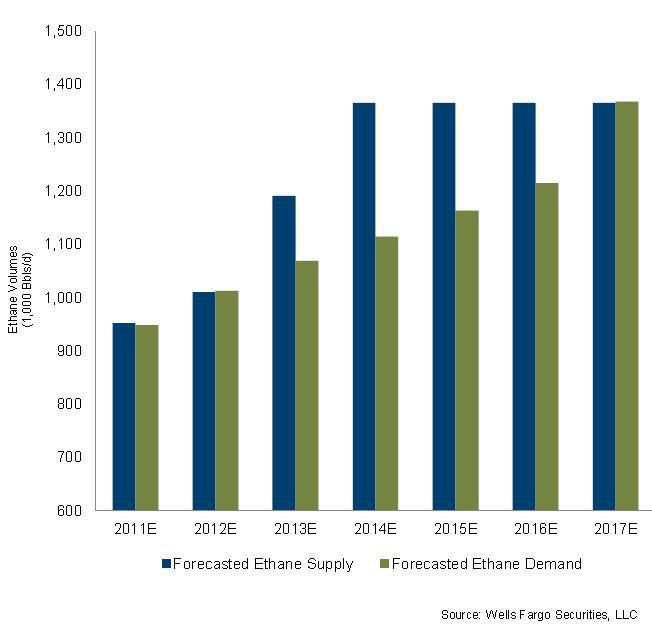 Click to enlarge
The following chart shows how MWE's Liberty processing complexes will support ethane recovery.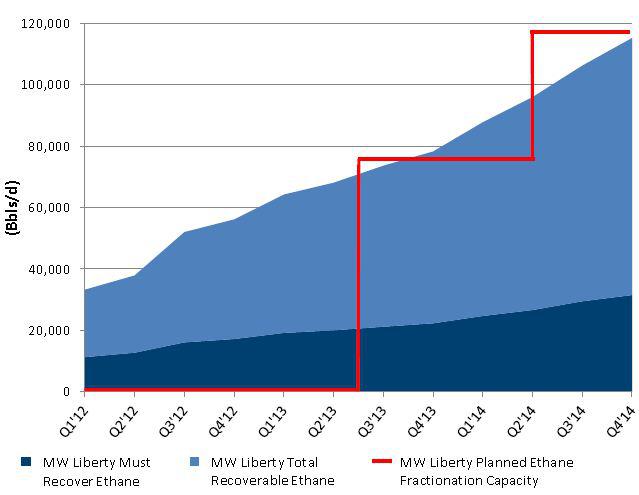 Click to enlarge
As you can see, MWE plans to fully participate in this boom.
The above mentioned projects are by no means the only projects MWE is involved in or planning. This is one of the most exciting MLPs around. This is why it trades at a high PE of 56.81 and an FPE of 21.54. These seem too high at first, but MWE is slated to grow EPS 262.10% in 2011, 15.10% in 2012, and 18.50% per annum over the next five years. This is fantastic growth for an MLP that pays a large 5.08% dividend. Not surprisingly MWE carries an average analysts' recommendation of 1.6 (a BUY), even with its relatively high PE.
The two year chart of MWE provides some technical direction for the trade.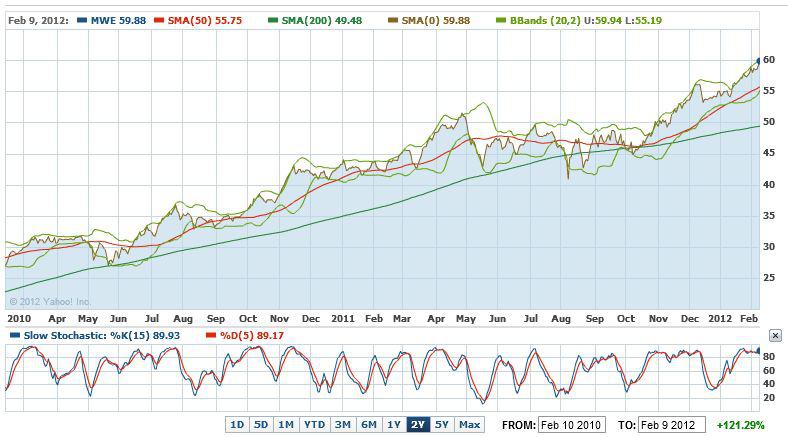 Click to enlarge
The slow stochastic sub chart shows that MWE is overbought in the near term. The main chart shows that MWE is about as far above its 200-day SMA as it has ever gotten over the last two years. It is also at its top Bollinger Band and significantly above its 50-day SMA. All these things make one believe that today is not the right day to buy MWE. However, MWE has an undeniably strong uptrend in place. Plus it is a fundamentally strong company. Therefore it is a buy. If the currently overbought market retraces soon, it should bring MWE down a bit. That might be an opportunity to get into MWE at a more reasonable price. There seems to be support in the $53 to $56 range (the current price is $59.88). One might start averaging in at that area. There is also very strong support in the $45 to $50 range. I would not expect it to go much below that for very long.
MWE compares very favorably to such investor favorites as Kinder Morgan Inc. (NYSE:KMI) and Kinder Morgan Energy Partners (NYSE:KMP). KMI trades at a PE of 38.86 and an FPE of 23.65 with a dividend of 3.90%; and KMP trades at a PE of 346.46 and an FPE of 33.72 with a dividend of 5.30%. These have five year EPS growth estimates per annum of 26.06% and 9.77% respectively.
Disclosure: I have no positions in any stocks mentioned, and no plans to initiate any positions within the next 72 hours.