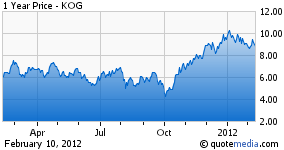 In "Bakken Update: Q4 Results Around Kodiak's Polar And Koala Prospects," I tried to show current production numbers coming from southeast Williams and northeast McKenzie counties. The reason for this is to show how this area is progressing versus others in the Bakken.
Understanding well results can be difficult. 24-hour IP rates are flashy and look good on paper, but 90-day IP rates take much of variation out of each well. Because of this, look further down the road with respect to production. Secondly check well costs. Wells in Divide County are less expensive than Mountrail County, but will also produce less. Some producers can drill in the same area and have much different costs. Continental (CLR) estimates pad drilling in northeast McKenzie County will cost approximately $7.2 million per well. Newfield's (NFX) costs in this same general area are more than $10 million. The third variable has to do with completion methods. Check the number of stages. Each stage increases the cost of the well, but also will increase production. The fourth variable is how much the resource is sold for. Due to the oil backup in Cushing, the price of Bakken crude has plummeted. Look for a company that has the ability to rail its oil to obtain a higher selling price per barrel. There are more variables than this, and I hope I am not being too simplistic, but if these four numbers are documented and compared within a field it will help to show which producers are outperforming. Then use those numbers over a larger area, and it will be possible to see where the hot spots in the Bakken are.
The article mentioned above took fourth quarter of 2011 production results of four Bakken players around Kodiak's (KOG) two very good prospects. Kodiak recently offered more information with respect to its results in the Koala and Polar. Although the acreage is not thought to be as good as the Koala, some well information from the Smokey Prospect will also be included. I will be excluding its operated and non-operated Dunn County acreage, and plan to address this separately at a later date.
Kodiak's Koala had two results in the fourth quarter:
Koala 2-25-36-15H: IP rate of 113 Bo/d. It has produced 364 barrels of oil in the first five days.
Koala 2-25-36-16H3: IP rate of 2227 Bo/d. It produced 33463 barrels of oil equivalent in the first 30 days.
There are some important variables to go over in the Koala. The first well had terrible numbers, which I would guess have come from liner problems. Expectations for this well was an IP rate at 3000+ Boe/d, as this was the performance of the last three middle Bakken wells in Koala. Two of these three middle Bakken wells had 90 IP rates over 1100 boe/d, which model EURs of 1000+ Mboe. Keep in mind, Koala 2-25-36-15H will most likely come on line soon and provide a better idea of how production was affected. The second well is an upper Three Forks well, and an excellent completion. When compared to the last Koala upper Three Forks completion, it had a slightly better 30-day IP rate, with a lateral 1658 feet shorter and one additional stage. It is difficult to compare this Three Forks producer to any wells completed the fourth quarter by competitors as these completions were almost exclusively in the middle Bakken. That said, Koala 2-23-36-16H3 is as good if not better than most wells in the Williston Basin.
Kodiak also had two completions in its Smokey Prospect in the fourth quarter. These two wells both were completed in December:
Smokey 15-22-34-15H: IP rate of 101 Bo/d.
Smokey 15-22-15-2H: IP rate of 50 Bo/d.
I was disappointed in these two Smokey wells, as I am very optimistic this prospect will be very good, and was looking forward to having some clarity as to EUR expectations. It is very difficult to compare these wells to others in the area given the completion problems. Both wells are in workover status. These wells are south of Denbury's (DNR) two wells in Siverston Field completed in the fourth quarter. These two Rolfson wells had IP rates of 1849 Bo/d and 1411 Bo/d. One point I would stress about the Smokey Prospect is the acreage is not as good as the Koala. It is still a good area, but look for it to have 90 day IP rates 15% to 20% lower than Koala/Polar.
Kodiak's results in its Polar Prospect (Williams County) were:
Mildred 94 #1H: IP rate of 1204 Bo/d. It produced 14894 barrels of oil equivalent in the first 30 days.
State 1621 #1H: IP rate of 1415 Bo/d. It produced 15762 barrels of oil equivalent in the first 30 days.
Long 112-1H: IP rate of 1706 Bo/d.
King 3-8H: IP rate of 1349 Bo/d.
These results are quite interesting in Williams County. Mildred and State are both in Epping Field. Both wells used the same size choke. Both wells were 20 stage wells, but Mildred was completed using a longer lateral (1115 feet longer), but Mildred had lower production 30 days out. The Long well may be the most interesting from a production standpoint as Kodiak used 30 stages here.
As a comparison here are two Brigham (NYSE:STO) wells completed in the fourth quarter in Todd Field. These wells are adjacent to Stockyard and Epping fields:
Williston Airport 2-11: IP rate of 2671 Bo/d. Produced 55954 barrels of oil in the first 79 days.
Field 18-19 3H: IP rate of 2173 Bo/d. Produced 27289 barrels of oil in the first 70 days.
The first Brigham well seems to have an advantage on Kodiak's wells in this area as it was completed with 38 stages. Since half of Kodiak's wells completed in this area were done with 20 stages, I would guess a marked improvement will be seen as this number increases. Brigham also has an advantage based on experience in Todd and other fields near by. Long 112-1H was completed with 30 stages, but I would like to see a 60-day IP rate from both wells before I would make any type of estimate as to its effectiveness.
In summary, Kodiak's well results were not as good as I had hoped, but there are several variables to consider. First were completion issues. The second has to do with its Polar prospect. Kodiak is new to this area and I would guess the Williams County results will be much better in upcoming quarters as it gets a little more comfortable with this play. Lastly, everyone is expecting perfection. A great company is not proven through great results, but how well it does in the face of adversity.
Disclosure: I have no positions in any stocks mentioned, and no plans to initiate any positions within the next 72 hours.
Disclaimer: This is an article covering production in Kodiak's Koala and Polar Prospects. It is not a buy recommendation.