Methanex (NASDAQ:MEOH) is the world's largest supplier of methanol as a $2.78 billion mid-cap company. Methanol is a substance that is used in a variety of products, including: recyclable plastic bottles, windshield washer fluid, paint, plywood floors, silicone sealants, synthetic fibers, gasoline blending, dimethyl ether, biodiesel, and more. Methanex covers markets in North America, Asia Pacific, Latin America, the Middle East, and Europe.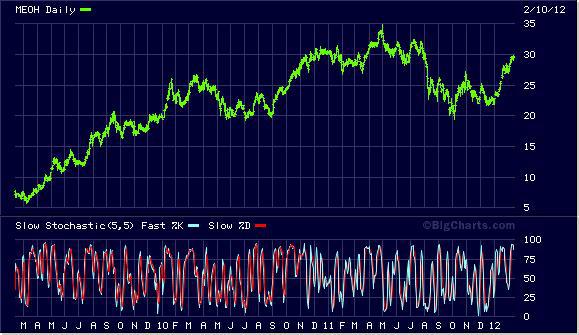 It is clearly undervalued with a trailing PE ratio of 14.4, a forward PE ratio of 8.74, a PEG ratio of 0.25, and a price to book ratio of only 1.98.
Methanex's profit and income are healthy and growing with momentum. It has a profit margin of 7.72% and an operating margin of 13.19%. Management has achieved a return on assets of 6.65% and a return on equity of 15.08%.
The company has earnings per share of $2.06 and grew earnings at 129.2% in its last quarter. It has a nice operating cash flow of $479.71 million and levered free cash flow of $144.92 million. Its free cash flow allows Methanex to reward shareholders with a 2.3% dividend.
Its balance sheet is also in good shape, with total cash of $350.71 million, and total debt of $1.01 billion. It has 1.72 times more current assets than current liabilities and a debt to equity ratio of 62.89.
Methanex has met or exceeded earnings estimates in 3 out of 4 quarters in 2011. It missed its 2nd quarter estimates by only 1 cent. It is expected to grow earnings annually at an aggressive 38% for the next five years. When you combine its dividend of 2.3% with this earnings growth, investors can expect to achieve about a 40% total annual yield (dividends plus stock growth). If it can meet its earnings expectations over the next five years, I would estimate the stock price to go from $29 to $145 by 2017.
The company currently has some advantages going for it to achieve this growth. It is benefitting from the low cost of natural gas. It refines natural gas into the liquid alcohol, methanol. Methanol's use as a blend in gasoline is growing in demand in China. So, with natural gas at a low cost, Methanex benefits greatly as that is its primary raw material. The EIA has forecast the price of natural gas to remain low at $3.35 per MMBtu in 2012 and $4.07 MMBtu for 2013.
The company is looking to add a second plant in New Zealand, and is considering opening a plant on the U.S. Gulf Coast, which could be ready by the second half of 2014. CEO Bruce Atkins said, "The outlook for the industry also looks very attractive, as demand growth is expected to significantly exceed new capacity additions over the next few years."
Methanex looks like a solid high-growth investment over the next few years. Although it currently looks overbought, its undervaluation and high earnings make it attractive. I would wait for a little sell-off in the stock before jumping in.
Disclosure: I have no positions in any stocks mentioned, and no plans to initiate any positions within the next 72 hours.