Déjà vu struck as investors welcomed the worst day of the year thus far. With downgrades, poor economic data and more troubles from Greece, today felt a lot more like 2011 than it did the bullish 2012 that we have been enjoying. The Dow capped off the day with losses of nearly 90 points while the S&P 500 lost about 0.7%. All but one of the 30 Dow components finished in the black while all 10 S&P sectors posted losses on this dismal trading day. The VIX, which is the CBOE Volatility Index, jumped 11.6%, the highest one-day rise in over three months.
As far as commodities are concerned, not even gold's safe haven qualities could keep it afloat today, as the precious metal promptly lost $18.4/oz. while crude oil dipped by $0.84. Commodities had been enjoying a rather strong year, but volatility struck the markets this week, preying on assets that are already known for their rapid daily movements. News also broke today that the S&P downgraded not one, not two, but 34 Italian banks, sending fear pulsating through the global economy. In an effort to keep our readers better educated on the happenings of today's fast paced financial world, we outline two of the biggest ETF movers on the day.
One of the biggest ETF winners came from the S&P 500 VIX Short-Term Futures ETN (NYSEARCA:VXX), which posted jaw-dropping gains of 8.6%, high marks even for this fund. VXX measures front month VIX contracts and is one of the most popular speculative ETFs on the market, with an ADV topping 18 million. Today's gains came from the general disarray that struck markets, with the main culprit being the recent Greek debt deal. "An agreement finally came this week but almost immediately ran into problems when European leaders called for additional austerity measures and some Greek lawmakers said they would not support the deal," writes Reuters.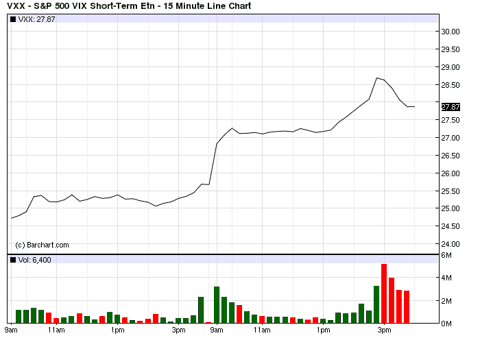 Click to enlarge
One of the biggest ETF losers on the day was the FTSE China 25 Index Fund (NYSEARCA:FXI), which is the biggest China-specific ETF in the world. The fund, which has over $7 billion in assets, lost 2.9% today as economic data weighed on the outlook for the Chinese economy. "China's exports and imports fell for the first time in two years in January and lending grew less than estimated, adding to signs growth is weakening in the world's second-largest economy. Overseas shipments decreased 0.5% and imports declined a more-than-forecast 15.3% from a year earlier in a month that had four fewer working days than January 2011 because of the Chinese New Year holiday," writes Bloomberg. Only time will tell if China, and the U.S. for that matter, can combat these negative data points with strong economic outlooks.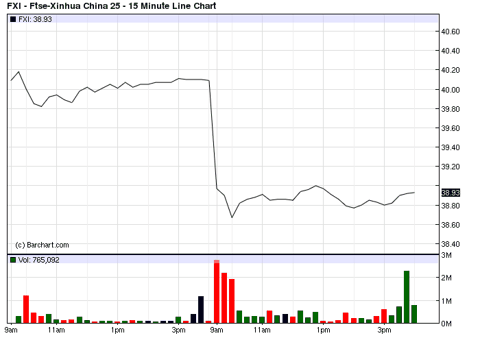 Click to enlarge
Disclosure: No positions at time of writing.
Disclaimer: ETF Database is not an investment advisor, and any content published by ETF Database does not constitute individual investment advice. The opinions offered herein are not personalized recommendations to buy, sell or hold securities. From time to time, issuers of exchange-traded products mentioned herein may place paid advertisements with ETF Database. All content on ETF Database is produced independently of any advertising relationships.