Shares of NYSE Euronext (NYSE:NYX) have been under significant pressure over the past year as hopes of a merger with Deutsche Boerse have been dashed by EU regulators. NYX shares are down over 23% from their highs reached in early May after the merger was first proposed.
NYX 1-year chart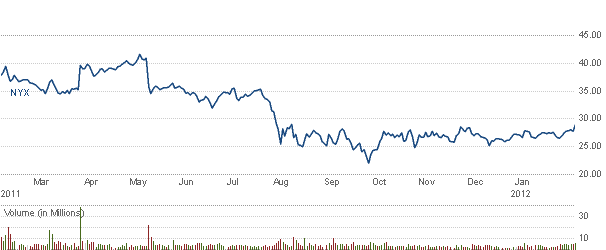 Source: CNBC
NYX reported Q4 2011 earnings on Friday, February 10. Initially, investors were not excited about the earnings report; NYX traded down during the first hour of trading. However, after hearing what NYX had to say on the conference call (see call transcript), investors decided to bid up the stock; NYX closed the day higher by 4.51%. This rally was impressive, considering all of the major indices sold off during the session.
Earnings
NYX reported earnings of $110 million or 43 cents per share. This compares to earnings of $135 million or 51 cents per share a year earlier. At face value, the earnings seem like a major disappointment. However, NYX said that earnings were affected by a $46 million charge for merger related expenses. Without the special one time charge, NYX would have earned 50 cents per share.
Merger Talks Over
NYX CEO Dunkan Niederauer commented on the merger.
It is our view and it was our view, and I think it continues to be our view, that the proposed merger was a great opportunity to accelerate our strategy. It was a great opportunity to create long-term value for shareholders, and we also believed it would provide substantial benefits with regard to capital efficiencies for the capital markets community.

However, given the narrow market definition that the Commission chose to use when evaluating the transaction, it was my view that the industrial logic of the transaction would've been significantly compromised if we agreed to meet the Commission's demand for remedies, and we were not going to violate the trust that the shareholders placed on us when they voted to support the deal this past summer. So the deal is done. It's behind us, and I want to be very, very clear about that.
The certainty that the merger is over and NYX will remain a standalone company likely provided relief over uncertainty about the future of the company.
2011 Was A Good Year
NYX CEO Dunkan Niederauer commented on 2011 results.
So now let's move on to 2011. I'm extremely pleased to share our full year 2011 results with you, which, as you can see, were characterized by a 6% increase in revenue, a 21% increase in operating income and a 19% increase in both net income and earnings per share. The results were driven by strong trading volumes, continued cost discipline and more meaningful contributions from new initiatives. We beat our cost guidance for the year as cost declined 4% on a constant dollar, constant portfolio basis, and we were well below $200 million in CapEx.
Even though the merger did not go through, NYX remains a strong company with solid growth.
#1 In U.S. Equity Options & IPOs
NYX CEO Dunkan Niederauer comments on options & IPOs.
Our approach to semi-mutualization has also paid off in our NYSE Amex Options business, where we worked with our partners to continue to grow the business in 2011. Together with NYSE Arca Options, we grew our market share to a record 28%, which was #1 in U.S. equity options.

We were also the global leader in IPOs in 2011 with 3x the total proceeds rates by our nearest U.S. competitor, who was ranked #8 globally. We continue to make progress in 2012 with big wins in the text sector, as well as continued momentum on the transfer side. Since the beginning of 2010, we have had nearly 3x the number of companies transferred to the NYSE as opposed to away from the NYSE.
NYX continues to best competitors such as Nasdaq OMX Group (NASDAQ:NDAQ), CME Group (NASDAQ:CME), and Intercontinental Exchange (NYSE:ICE) in certain parts of the exchange business such as IPOs and equity options. The core strength of NYX has been overlooked because investors have been focused on the failed merger.
Returning Money To Shareholders
NYX CEO Dunkan Niederauer comments on returning money to shareholders.
Over the past several years, we have returned approximately $2.3 billion to shareholders through dividends and share repurchases. We are pledging to continue our shareholder focus with the recently announced $550 million repurchase program. We have several stakes in other companies that, in our opinion, have limited strategic benefit or have not lived up to our expectations. We will continue to examine opportunities to harvest these investments and reallocate the capital to other more attractive opportunities.
NYX remains a very shareholder friendly company. NYX currently pays a dividend of 4.15% to go along with the newly announced $550 million repurchase program. Niederauer also left the door open for future asset sales that could help to monetize valuable assets that NYX owns.
Valuation
NYX is cheap. NYX trades at just 11.8 times trailing earnings and 10.7 times forward earnings. NYX has a PEG ratio of 0.88.
Conclusion
Now that the prospect of a merger is off the table, investors should consider buying NYX because of its strong fundamentals as a stand-alone company.
Disclosure: I have no positions in any stocks mentioned, and no plans to initiate any positions within the next 72 hours.