This is the second of a three part series in which I will present my evaluation of the future of Zipcar (ZIP) and answer the following questions:
Will ZIP be profitable this quarter (2011Q4)?
Will ZIP be profitable in the long term?
By the end of this series I will have presented strong arguments for why the answer to each question is yes.
Will ZIP be profitable in the long term?
Zipcar, like many upstart companies, has yet to show an annual profit, but ZIP has several areas in which it can and will improve, leading to its profitability.
In the first article of this series, I particularly stressed three expenses - fleet operations, SG&A, and interest payments - that would influence ZIP's profitability. These same expenses will also be important, to an extent, in the long term. As stated in that article, the other expenses are much less significant and show little variability.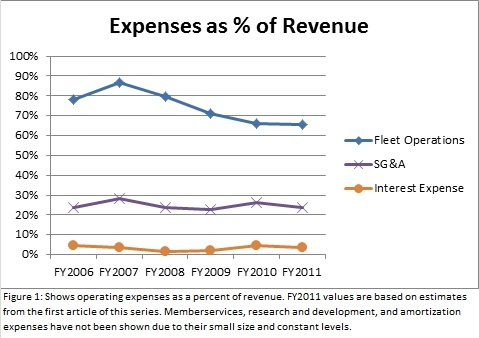 Fleet Operations
The fleet operations expense includes "lease expense, depreciation, parking, fuel, insurance, gain or loss on disposal of vehicles, accidents, repairs and maintenance as well as employee-related costs." The factors that will change the most over time are:
Gas prices - Fluctuations in gas prices are uncontrollable and quite variable, but should not be significant beyond a percent because fuel is a small fraction of the total operating expense.
Resale of vehicles - ZIP recycles its vehicles every three years to maintain a current selection, so market conditions that change the resale value will have an effect.
Growth of vehicle stock - As ZIP grows it buys more cars than it sells.
Gas prices, which are commonly discussed, and the resale value of vehicles have been cited in quarterly reports as the cause of small fluctuations in margins, but never as the cause of large shifts. As a hedge against these issues, ZIP retains the right to adjust rental prices as needed in order to reflect current costs.
The long term driver of expenses will be the growth of vehicle stock. Reflecting this is a quote taken from ZIP's prospectus and quarterly filings:
We expect fleet operation costs to increase as we expand the number of vehicles in our fleet to service an expanding membership base and support future revenue growth. Over time, however, we expect these costs to decline as a percentage of revenue due to the achievement of0 increased efficiencies in our operations and as a greater percentage of our markets reach critical mass and vehicle usage levels increase
This long term effect can be seen in FY2007 when operating expenses spiked to 87% of revenue, but has since been declining with the rate of growth. Due to ZIP's continuing rapid growth, I expect fleet operating expenses to continue to decrease.
SG&A
Since 2010, SG&A expenses have ranged from 28% (in 2007) to 23% (in 2009). One would expect a decrease in these expenses as the company matures, streamlines, and boosts efficiency, yet this has not been seen. I believe this can be explained by the following factors:
Growth - The rate of growth undoubtedly affects the SG&A expenses because new regions inherently have greater costs. As these regions mature, these costs will decrease. This effect can be seen by the spike in 2007 and subsequent decreases in 2008 and 2009.
Acquisition of Companies - Acquiring companies, such as Flexcar in 2007 and Streetcar in 2010, creates extra costs as synergies are found and redundancies are eliminated. This effect is can be seen in both of the relevant years.
Streamlining - As ZIP matures, it will become more efficient - indeed, this has been seen every year but 2007 and 2010.
With Zipcar's recent purchase of a controlling share of Avancar, I expect there will be another spike in SG&A expenses, but the general trend will be towards decreasing costs.
Interest Expenses
I emphasized the interest expenses in my first article because the EBITDA profit margin was so slim that these were enough to tip the balance from profitable to unprofitable. Historically, however, the interest payments have been consistently under 5%. This is very reasonable and I see no reason to be concerned about this in the future.
It is worth mentioning that the purchase of Avancar will likely add debt and, thus, interest expenses, but there has been nothing to indicate that these will be anything disproportionate from historical costs.
Conclusions
I will not offer specific numbers in my predictions; however, I am very confident in stating that the costs relating to Fleet Operations and SG&A can and will decrease, leading Zipcar to annual profitability.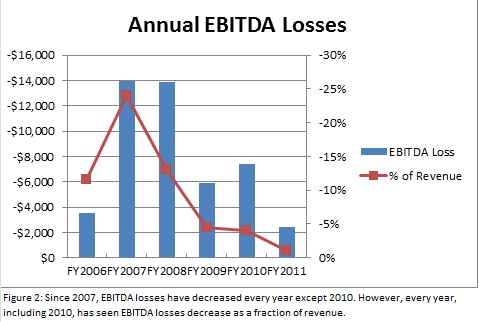 Perhaps a glimpse into the future is offered in ZIP's discussion of established markets - Boston, New York, San Francisco and Washington, D.C. - from the Q3 quarterly report:
Income before tax as a percentage of revenue for the three months ended September 30, 2011 and 2010 was 23.0% and 24.7%, respectively, which primarily reflects lower gains on vehicle sales and higher marketing expenses in the 2011 versus 2010 period. For the nine months ended September 30, 2011 and 2010 income before tax as a percentage of revenue was 20.9%, and 20.1%, respectively.
If these margins can be established in other regions, Zipcar has a very profitable future.
Next: Can Zipcar successfully compete against the larger, more established rental companies?
----------------------------
Notes:
All data is collected from Zipcar's quarterly reports and prospectus unless explicitly stated otherwise.
All dollar values are in $1000's except EPS.
Disclosure: I am long ZIP.