This is the third of a three part series in which I will present my evaluation of the future of Zipcar (ZIP) and answer the following questions:
Will ZIP be profitable this quarter (2011Q4)?
Will ZIP be profitable in the long term?
By the end of this article (and thus this series), I will have presented strong arguments for why the answer to each question is yes.
Can ZIP successfully compete against the larger, more established rental companies?
In my previous two articles, I explained why I think Zipcar can and will become profitable. But none of that matters if its competitors can take market share.
Zipcar currently has the largest network with "approximately 9,500 vehicles in 15 major metropolitan areas and on more than 250 college campuses in the United States, Canada and the United Kingdom." Their size and early lead has given them the most brand recognition when it comes to car sharing. Their presence on college campuses has resulted in thousands of students first being introduced to car sharing by Zipcar.
As great as these strengths look at first, established, traditional rental companies (such as Hertz, Enterprise, and U-Haul) have several potential advantages when compared ZIP:
Ease of Growth - They have the experience, capital, and regional infrastructure to grow much more rapidly than ZIP.
Name Recognition - They already have established brands in the car rental business, if not the car sharing business.
Brand Loyalty - Consumers, ultimately, will be drawn to the company that provides the best service at the cheapest cost, regardless of prior brand loyalty.
So to determine if ZIP can compete, we need to determine how it will fare in each of these arenas.
Ease of Growth
When ZIP expands to a new region, it has to create completely new infrastructure for maintaining vehicles, customer service, and local service expansion. As discussed in my second article, these difficulties result in ZIP being on the cusp of being profitable, though in its established regions (Boston, New York, San Francisco and Washington, D.C.) it has an operating margin above 20%.
HTZ, with its "approximately 8,400 locations in 150 countries worldwide," can easily expand into new regions by operating out of its existing offices. It is already familiar with local laws, demographics, customer base, and regional rental needs?
Thus, HTZ's growth regions will, from the very beginning, resemble ZIP's established regions much more than its growth regions.
This holds for other established rental companies as well.
Name Recognition
Zipcar is widely recognized as the leading car sharing company; in fact, many are unaware that other national companies offer the same service.
Companies such as Hertz, Enterprise, and U-Haul have very well established brands. However, these brands are not necessarily linked with quick, easy to use, cheap, modern, green, and efficient travel. Hertz and Enterprise are places you go when flying into a new city - not for a few errands. U-Haul is where you go for a moving vehicle.
So while Zipcar has had to create a name for itself, these other companies have had to separate themselves from existing associations. This has led Hertz to name its car sharing program as Hertz on Demand, whereas Enterprise and U-Haul created entirely new brand names, WeCar and U Car Share.
Thus, ZIP has the advantage because it is already firmly established as the largest and most popular car sharing company.
Brand Loyalty
Without generalizing too much, I believe it is safe to say that today's consumers - especially those in the target demographic for this industry - will choose the service that provides the best service for the lowest price, not the one with which they have the most history. While the name recognition will help bring new customers into the industry, the services and prices must be competitive to maintain loyalty.
The table below compares prices and services: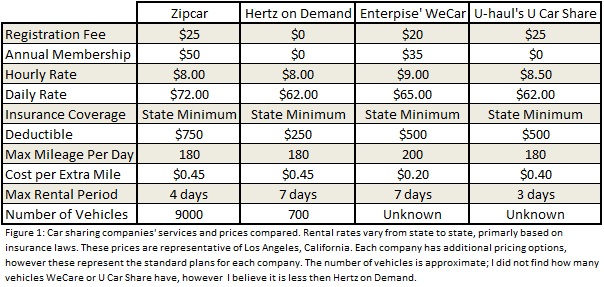 Zipcar has the highest prices of any of its competitors in every category but the hourly rental rate. It has a shorter maximum rental period and (not shown in the table) does not allow for one-way rentals like Hertz on Demand.
As the industry matures, these differences will become more and more important. For now, however, the added fees that Zipcar charges have helped it to expand rapidly. And, given its substantial lead - more than ten times as many cars as its nearest competitor - it has time before it must eliminate these fees.
When Zipcar begins to feel pressure from its competition, it should be able to easily lower its fees and, likely, outcompete. After all, its established regions have a 20% EBITDA profit margin, giving it a lot of breathing room.
Conclusion
ZIP currently is in a very strong position to compete against the other companies in the industry. It will continue to have to work harder to expand than these other providers, but it has a very large lead in both its number of cars and its brand recognition. Its services are not the most competitive, but are adequate for the moment and very much help counter the extra expansion costs.
Zipcar has a very bright future ahead of it.
----------------------------
Notes:
Disclosure: I am long ZIP.