By Bert Wilkison
If you are familiar with the Chicago Cubs' history (haven't won the World Series in over a hundred years), you already know that one of the running gags for the long-time greatness-starved Cubs fans is that usually about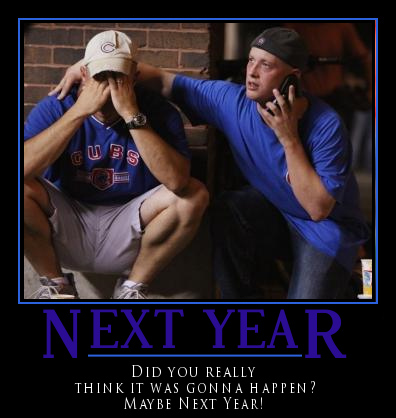 two months into the seven-month baseball season, the fans are already saying, "There's always next year." Needless to say, this has been going on for a great many years.
As a long-time Avanir (NASDAQ:AVNR) shareholder (first investment in March of 2010), I must say with regret (again) that there's always next year for the stock to break out and hopefully perform the way many thought it would last year, post approval of the company's flagship product, Nuedexta, which is currently approved for the treatment of pseudobulbar affect [PBA], a condition whose sufferers have sudden outbursts of involuntary emotional displays that they cannot control. PBA typically occurs secondary to a number of neurologic diseases or injuries damage the area of the brain that controls normal expression of emotion. There is also clinical evidence that a similar combination of the same two drugs that make up Nuedexta, dextromethorphan hydrobromide and quinidine sulfate, is both efficacious and safe in the treatment of certain types of pain (primarily neuropathic).
After listening to the company's FY Q1 conference call (see call transcript), seeing various graphs detailing the slowly improving Nuedexta sales figures and ones that detail projected sales vs. cash burn, watching the average pill count/prescription remain stunningly stagnant for several months, and seeing analyst reports that put the company out of the red in 2013 at the earliest, I can't see 2012 being "the year" it all happens for the little biotech that could.
Sales v. Cash Position
(Click to enlarge images)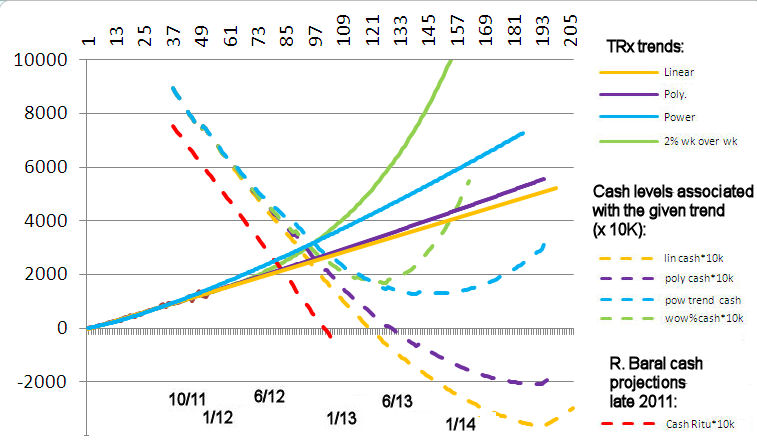 (The above graph is courtesy of OnlyFactsPlease)
The company's current reality is that its most recently reported quarterly net revenues for Nuedexta were $5,488,763, its operating expenses were $15,964,454, and yet the company's market cap, with 132.69M shares out, is $388.80M.
Though there has been plenty of anecdotal evidence supporting Nuedexta's efficacy, there has been a real and profound disconnect between company released data, both before Nuedextda's FDA approval and after, and the reality of its "unusually" slowly rising sales figures and the fact that there was NO pent up demand for the drug when it launched a year ago. Though the company has stated that it does not intend to raise additional capital by means of dilutive financing, it is painfully obvious that, unless a partner in the EU materializes with a very generous upfront payment, the company will need to raise capital again to fund operations before it gets out of the red, possibly as early as Q4 2012.
Thomas Wei, an analyst with Jefferies from the most recent conference call:
"I did have a question, as well, on interpreting some of the script numbers here. I think I have asked this before about the ratio of the NRX and TRX. Now that the product is a little bit more mature, I'm trying to understand the ratio of those two numbers and why there aren't more refills at this stage?"
Fair question, no?
Avanir CEO, Keith Katkin's response:
"…I think it's hard really to make a full assessment of what's going on with refill rates, as we've tried to work with - look at it from the retail side of the business, there we've looked at a number of different metrics and we think the metrics that are the best estimate of what the refill rates are, we're looking at between 60% and 70%, which is consistent with all the products that we've looked at within the CNS space."
Not exactly reassuring, in my opinion. Thomas Wei has been decried by many in the Avanir investment community as an Avanir detractor, but his lines of questioning are reasonable and relevant. He was the first analyst to smartly and directly ask the company where the disconnect between Avanir sponsored and released data and actual sales of Nuedexta is. Another item I find particularly disturbing is the fact that the company seems to be somewhat proud to discuss that, on the retail side of Nuedexta sales (non-long-term care facilities), it takes a sales rep an average of 12 calls/visits to a medical practice before the first prescription for the drug is written. Again, not reassuring for the near-term.
Avanir is still working on its PRISM registry, a project which (hopefully) will further increase patient and caregiver/doctor awareness. It also has its PRIME study underway, which is a Phase 2, double-blind, randomized, placebo-controlled, four-arm, multicenter, dose-finding study to assess the safety and efficacy of three dose levels of AVP-923 (Dextromethorphan/Quinidine) in the treatment of Central Neuropathic Pain in patients with Multiple Sclerosis. Hopefully that will lead to greater prescribing confidence among doctors who regularly see patients with different types of Neuropathic pain, but as with everything Avanir, I expect that to be slow-going. The potential announcement of an EU partner, depending on the terms of agreement, could give the share price a short-lived boost this year, but beyond that, I see no reason for the stock to do anything but trade down or sideways for most of the year…that is, of course, unless sales go berserk (and soon).
2-Year Chart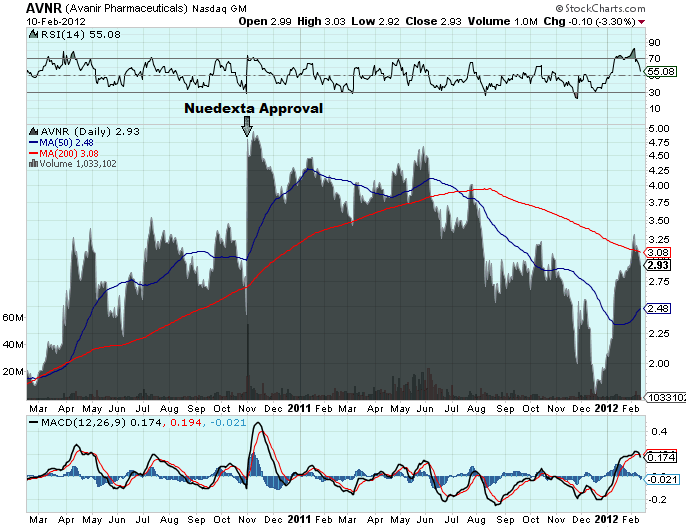 In summary, I see no real catalyst for the stock in 2012, the need for additional financing is all but assured, and the company still has the potential, provided sales of Nuedexta do not begin to decline over the next year, to reward its shareholders down the road. I'm sure to catch much flack from other Avanir share holders for saying this, but there's always next year.
Disclosure: I am long AVNR.
Additional disclosure: I am a White Sox fan.