Since I first promoted Gilead Sciences (NASDAQ:GILD) in my bullish article here, the stock has taken off like a rocket and gained 40.8%, beating the Dow Jones more than 6x over. In agreement with the "strong buy" rating on the Street, I continue to see attractive upside for the firm given the strength of its pipeline . Merck & Co (NYSE:MRK) also provides attractive upside that is lower but safer.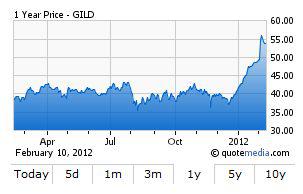 From a multiples perspective, Gilead is cheaper than both Merck and Bristol-Myers (NYSE:BMY). It trades at a respective 15.1x and 12.1x past and forward earnings. And as much as the media has cautious about the firm's risk, it would be well if investors bear in mind that it has 50% less volatility than the broader market. With that said, the company offers no dividend yield while Merck and Bristol Myers offer around 4.4%.
At the fourth quarter earnings call, Gilead's CEO, John Martin, noted several areas of progress despite an overall poor performance:
As you have heard, we met a number of important milestones in 2011 that were achieved as a result of all the hard work of Gilead employees over the last several years. This momentum is continuing into 2012. For HIV, we will continue to benefit from the evolution of the U.S., European and international guidelines that support earlier diagnosis and treatment as well as the growing appreciation for the benefits provided by single-tablet regimens. In 2006, the Centers for Disease Control and Prevention suggested HIV testing as part of routine medical care in order to decrease the incidence of new infections. This benefit has now been quantified in study HPTN 052, demonstrating that HIV treatment results in 96% reduction of HIV transmissions in serodiscordant couples. The publication of this work in the New England Journal of Medicine was recognized in December as the Breakthrough of the Year by Science Magazine. The high efficacy demonstrated in HPTN 052 has ended the debate on the value of treatment as prevention.
Even though fourth quarter results and 2012 top-line outlook were disappointing, investors are rightfully focusing on the pipeline's long-term prospects. Confidence is just starting to take off for Gilead's GS-7977 regimens, which have cured four-fifths of patients and can capture 60% of the HCV (Hepatitis C) market. GS-7977 is in a clinical trail, but results thus far have shown undetectable HCV levels after just four weeks in treated patients. The firm acquired the drug by taking over Pharmasset for $11.1B. Free cash flow growth is estimated to be modest, decking by around $150M in 2012 and then rising to around $3.2B in 2013. During this same time period, the firm's cash position is modeled to grow by around $5B as debt holds roughly flat.
Consensus estimates for Gilead's EPS forecast that it will hold flat at $3.86 in 2012 and then grow by 14.5% and 20.5% in the following two years. Modeling a CAGR of 13.1% for EPS over the next three years and then discounting by a WACC of 9% yields a fair value figure of $70.90, implying 32% upside.
Turning over to Merck, we find a company that also has meaningful upside. The firm delivered excellent third quarter results with strong control over the cost base as the top-line gained momentum. Merck may have a reputation for having a weak pipeline, but it has 17 potential launches under development. MK-6096, which has already shown strong efficacy in sleep tests, and less relative exposure to generics will help to offset some of the impact from the patent expirations.
Consensus estimates for Merck's EPS forecast that it will grow by 1.1% to $3.81 in 2012, decline by 2.4% in 2013, and then grow by 11% in 2014. Assuming a multiple of 13x and a conservative 2013 EPS of $3.66, the rough intrinsic value of the stock is $47.58, implying 24.7% upside.
Disclosure: I have no positions in any stocks mentioned, but may initiate a long position in GILD over the next 72 hours.