Boston-based MFS Investment Management has over $265 billion in assets under management, including over $90 billion in 13-F assets per its latest Q4 filing on Friday. Founded in 1824, it is one of the oldest asset management companies in the world, and is credited with pioneering the mutual fund. Today, it offers over 60 funds, and in 2011, it won the Lipper Fund Award for Best Overall Large Company among 46 fund companies.
Given its size of over $90 billion, MFS's 13-F assets are relatively moderately concentrated in just over 730 positions, with more than 80% deployed in large-caps and most of the remaining 15%-20% in mid-cap equities. Furthermore, its top 10 positions account for 20% of its assets, and the top 33 positions account for over half of its 13-F assets. In this article, we identify relatively large positions in which it added a significant percentage to its prior quarter position or where it similarly significantly cut a prior quarter position.
The following are its major buys in Q4 based on that analysis, that are also trading under-valued compared to the peers in their group (see Table):
Nuance Communications Inc. (NASDAQ:NUAN): Nuance is a leading provider of voice and language solutions for businesses and consumers worldwide, transforming the way people interact with devices and systems. More popularly, it is the technology that is widely believed to be behind Apple's intelligent software assistant Siri. MFS added $24 million in Q4 to its $25 million prior quarter position. NUAN shares, star performers over the last two-to-three years, were off sharply on Friday after the company reported a disappointing Q3 (December), missing on both analyst revenue and earnings (34c v/s 36c) estimates. However, growth is still stellar, and the long-term prospects continue to be promising; the stock trades at an attractive 14-15 forward P/E and 3.8 P/B compared to averages of 37.3 and 4.1 for its peers in the computer software group, while earnings are projected to grow steadily from $1.36 in 2011 to $1.78 in 2013 at an annual rate of 14.4%
Excelon Corp. (NYSE:EXC): Excelon is engaged in the generation and distribution of electricity to 5.4 million customers in PA, and IL. It generates electricity from nuclear, fossil, hydroelectric, and renewable sources. MFS added $91 million in Q4 to its $15 million prior quarter position. EXC reported a disappointing Q4 just over two weeks ago, missing on both analyst revenue and earnings estimates; the stock, however, continues to trade near the lows at 14 forward P/E compared with the 14.8 average for the electric utilities group. Also, it sports an attractive dividend yield of 4.8%, better than the average of 4.1% for the group.
Staples Inc. (NASDAQ:SPLS): Staples is an office products company that sells various office supplies and services, business machines, computers, and office furniture. It also provides high-speed, color and self-service copying, other printing services, faxing, and pack and ship services. MFS added $70 million in Q4 to its $118 million prior quarter position. Staples shares are currently near 8-year lows, and are trading at a discount 9-10 forward P/E and 1.4 P/B compared to averages of 15.6 and 2.1 respectively for its peers in the miscellaneous/ diversified retail group.
Gilead Sciences Inc. (NASDAQ:GILD): Gilead is a developer of therapeutics to treat viral, fungal, respiratory and cardiovascular diseases. MFS added $67 million in Q4 to its $140 million prior quarter position. GILD just over a week ago reported new preliminary data on its lead hepatitis C drug that were encouraging, with the company disclosing that all genotype 1 hepatitis C patients treated with the experimental drug and ribavirin had no detectable signs of the virus after four weeks of the treatment. The stock is up almost 10% since the news came out on Friday (or almost $4 billion in market-cap), and is up almost 30% YTD; even with the huge run-up, its shares still trade at a discount 12 forward P/E, and at 5.9 P/B, compared to averages of 22.2 and 11.3 for its peers in the biotech group.
Other major buys by MFS in Q4 that are not under-valued based on a comparison to their peers, at least based on the typical earnings measure, include:
Itau Unibanco Holding SA (NYSE:ITUB): Sao Paulo, Brazil-based ITUB provides various commercial, corporate, and investment banking services to individuals, and small and middle-market companies in Brail and internationally via over 4,900 full service branches and customer service outlets worldwide. MFS added $101 in Q4 to its $13 million prior quarter position.
Genon Energy Inc. (NYSE:GEN): Genon provides energy, capacity, ancillary and other energy services to wholesale customers in power generation markets in the U.S. MFS added $21 million in Q4 to its $44 million prior quarter position.
Transocean Ltd. (NYSE:RIG): RIG provides offshore contract drilling for oil and gas wells worldwide. MFS added $104 million in Q4 to its $204 million prior quarter position.
St. Jude Medical (NYSE:STJ): STJ develops cardiovascular medical devices for cardiac rhythm management, atrial fibrillation, cardiac surgery, cardiology and neuromodulation. MFS added $228 million in Q4 to its $824 million prior quarter position.
Telefonica Brasil SA (NYSE:VIV): VIV is a Brazilian provider of local exchange, long distance, TV and network access services in the state of Sao Paulo. MFS added a new $125 million position in the company in Q4.
Western Union Co. (NYSE:WU): Western Union provides money transfer and payment transaction via 445,000 agent locations in more than 200 countries and territories. MFS added $94 million in Q4 to its $190 million prior quarter position.
Other select Stocks that MFS is bearish on based on its moves in Q4 (see Table) include Brazilian bank holding company Banco Santander Brazil (NYSE:BSBR), in which it cut $88 million from its $318 million prior quarter position; leading mortgage REIT Annaly Capital Management Inc. (NYSE:NLY), in which it cut $16 million from its $33 million prior quarter position; homebuilder Pulte Group Inc. (NYSE:PHM), in which it cut out its entire $80 million prior quarter position; and independent natural gas and oil exploration and production company QEP Resources Inc. (NYSE:QEP), in which it cut $118 million from its $231 million prior quarter position.
Table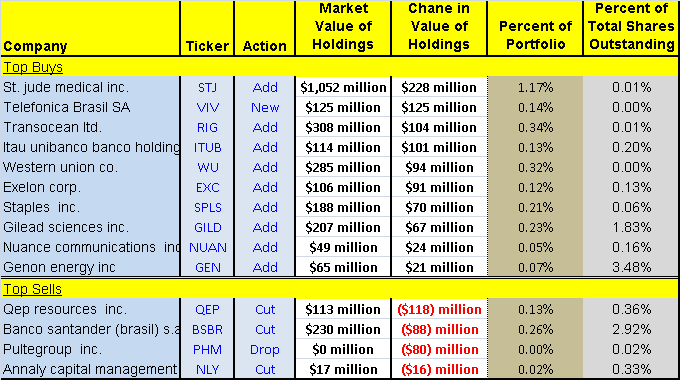 Credit: Historical fundamentals including operating metrics and stock ownership information were derived using SEC filings data, Zacks Investment Research, Thomson Reuters and Briefing.com. The information and data is believed to be accurate, but no guarantees or representations are made.
Disclosure: I have no positions in any stocks mentioned, and no plans to initiate any positions within the next 72 hours.
Disclaimer: Material presented here is for informational purposes only. Nothing in this article should be taken as a solicitation to purchase or sell securities. Before buying or selling any stock you should do your own research and reach your own conclusion. Further, these are our 'opinions' and we may be wrong. We may have positions in securities mentioned in this article. You should take this into consideration before acting on any advice given in this article. If this makes you uncomfortable, then do not listen to our thoughts and opinions. The contents of this article do not take into consideration your individual investment objectives so consult with your own financial adviser before making an investment decision. Investing includes certain risks including loss of principal.