Yesterday I published the following article on Groupon (NASDAQ:GRPN): "Groupon Rights The Ship: Take Profits In Short Positions." After reading one of the comments on my article it occurred to me that some very important qualifications were necessary regarding my contention that things were taking a turn for the better at Groupon.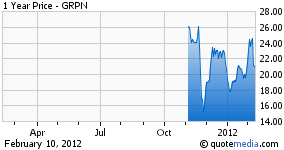 In the above-mentioned article, I noted that Groupon suddenly had enough cash and cash equivalents to cover the balance it owes its participating merchants. While I assumed most people would realize that the lion's share of this cash came from the initial public offering, I now believe it is necessary to make the point explicitly clear to avoid painting an overly optimistic picture regarding Groupon's finances.
Although cash and cash equivalents as of December 30, 2011 were twice as much as accounts/merchants payable, most of that cash ($867 million out of $1.12 billion, so 80%) came from "financing activities"--in other words, the company's IPO. Cash from operating activities was $290 million, less than half of the $557 million Groupon would need to pay-off participating merchants. While this certainly tells investors that the company's business model is technically not working, the cash from the IPO is still cash, and regardless of where it came from, the company now has enough money to pay its accounts and merchants payable more than twice over. With marketing costs as a percentage of revenue declining substantially, the cash influx from the IPO may buy the company enough time to make the business model into something sustainable.
More worrisome is the fact that, according to CFO magazine, the company uses an 'aggregate free cash flow' statement which can make it difficult to discern exactly where the cash is coming from. It appears the company may be increasing its operating cash flow by stretching-out or otherwise putting-off payments to merchants and concealing this by lumping together accounts payable and merchants payable in the liabilities column of its balance sheet. If the company is indeed doing this, it could be juicing its cash flows in the short term by kicking the can down the road regarding the balances it owes merchants. This would support my original contention that the company essentially operates like a ponzi scheme.
Ultimately, I stand by my contention that traders should close out their short positions for the near-term, given that impressive revenue growth and an influx of cash are likely to make Groupon appear more attractive in the short term which in turn, will likely give the stock a boost over the next few quarters. The stock could get an extra boost if the international tax expenses which caused last quarter's loss disappear and help the company swing to a profit in the coming quarters. Over the long-haul, the company's prospects are much less bright--investors should adjust their strategies accordingly