The Economic Cycle Research Institute, ECRI -- a New York-based independent forecasting group, released its latest readings for its proprietary Weekly Leading Index (WLI) Friday.
For the week ending February 3, 2012:
WLI is 123.3 up from the prior week's reading of 123.0.
The lowest reading for WLI on record was 105.3, for the week ending March 6, 2009.
WLI growth at a negative 4.3% is up from last week's reading of negative 5.3%. WLI growth is at a new high dating back to the week of August 26, 2011, when it was a negative 3.6%
The lowest reading for WLI growth over the period since it was last this high was a negative 10.7% for the week ending October 14, 2011.
The lowest reading for WLI growth on record was -29.9% on December 5, 2008. It turned higher months before the stock market (S&P500 (NYSEARCA:SPY)) bottomed on March 6, 2009, at 666.79.
Chart of WLI and WLI growth vs GDP Growth - (click charts to expand)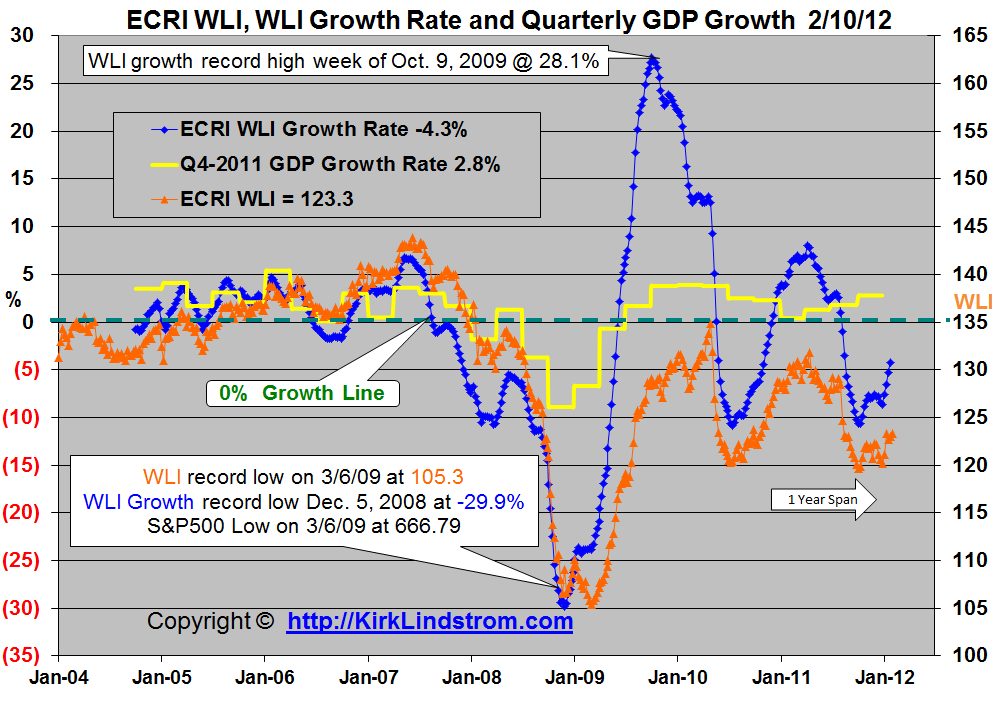 Click to enlarge
Since ECRI releases WLI numbers for the prior week and the stock market is known in real time, you can sometimes get a clue for next week's WLI from the weekly change in the S&P500 or its exchange traded fund, SPY. Notably, in the lead-up to the last two recessions, the WLI turned down months before the stock market did.
Chart of S&P500 vs ECRI's WLI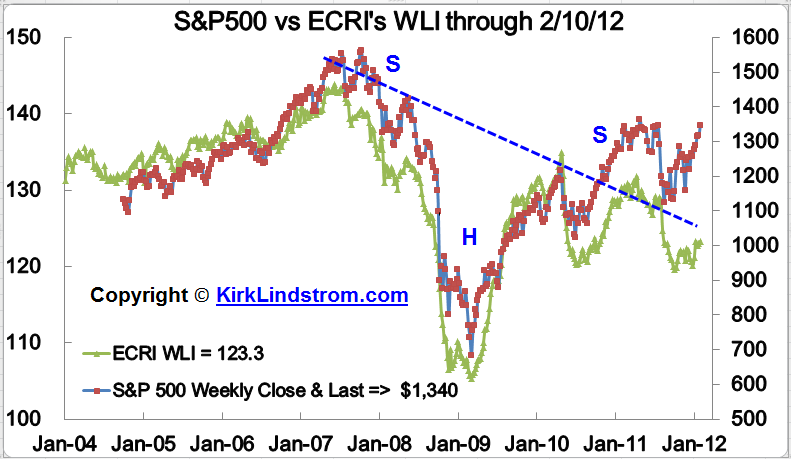 Click to enlarge
ECRI has not publicly backed off their most recent call for a recession. They were correct with their recession call in early 2008, while the S&P500 rallied to the dashed blue resistance (now support) line on the chart above. Could they be wrong this time? By climbing to new highs with dividends reinvested, the stock market sure seems to act like it thinks we will avoid a recession.
SPY: SPY is the exchange traded fund for the S&P500. SPY currently pays a dividend just below that of the 10-year Treasury at $134.35.
the last quarterly dividend: $0.77 on 12/16/11
the dividend yield is 1.90%.
The yield for the 10-year Treasury note (quotes) is currently 1.97%
The inverted head and shoulder bottom pattern (definition) on the chart above was successfully tested from above late last year and now the S&P500 is near its highs of last year. This is bullish long-term.
My Trading of SPY: I am long SPY, but yesterday I took profits at $134.70 by selling some of the shares I purchased last August when the market was lower. I would like to buy these back if the S&P500 trades down to at least below where it pays a higher dividend than the 10-year Treasury Note.
Notes:
Occasionally the WLI level and growth rate can move in different directions, because the latter is derived from a four-week moving average.
ECRI uses the WLI level and WLI growth rate to HELP predict turns in the business cycle and growth rate cycle respectively. Those target cycles are not the same as GDP level or growth, but rather a set of coincident indicators (including production, employment income and sales) that make up the coincident index. Based on two additional decades of data not available to the general public, there are a couple of occasions (in 1951 and 1966) when WLI growth fell well below negative ten, but no recessions resulted (although there were clear growth slowdowns).
For a better understanding of ECRI's indicators, read its book, "Beating the Business Cycle."
Disclosure: I am long SPY.