Volatility has been on the rise over the past five days, and on Friday it really perked up to the tune of an 11.6% jump (click to enlarge images):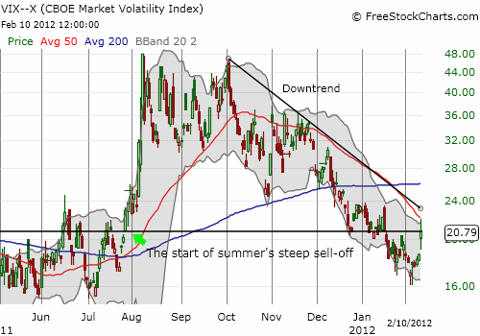 Click to enlarge
Volatility has trended downward since October's peak but it has surged in recent days
This spike in volatility off the bottom sent me scrambling for a fresh bearish play. I have tracked Google (NASDAQ:GOOG) more closely ever since the hype in Facebook's IPO sent almost all things internet reaching for the moon. GOOG did not experience a large surge until Monday, February 6. Volume has tapered off quickly since then, and the stock has been unable to penetrate overhead resistance at the 50-day moving average (DMA). (Technicians will also note in the chart below that GOOG's stochastics have turned overbought as well - very ominous given the proximity to resistance).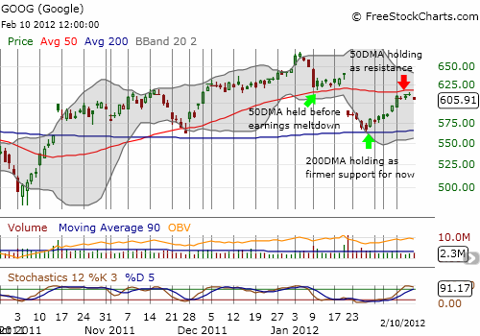 Click to enlarge
Google struggles to make more progress after a one-day surge
With one week to go until expiration, put options offer an attractive set-up for playing the potential for GOOG to sell-off next week.

GOOG puts
Source: Yahoo Finance
A modest 1.5% drop by Friday takes GOOG to $597. The $605 puts have the lowest strike providing a profit at that point. However, the roughly $160 profit comes with a high capital risk of $640 (25% gain). This is not attractive for a speculative options play. If GOOG loses 2.5%, a drop to $591, the $760 profit (119%) is much more attractive. Still, I do not want to place so much capital at risk. Climbing down the ladder to the $595 put generates much lower capital risk for much lower gain and a complete loss if GOOG only sells off 1.5%. For around the same capital risk of $300, I can buy a 585/600 put spread (buying $600 puts and selling $585 puts in a 1:1 ratio) that will act the same as buying the $600 put outright under the 1.5 to 2.5% sell-off scenarios. Conveniently, the 1.5% drop generates break-even results. A 2.5% drop generates a 200% profit. These calculations use the average between bid/ask and exclude commission costs.
For reference purposes, I have posted distribution charts of GOOG's 5-day performance over the last four years. It turns out that on any given day, ignoring any special circumstances like earnings or large moves in the general stock market, GOOG is almost as likely to go down as it is to go up for a given performance. The x-axis below represents the top of a performance range that starts with the next lowest number. For example, in the 4-year chart, the 23% on top of the bar at 0.0% on the x-axis means that 23% of the time, GOOG generated a 5-day performance of -2.5% to 0% (exclusive of 0%).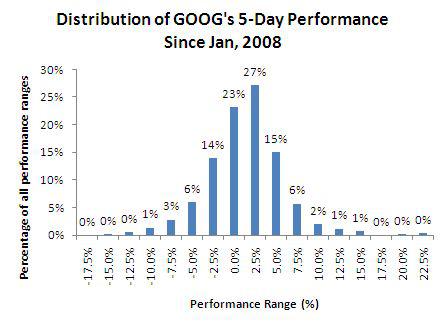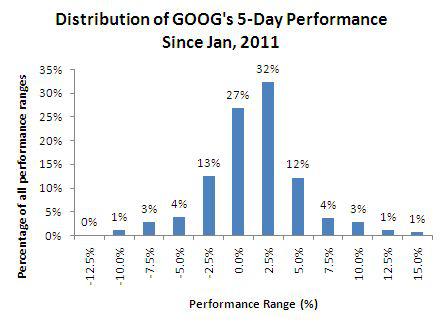 Since this entire speculation on a short-term drop in GOOG's stock rests on the assumption that volatility is signaling much lower prices in the coming week, I decided to hedge my bet with puts (also expiring on Friday) on the iPath S&P 500 VIX Short-Term Futures ETN (NYSEARCA:VXX). If it turns out this burst of volatility is an aberrant blip, then I am hoping that a rapid resumption of the on-going downtrend will more than compensate for the costs of the GOOG trade.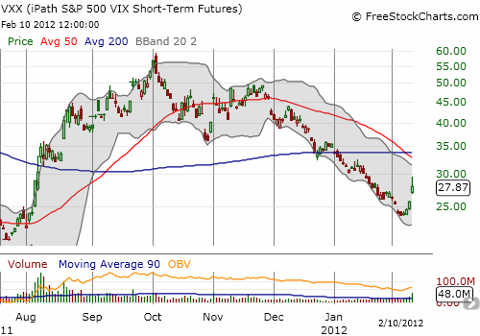 Click to enlarge
VXX has trended down with volatility, but it has gained 16% over the last three days
Source for all charts: FreeStockCharts.com
Be careful out there!
Disclosure: I am short GOOG, VXX, long put spreads on GOOG and puts on VXX, and long VXX shares.