In my November article Einstein's Hedge, I explored a long-term strategy of balancing centralized nuclear with decentralized solar to take advantage of the market's pessimism toward both industries. I disclosed a long position in First Solar (NASDAQ:FSLR), Global X Uranium ETF (NYSEARCA:URA), and Lightbridge Corp (NASDAQ:LTBR). URA and LTBR are in the nuclear space. Although First Solar has since continued to brand itself in the short term as a more centralized provider of energy, I still like Einstein's Hedge as an opportunity for investors who expect the world's decision makers to eventually take carbon emmisions seriously.
Here is how Einstein's Hedge has performed since inception (click to enlarge images):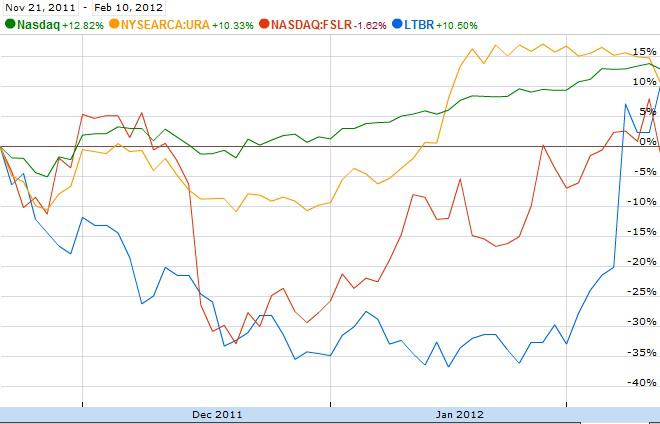 Nuclear stocks have rallied as the expectation, and delivery, of iconic regulatory approvals confirmed the likelihood of a reinstated global "nuclear renaissance".
Meanwhile, solar has quietly consolidated. Solar tech companies are not like most industries. The success of one company does not imply the success of another. There are competing visions for engineering; some will succeed, and some will fail. Again, this highlights the decentralization theme relative to nuclear.
If you follow the positions taken by insiders such as hedge funds, you know they got in on natural gas before its recent popularity. Going back a couple years, before now's natural gas, there was a similar inflationary popularity within solar stocks. The deathly angel of popularity appears to have passed over solar, so you can now get in at more of a wholesale price.
Although First Solar remains exposed to European buyers, Einstein's Hedge is a good defensive holding in the event of a slowdown of the broad economy. Because fears of a recession have subsided for now, defensive picks, such as Einstein's Hedge, are on sale.
Lightbridge is the least-known component of Einstein's Hedge. If you are unfamiliar with Lightbridge, you will find an overview in this article.
Disclosure: I liquidated my stock portfolio to provide capital for a business which I am building.