Sirius XM (NASDAQ:SIRI) is back on its growth track. The company recently reported its 2011 results. The number of subscribers has reached a record number of almost 21.2 million. A year ago, the number of subscribers was 20.2 million. The management also updated its projections to achieve a net subscriber addition of 1.3 million users in 2012.
Supported by the strong subscriber growth, the revenues reached a record of $3.01 billion. Earnings before interest, taxes, and depreciation [EBITDA] is also up by 17%. Free cash flow almost doubled in the last year. Sirius XM created a free cash flow of $415 million in 2011. Achieving those numbers are impressive accomplishments for a company that barely survived the financial crises, but the stock did not perform well this week. While the year-to-date return is in the double-digit zone, Sirius XM closed the week in the red territory.
click to enlarge images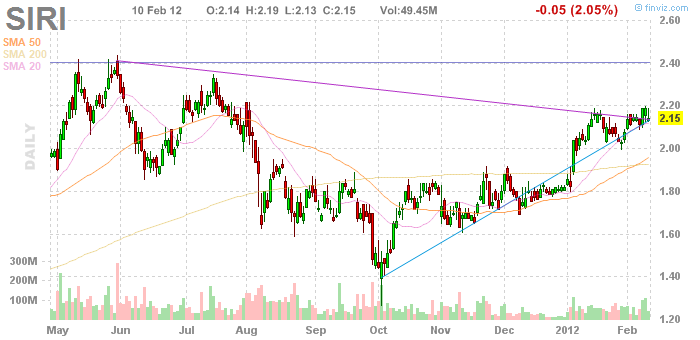 I think the bulls are waiting for an unexpected catalyst that can push the stock with strong momentum. Since the earnings report was in line with investor expectations, it was already priced by the market. So, what could be an unexpected catalyst for Sirius XM? Some suggest it could be a takeover chatter, or share buyback plan.
Looking at Sirius XM's business model, an unexpected catalyst can arise from unexpectedly strong earnings reports from its partners. One of Sirius XM's partners is Ford (NYSE:F) Motor Company. Ford reported its earnings on January 27. Ford was able to create an income of $6.8 billion from revenues of $134 billion in the last year. While the numbers look OK, the earnings per share fell below analyst estimates. The 4th quarter EPS of $0.2 was 20% below the consensus estimate of $0.25 per share. Naturally, the earnings miss had its toll on Sirius XM. Both stocks closed the day in the red territory.
Another partner of Sirius XM is the General Motor (NYSE:GM). Sirius XM satellite radio is offered in most new and used GM vehicles. Both the new and certified pre-owned vehicles come with a 3-month trial subscription to XM select package. This agreement between Sirius XM and General Motors is listed among GM's top owner benefits. In fact, a recent announcement from GM dealers suggests that "customers will automatically receive a 3-month subscription to Sirius XM when they purchase a pre-owned vehicle factory installed with satellite radio, regardless of manufacturer, from over 1,000 participating GM dealerships across the United States." Apparently, even the GM dealers realize that satellite radio equipment adds incremental value to the vehicles they offer.
The users might cancel their subscriptions after a 3-month trial period or switch to other packages offered by Sirius XM. However, with a stable conversion rate of around 45%, Sirius XM packages are pretty popular among automobile owners.
So, back to title. Where is the $8 billion catalyst? The $8 billion catalyst can arise from GM's earnings report, which will be released this week. Analysts expect an EPS of 41 cents for the last quarter, implying an income of around $6 billion. However, a recent rumor on the Wall Street Journal claims that GM is likely to report a record net income figure of $8 billion, which is 30% above the consensus estimates. The article also suggests that GM is on its way to reach a once-unthinkable goal of making $10 billion a year through strong vehicle sales. Since GM is one of the major partners of Sirius XM, I think such an unexpectedly strong earnings report could push Sirius XM back to its 52-week highs.
As I stated before, from a purely statistical point of view, February has been the best month of Siri, since the XM merger. Maybe, that has something to do with GM posting strong profit numbers since the government bailout after the subprime crises. Therefore, I do recommend Sirius XM investors to keep an eye on GM's earnings, which is scheduled to be released on February 16.
Disclosure: I have no positions in any stocks mentioned, and no plans to initiate any positions within the next 72 hours.