Many investors believe that healthcare-oriented investments will only continue to grow as the nation ages and medical advancements further improve life quality and longevity. Healthcare REITs provide such investors with one method of investing in hospitals, rehabilitation facilities and senior health retirement centers. Healthcare REIT exposure also often helps add yield to a portfolio, as many healthcare REITs offer yields well above the market average.
Beyond the income stream that the REIT model generally necessitates, medical real estate is an interesting and highly focused industry. Additionally, over the last several decades, medical costs have increased at a rate that has outpaced inflation. Being the landlord to medical services could be a beneficial position, though the current regulatory and insurance landscape does present highlighted concerns within the American healthcare industry, and potential risks to investors.
Below are recent performance numbers for seven publicly traded healthcare REITs: HCP, Inc. (NYSE:HCP), Health Care REIT Inc. (NYSE:HCN), LTC Properties Inc. (NYSE:LTC), National Health Investors, Inc. (NYSE:NHI), Omega Healthcare Investors, Inc. (NYSE:OHI), Senior Housing Properties Trust (NYSE:SNH) and Ventas, Inc. (NYSE:VTR). I have included their current dividend yields, as well as their 1-week, 2012-to-date and 3-month equity performance rates.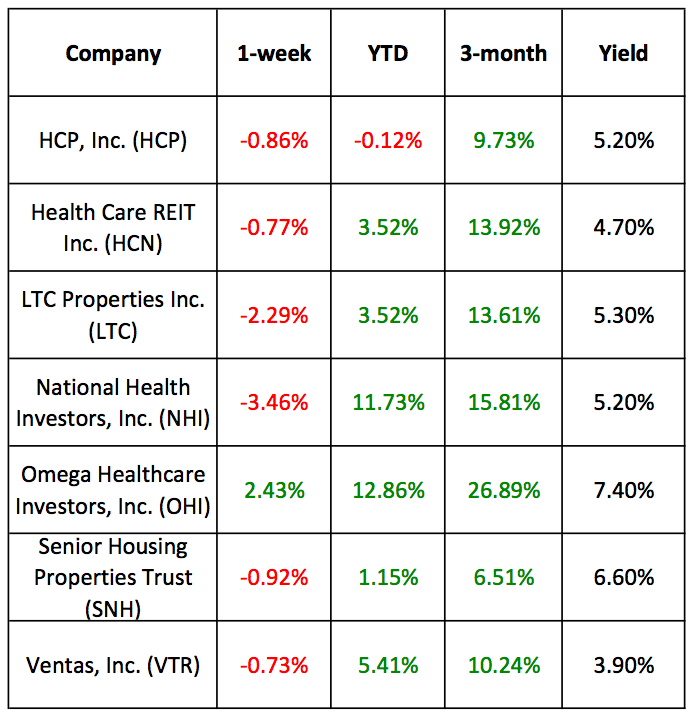 So far within 2012, the average performance of these healthcare REITs is an up 5.44 percent, with an average annual yield of 5.47 percent. The best performing single listed equity over all three time-frames is OHI, which also has the highest yield.
Healthcare is often highly dependent upon the economy and general employment rates. Individuals with healthcare coverage are far more likely to regularly see doctors, and the unemployed, especially once COBRA insurance, are often highly reluctant to see doctors unless an emergency presents itself. Any substantive development in healthcare insurance nationalization could also have unforeseen positive or negative impacts upon this business, its volumes and profit margins.
Disclosure: I have no positions in any stocks mentioned, and no plans to initiate any positions within the next 72 hours.
Disclaimer: This article is intended to be informative and should not be construed as personalized advice as it does not take into account your specific situation or objectives.