Boston-based State Street Corp. has over $2 trillion in assets under management, including over $565 billion in 13-F assets per its latest Q4 filing on Thursday. Founded in 1792, it has a wide global footprint with offices in major financial centers worldwide, including a strong presence in the Asia-Pacific region. Besides its asset management business, the company is a global leader in the providing securities services to institutional investors as a custodian bank, with over $21.5 trillion in assets under custody and administration at year-end 2010.
State Street's assets are well-diversified into over 3,600 positions, with over three-quarters deployed in large-caps, another 15%-20% in mid-caps, and the remaining less than 5% in small-cap equities. With such a well-diversified portfolio, it is understandable that it holds a position in most large-cap U.S. traded equities; hence, looking at just its holdings, or even its largest dollar moves would not be that useful. We focused instead on relatively large positions in which it added a significant percentage to its prior quarter position or where it similarly significantly cut a prior quarter position.
The following are its major buys in Q4 based on that analysis, that are also trading under-valued compared to the peers in their group (see Table):
Sysco Corp. (NYSE:SYY): SYY distributes food and related products to the food-service industry via 180 distribution centers in the U.S. and Canada. State Street added $191 million in Q4 to its $651 million prior quarter position. SYY reported its Q4 last week, narrowly beating revenue and earnings; the stock trades at a current 14.4 P/E on a TTM basis, and at 3.7 P/B, compared to averages of 16.4 and 2.6 for its peers in the wholesale food group.
CA Inc. (NASDAQ:CA): CA is a premier international developer of information technology management software products that operate on a range of hardware platforms and operating systems. State Street added $131 million in Q4 to its $522 million prior quarter position. CA has traded up strongly, up over 30% YTD, and is approaching ten-year highs after reporting a strong Q4 last month in which it handily beat analyst earnings estimates (65c v/s 54c). The stock gapped up strongly in response to the report, and has been strong, currently trading at 10-11 forward P/E and 2.3 P/B compared to averages of 38.1 and 4.2 for its peers in the computer software group.
Pitney-Bowes Inc. (NYSE:PBI): PBI is a leading provider of mail processing equipment and integrated mail solutions worldwide, including the rental of postage meters, the sale and financing of mailing equipment, and the rental and service of reprographic and facsimile equipment. State Street added $107 million in Q4 to its $368 million prior quarter position. PBI reported its Q4 on Thursday after the market closed, beating earnings (61c v/s 59c), but missing on revenues ($1.34 billion v/s $1.37 billion) and guiding FY earnings in-line; the stock plunged on Friday after the report, and it currently trades at 8-9 forward P/E compared to the average of 9.6 for its peers in the office equipment group.
TripAdvisor Inc. (NASDAQ:TRIP): TRIP is an online travel research company, aggregating reviews and opinions of members about destinations and accommodations such as hotels, resorts, restaurants, vacation packages and travel guides. State Street added a new $99 million position in the company in Q4. TRIP shares plunged about 15% or almost $5 to close at $30.04 last week, after a number of brokers downgraded the company and lowered their price targets in response to the company missing earnings and projecting tepid FY revenue growth in its Q4 report that was announced on Wednesday. TRIP was spun-off from online travel services company Expedia Inc. (NASDAQ:EXPE) just under two months ago, and currently it trades at 18-19 forward P/E compared to the average of 26.1 for its peers in the internet content group.
Popular Inc. (NASDAQ:BPOP): BPOP is a holding company for Popular de Puerto Rico, that operates 194 branches in Puerto Rico, the Caribbean and the U.S. State Street added $51 million in Q4 to its $24 million prior quarter position. BPOP profits have plunged in recent years, and the stock in response is down, trading near historic lows and down over 90% from its highs in 2004/05; its shares trade at a current 12 P/E on a TTM basis, and at 0.5 P/B, compared to averages of 14.5 and 0.7 for its peers in the southeast regional banking group.
Besides these five bullish positions, State Street is also bullish on steel manufacturing company Nucor Corp. (NYSE:NUE), in which it added $186 million in Q4 to its $565 million prior quarter position.
Also, other select Stocks that State Street is bearish on based on its moves in Q4 (see Table) include:
leading biotech Amgen Inc. (NASDAQ:AMGN), in which it cut $364 million from its $2.06 billion prior quarter position;
integrated telecom Centurylink Inc. (NYSE:CTL) that provides local exchange, long distance, network access and broadband services to rural communities in 33 states, in which it cut $172 million from its $1.47 billion prior quarter position;
online travel services booking company Expedia Inc. , in which it cut $121 million from a $244 million prior quarter position; and
steel-maker AK Steel Holding (NYSE:AKS), in which it $22 million from a $55 million prior quarter position.
Table
click to enlarge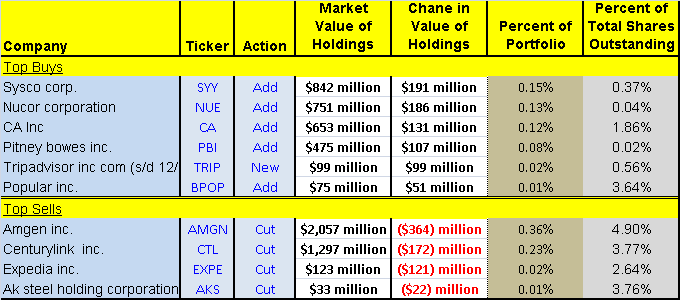 Credit: Historical fundamentals including operating metrics and stock ownership information were derived using SEC filings data, Zacks Investment Research, Thomson Reuters and Briefing.com. The information and data is believed to be accurate, but no guarantees or representations are made.
Disclosure: I have no positions in any stocks mentioned, and no plans to initiate any positions within the next 72 hours.
Disclaimer: Material presented here is for informational purposes only. Nothing in this article should be taken as a solicitation to purchase or sell securities. Before buying or selling any stock you should do your own research and reach your own conclusion. Further, these are our 'opinions' and we may be wrong. We may have positions in securities mentioned in this article. You should take this into consideration before acting on any advice given in this article. If this makes you uncomfortable, then do not listen to our thoughts and opinions. The contents of this article do not take into consideration your individual investment objectives so consult with your own financial adviser before making an investment decision. Investing includes certain risks including loss of principal.