BHP Billiton (BHP) is the world's largest natural resource company, with revenue of US$71,739 million and a net profit of US$23,648 million reported for the financial year 2010/11 (BHP Annual Report, 2011). BHP Billiton was formed when BHP and Billiton merged in June 2001 to form at the time the second largest mining company in the world, with a market capitalization of $57 billion. Following the merger the two companies maintained their separate stock exchange listings, with BHP Billiton Limited (ASX:BHP) listed on the Australian Stock Exchange, and BHP Billiton Plc (LSE:BLT) listed on the London Stock Exchange.
Both BHP Billiton Limited and BHP Billiton Plc shares have equal economic and voting rights, meaning they are both entitled to the same dividend payments and have the same rights to the assets and liabilities of the company. So theoretically both shares adjusted for the currency exchange rate should trade at the same price. When examining the last five years of share price history, every day within that period the shares that trade on the London Stock Exchange have traded at a discount compared to the shares on the Australian Stock Exchange. If the shares were interchangeable any price difference would be an arbitrage opportunity, because in this case the shares are unable to be swapped from exchange to exchange this is not an arbitrage trade.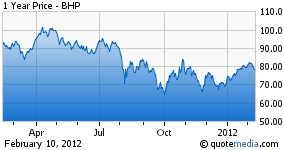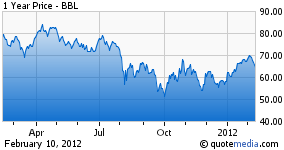 On the other hand, it is possible to trade the spread by going long (buying) one of the shares and at the same time going short (selling) the other one, and make a profit or loss from the price change within the spread. Shares traded on the Australian Stock Exchange are quoted and traded in Australian dollars, likewise for the London listed shares are traded in pounds, so exchange rates and exchange rate movements need to be considered when comparing the two listings.
Fortunately, they are both listed and traded in US dollars on the New York Stock Exchange (NYSE) through the use of American Depositary Receipts (ADRs), as an ADR is exchangeable for the underlying security. Because of the law of one price, an ADR will always trade very closely to the price of the underlying security. Please note that two Australian shares form one ADR representing the Australian listed BHP, as well as two London shares form one ADR representing the London listed BHP.
During the last five years on the NYSE, the ADR representing the London listed BHP (NYSE:BBL) has traded between 78.54% and 98.07% of the price of the ADR representing the Australia listed BHP (NYSE:BHP), with an average over the last five years of 87.54%. At the moment, BBL is trading at 83.9% the price of BHP. A trader could buy the spread when it is at a low level and sell the spread once it rises up to the historical average. By trading the spread, the trader to not concerned by the volatility in the market or the direction of the share price movements as the trader is in hedged position and is only concerned with the movement of the spread between the ADRs. If an investor is looking to invest in BHP Billiton, the London ADR offers better value and a greater margin of safety