As the search for oil moves out to the ocean blue, big oil conglomerates are looking to secure their drilling rig supply chain. It is inevitable that the future of recoverable, easy-to-find oil resides in the ultra deep waters off the coastlines. Companies like Royal Dutch Shell (NYSE:RDS.A) and Chevron (NYSE:CVX) have already focused on developing regions like the Brazilian coast and the Gulf of Mexico respectively.
Yet there remains a limited amount drilling rigs both capable and available for deployment should a massive demand of these ultra deepwater projects continue to expand. As it stands, those looking to drill the deep seas must be willing to lock in their services at the very lucrative rates with amounts often topping several hundred thousand dollars per day based on prices that drilling companies are willing to pay to charter these vessels. Part of the reason for these high prices is the fact that these multimillion dollar ultra deepwater drilling rigs are inherently very expensive to construct and time-consuming to build. Those looking to expand the rig capacity must be able to obtain a very large amount of capital upfront in order to finance the purchase. Likewise, a single "newbuilding" rig (newly constructed vessel) often takes years of foresight by the purchasing drilling company in order to adequately time the deployment of these large vessels.
It should come as no surprise then that a large company like Petrobras (NYSE:PBR) who is looking to develop its large underwater oil fields has recently made efforts to secure a large fleet of offshore drilling rigs. The company recently maneuvered itself into a sizeable agreement to lease 26 rigs from companies Sete Brasil Participacoes and Ocean Rig (NASDAQ:ORIG). Petrobras announced that the company will pay Sete Brasil a lofty $530,000/day rate to lease 21 rigs. Likewise, the company expanded the agreement by locking in 5 of Ocean Rig's deepwater rigs at an average price of $548,000/day. By locking in their rates for 15 years, Petrobras is able to secure charter rates that could otherwise have fluctuated with the price of oil.
For Ocean Rig, such long-term contracts will provide a very stable outlook for the company, whose majority ownership stake is claimed by DryShips Inc. (NASDAQ:DRYS). In many respects, the locking in of this stable cash flow serves as a welcome sight for sore eyes for DryShips investors. As the company now derives the majority of its revenues from drilling contracts, DryShips has a keen interest in stabilizing their incoming cash flows. The decline of the dry bulk shipping sector, of which DryShips has a considerable portion of its revenues derived, has caused an extended period of uncertainty as companies begin to idle their ships awaiting for the return of demand. The following graph of the Baltic Dry Index illustrate the drastic fall of dry bulk contract prices that has plagued the industry.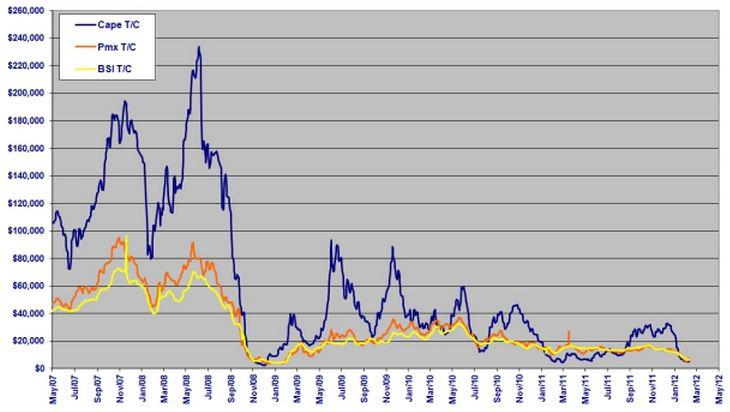 Yet for offshore drilling companies, news of the Petrobras agreement offers a prosperous outlook for the setting of future prices. With a lower supply of rigs available on the market for an extended time period, large offshore drilling companies like Transocean (NYSE:RIG) and Seadrill (NYSE:SDRL) are more capable to exploit spot drilling prices in an environment of rising oil prices. As a global leader in the ultra-deepwater field, Transocean maintains a fleet of 27 vessels that are able to operate in such harsh conditions. Yet the company remains mired by a gloomy sentiment that was cast over it from the Deepwater Horizon accident back in 2010. With the uncertainty of legal and financial ramifications looming overhead, the company continues to trade with a poor price-to-book ratio of 0.78.
Investors looking to cash in on the future of oil should be aware that the deepwater drilling sector has come under the microscope in recent years. Nevertheless, there is no denying that large oil corporations continue to focus on developing these massive underwater oil fields. As such companies venture to lock in their capacity to explore these untapped resources, offshore drilling plays will once again begin to look very attractive as a feasible investment option.