In September 2011, Seeking Alpha published my article Covered Calls with Oatmeal and Red Bull. In that article I introduced the concept of "Oatmeal" and "Red Bull" stocks, and offered a slate of 18 Oatmeal covered call recommendations, each of which reflected the central tenets of my covered call philosophy:
Sell in the money or just out of the money calls, to maximize the likelihood of assignment;
Sell calls that expire in 3-4 months; (For more aggressive Red Bull covered calls I sell front-month calls only.)
Only establish covered calls that deliver a total annualized return of at least 10% from share appreciation, option premium, and dividends combined. (For Red Bull covered calls I require a minimum 40% annualized return.)
I back-tested my recommendations and was astonished to discover that 17 of the 18 calls expired in the money. Depending on your investment style, you'll view this outcome through one of two distinctly different lenses:
A buy & hold investor will see evidence of the folly of covered calls. After all, by selling calls you risk leaving a pile of money on the table in the form of lost upside. That is indeed the biggest risk associated with call selling; for example, in the September article I recommended XOM at $72.14, with a January strike of $72.50, and XOM now trades over $84.
Alternatively, if you're like me, you'll be quite content to earn 10% or more for a 3-4 month trade, and welcome the opportunity that share assignment provides to re-invest into another covered call that will deliver a similar yield.
Both investment approaches have their merits. The approach that suits you will depend on factors like your temperament, risk tolerance level, and amount of time you wish to devote to your investments.
Regardless of which camp you belong to -- buy & hold, or buy & sell calls -- you would have done well with the debut Oatmeal picks.
In this article I'll present an updated Oatmeal covered call portfolio.
Screening Criteria
Oatmeal covered call candidates must meet the following criteria:
Rated 4 or 5 stars by both Morningstar and S&P;
Classified by Morningstar as a "wide moat" company;
Minimum $15 share price;
Minimum 2% dividend yield; and
Minimum annualized yield of about 10% if assigned.
Fine Print
As the saying goes, "Past performance does not guarantee future results." The "success" rate of the first Oatmeal portfolio (17 of 18 calls assigned) sets the bar absurdly high; moreover, the first Oatmeal trades occurred during a sharp market upswing (the DJIA advanced over 14% from the article's publication date through January 21, the expiration date for all but one of the 18 trades.) The performance of the new Oatmeal portfolio will surely reflect the market's overall direction over the next 3-5 months.
On the other hand, Oatmeal stocks, by definition, are "quality" stocks that should make attractive longer-term holdings, in the event that they are not called away.
My yield calculations reflect purchasing 200 shares of each stock and selling two call contracts, with the following brokerage fee schedule:
$6.99 commission
$.50 contract fee
$19.99 assignment fee
Pricing data is as of close of business February 9, 2012.
Because Oatmeal stocks pay reasonably healthy dividends, they are especially susceptible to early assignment, which will reduce your income but may actually boost your annualized yield.
I selected in the money strikes in cases where the downside protection didn't overly depress the yield. Otherwise I selected the first strike above the current share price.
The Envelope Please....
Here are the stocks that made the cut, sorted in descending sequence by the average of the yield if assigned and yield if not assigned (Stocks highlighted in bold also made the September 2011 Oatmeal portfolio):
Buckeye Partners LP (BPL), 22.93 yield if assigned, 16.48% yield if not assigned
General Electric (GE), 25.73%, 11.56%
CH Robinson Worldwide (CHRW), 21.81%, 14.72%
Microsoft (MSFT), 18.15%, 17.02%
Pfizer (PFE), 23.29%, 10.64%
CME Group (CME), 15.07%, 18.62%
Novartis (NVS), 18.47%, 14.41%
Merck (MRK), 16.21%, 11.99%
Paychex (PAYX), 13.29%, 11.61%
Abbott Labs (ABT), 11.11%, 13.74%
Exxon (XOM), 11.59%, 11.63%
Pepsi (PEP), 11.94%, 9.85%
Johnson & Johnson (JNJ), 10.23%, 10.31%
Exelon (EXC), 8.89%, 9.93%
For more detail on the trades, click to enlarge the chart below: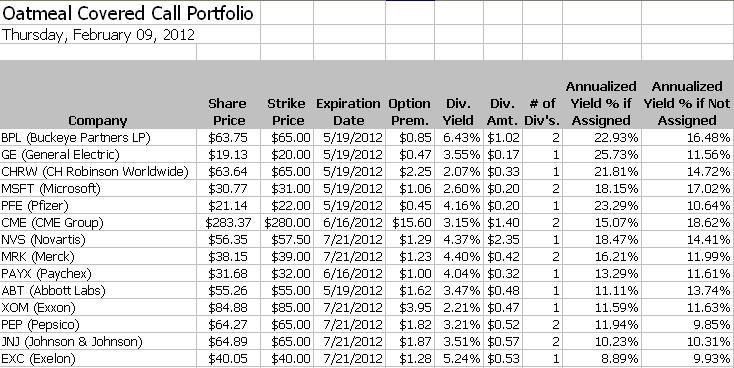 Additional disclosure: I am short calls on GE, ABT, XOM, and EXC.