Whirlpool (NYSE:WHR) has gained 29% since reporting fourth quarter and full-year earnings on the morning of February 1. At the time, WHR represented an explosive combination of a business turning around its fortunes through pricing power and productivity gains, a cheap valuation, an imminent bottom in housing for 2013, relatively high dividend yield, and a large short interest.
I am currently kicking myself for not recommending Whirlpool as a buy when discussing purchasing stocks like Kb Home (NYSE:KBH) and Dynex Capital (NYSE:DX) as plays on a bottom in housing for 2013.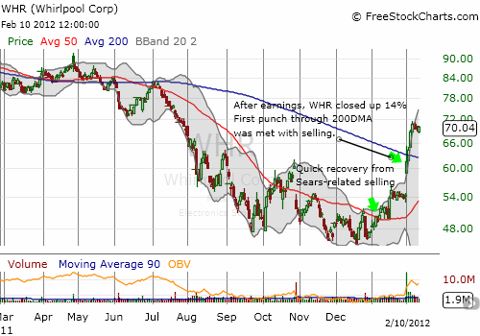 Following a firm base in December, WHR soars after reporting earnings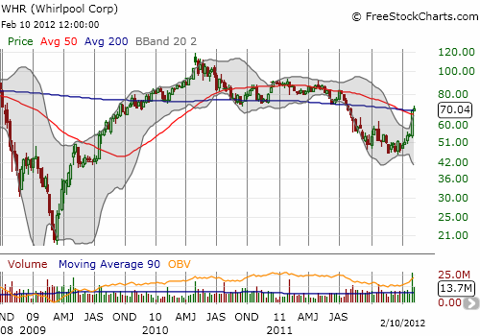 Whirlpool remains well-off its post-recession highs set in 2010
Source: FreeStockCharts.com
2011 was a poor year for Whirlpoo--l both in its stock price and business performance. The stock lost 47% as revenues flattened and earnings plunged versus 2010 levels.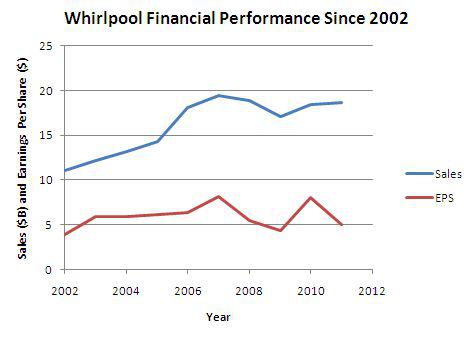 Whirlpool's revenues have almost returned to pre-recession levels, but earnings dropped toward recession lows
Source: MSN Money historical financial statements for WHR
I can only imagine that once Whirlpool returns to pre-recession margin performance, the stock will really soar. In the meantime, I think the stock has delivered the bulk of its upside for 2012 (already 48%!) absent additional positive catalysts. I base this assessment on WHR's historical valuation metrics and 2012 guidance. Over the past 10 years, WHR's current trailing P/E of 14 is second only to 16.1 in 2002. This suggests WHR could have another 14% of upside this year under the most optimistic circumstances.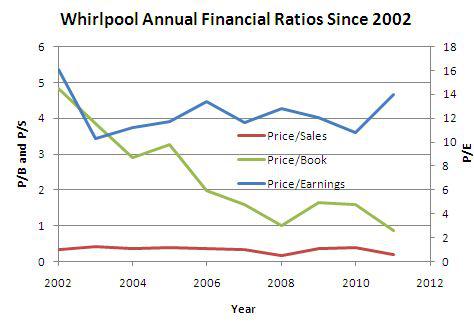 P/E approaches historic highs while P/B remains near historic lows
Source: MSN Money historical financial ratios for WHR
Note that P/B has now risen to 1.3, but I do not expect WHR to be a story of P/B expansion given the secular drop in this metric. (P/S has remained relatively flat over the past 10 years). It is more realistic to gauge WHR's valuation prospects via its P/E. If we take Whirlpool's guidance of diluted EPS of $5.00 to $5.50 for 2012 (on-going business operations EPS of $6.50 to $7.00), and apply a 16 trailing P/E to the upper-end of guidance, we achieve a year-end price target of $88 in the most optimistic scenario. This is a healthy 25% gain, but the large range in earnings guidance means a more conservative target of $80 or less makes more sense until WHR starts showing 2012 results.
For eager buyers, Whirlpool's dividend yield of 2.9% can pay you a little for waiting out what is sure to be a volatile 2012. WHR's expected cash flow of $100-150M makes the dividend payout relatively "safe," but it is obviously not enough to cover all the risks inherent in owning WHR stock.
The abrupt repricing and re-appreciation of Whirlpool has probably been aided by some short covering. Shorts are currently 12.3% of WHR's float. The chart below shows that short interest had begun to slowly creep upward after dropping from 2011′s highs in December.
Short interest in WHR is down, but remains high
Source: NASDAQ.com
In the next short interest report, I will be looking for confirmation that WHR's earnings have forced many shorts to abandon ship.
Supporting the optimistic scenario for WHR is the story management told of the company's ability to match material cost pressures with productivity gains. Pricing power in Europe and particularly in North America is allowing the company to expand margins. Here is how management characterized the price elasticities of their customers (see the transcript of the earnings call in Seeking Alpha for more details):
"…in the case of North America…we do think there's a very little relationship between change in prices and demand…that does not mean that there is not affordable products available to consumers. And we generally don't vacate price points, but we changed the value feature for price points, and the consumer who's in the market ever 10 years doesn't really have a preconceived notion about what that value feature content is. So as we've been through this the last 5 years, candidly, I don't think the price increases have any impact at all on demand. In other parts of the world, it's somewhat different. Where you have emerging markets where you're having first time consumers coming in where there is an affordability threshold, then we're a little bit more - when we - although we saw up the same need to raise prices, we're also innovating for the masses…to expand the affordability range with the consumers."
This is an important story because Whirlpool spent much of 2011 recovering from a collapse in demand in the second half of 2010, that was followed by significant inflationary pressures. Here is how management described the process:
"…the cycle…really began in the second half of 2010. We came off of a first half where we saw some - somewhat ardent [ph] stimulus-driven growth, but good growth in the first half of the year. And then seemingly in the second half, the growth just stopped. And there was a lot of competitive dynamics at every level that drove us into a period of really 12-month period of very negative pricing, and I'm talking largely in the North American business. At the same time, coming into 2011, we, and I believe most companies were negatively surprised about the material inflation that accelerated. So you had basically negative demand, significantly negative pricing and very negative increases in cost. And that had a profound impact on margins across the board. Like I said, we took a decision for ourselves that…margin expansion was our number one priority, and we announced price increases early last year in the case of North America, and as we saw inflation ramp up even more, we took a second price increase and announced the third for January of 2012. We think those are the right decisions for the business…We're satisfied with the innovation that we're gaining, that our market share hasn't materially changed."
So, overall, business is looking more promising for Whirlpool going forward. Aggressive investors might choose to buy now. However, I believe given outstanding macroeconomic risks and management's 10% range for earnings guidance, it makes sense to wait to buy into Whirlpool's comeback story on the dips that are sure to come with 2012′s volatility. (Moreover, the stock market remains extremely overbought right now).
Disclosure: I am long WHR.
Additional disclosure: I am also long puts and calls on WHR