Indian markets took a bit of a break last week from their 2012 bull run. Most India ETF products were down for the week except for 2012's darling, India small cap stock ETFs, and the India consumer ETF (NYSEARCA:INCO). Here's a breakdown of the week's India ETF and ETN performance.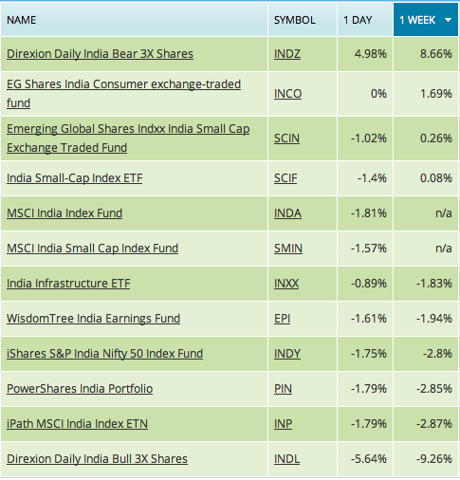 (Click to enlarge) Source: IndiaETFs.com
The Bounce
India ETFs are already up between 12% - 40% in 2012 and last week was a breather. Foreign investment has continued to pour into India with over $2 billion of inflows in January. In contrast, last January saw $1 billion of foreign outflows. India was the worst performing BRIC market in 2011 and was likely oversold by most investors, especially foreigners. At the time concerns over inflation, the rupee's devaluation and the overall risk Indian markets delivered in the midst of the EU debt crisis were valid but eventually proved overdone. Now India appears to have addressed inflation, secured the rupee and has benefited from a less conservative risk appetite by investors. Accordingly Indian equities have bounced off their 2011 lows, most notably small cap stocks. India small cap ETF products like SCIF from Market Vectors have risen as much as 45% for the year, easily exceeding their large cap focused competitors like PowerShares' PIN. In fact, coincidence or not, iShares launched their first India small cap ETF (BATS:SMIN) this past week. Here's a complete list of India ETFs sorted by year to date performance.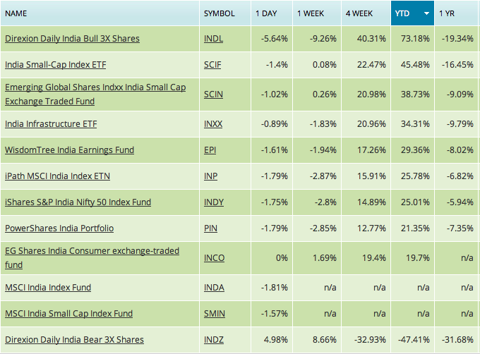 (Click to enlarge) Source: IndiaETFs.com
Potential Risks
Going forward Indian inflation numbers will receive a lot of attention as they could derail the market's hopes of interest rate cuts. Data suggesting the inflation problem has not been tamed would likely send Indian markets significantly downward as rate cuts have been priced in. External risks to India are centered on the EU debt crisis. With news of a successful vote on another round of Greek austerity measures, it appears the EU debt crisis will not return to a boil in the foreseeable future. This helps India as it keeps investors in a "risk on" posture, the position needed for continued foreign and domestic investment confidence. Finally India's recent success could also be considered a threat. Some of the returns being generated from areas like small cap stocks are not sustainable. A material pullback or a surge of profit taking is likely to be on the horizon.
How High?
It's important to remember that even with this recent burst of performance Indian markets and the ETFs that track them are well off their all time highs and are actually negative over the last one year period. (see chart above) Thus India ETFs could continue to move significantly upward without breaking new ground. Here's a four year performance chart (less 10 days) of WisdomTree's EPI, the first and largest India ETF. As you can see this ETF - like most others in the space - could move significantly without reaching new highs.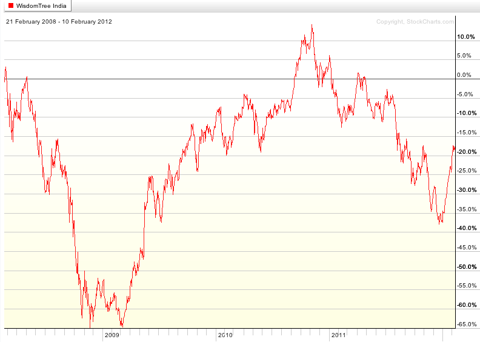 (Click to enlarge) Source: Stockcharts.com
Disclosure: I have no positions in any stocks mentioned, and no plans to initiate any positions within the next 72 hours. IndiaETFs.com is published by Christian Magoon.