Investors looking for a place to park some idle money heading into the springtime may want to consider looking for some mid caps, and some mid cap financial names in particular. The S&P 400 mid cap Index has - surprise - been whipping the S&P 500 since the market hit a bottom in early 2009. The edge? A 136% gain for the average mid cap, versus a 96% gain for the typical large cap. mid caps are also well above 2007's peak levels, and show no signs of stopping.
As for the S&P 400 Financial Index, it hasn't necessarily been leading the mid cap charge over the past three years. In fact, it's lagged. The S&P 400 Financial Index has 'only' gained 107% since March of 2009, only faring better than the telecom and utility stocks from the mid cap world. That's not a liability in this case though ... it means the group has more room to rebound now.
Combine that "catch up" potential with underlying fundamental results, and the group - as a whole and the individual stocks within it - are ripe for a solid 2012.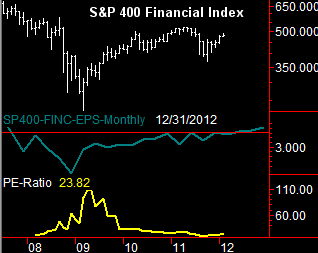 For reference, the S&P 400 Financial Index is currently priced at a P/E of 23.8. Yes, it's on the high side, but bear in mind a lot of very profitable mid-tier banks and brokers are still offsetting some very large losses being taken by a handful of mid cap finance names. And, even at a price/earnings ratio of 23.8, that's still about as cheap as the group's been since 2008 (when earnings were falling)
Either way, earnings for the group are consistently on the rise now, and expected to reach a new multi-year high of $6.42 (were the S&P 400 Financial Index a stock) in Q2 of this year. And, earnings are forecast to continue rising through the end of the year.
One of the hidden values within this segment is WellCare Health Plans, Inc. (NYSE: WCG) - a managed care provider/insurer that offers services exclusively to government-sponsored Medicare and Medicaid programs.
Given the shaky state of both programs under a presidential regime that's looking to slash government healthcare costs (i.e. spending), a name like WellCare Health Plans may feel like a gamble. But, the company is not really the huge liability some are assuming, and in the case of WCG, may be worth the risk. The company has managed to beat earnings estimates for its last eleven quarters - by a lot - reliably growing it the whole time following 2008's dip into the red ink. The pros are looking for per-share earnings to sink from $5.76 (est) last year to $4.21 this year. However, last year's original forecast was only for an EPS of $3.59, and the company simply blew it out of the water; 2012 may be no different.
More than that though, a Republican win in this year's Presidential election would likely put the kibosh on the government's current healthcare plans, and re-clear the decks for a company like Wellcare.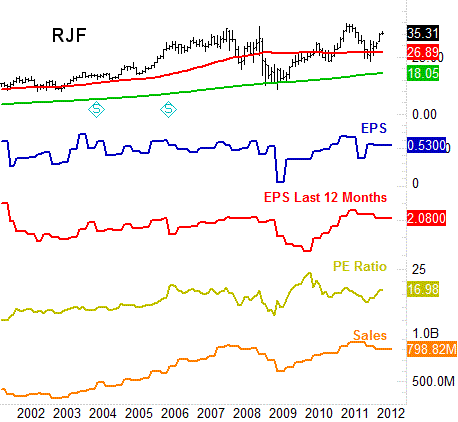 Raymond James Financial, Inc. (NYSE:RJF) is another one of the prototypical mid cap financial stocks most investors have heard of but few own. Though its earnings swing higher and lower just like its bigger brothers, each earnings lull is a little higher than the prior one, and each earnings peak is a little higher than the prior one as well. The net result over time is steady income progress, and a reasonable trailing P/E ratio of 16.98.
What's really making RJF a 'right time, right place' package at this point, however, is a combination of a recent union with Morgan Keegan, and the continued attrition of smaller brokerage firms as trading continues to wither.
Last month, Raymond James spent nearly a billion dollars buying Morgan Keegan - another mid-sized brokerage firm that actually looks a lot like Raymond James in terms of approach and strategy. Ergo, the duo should be able to unlock a lot of value by synergizing that couldn't exist when they were competing.
Simultaneously, as trading activity has started to dry up again, smaller (and more like tiny) brokerage firms are heading into a cash crunch. With many of these names now more than willing to entertain suitors - without being picky about price - Raymond James Financial, Inc. can continue shopping for small acquisition targets, picking them up for a song.
Lastly, regional banking name City National Corp. (NYSE:CYN) rises to the top of stocks poised to become a leader among the S&P 400 Financial Index's stocks.
This $2.5 billion company struggled in 2008 and 2009 like any other bank did; 2007's per-share income of $4.52 slumped to $0.50 in 2009. Since then, however, the bank has been digging itself out. We've yet to see a bottom line like we saw in 2006/2007 heydays, but 2011's EPS of $3.21 is decidedly better. This year's expected per-share income of $3.52 and next year's forecast $3.84 is better still. The point being, City National is on a confirmed path to progress. Fueling that progress, among another things, is last quarter's measurable loan growth and higher interest income. Said another way, the income growth is based on something real.
Perhaps more important than that success, however, is that the analytical and institutional community is starting to warm up to City National. JPMorgan mid cap Value Fund manager Jonathan Simon added City National Corp. to the portfolio late last year, while Deutsche Bank has established a price target of $46.00 for City National shares. Now that the pros are falling in love, the ball could really get going.
While these three names are a great place to start (and perhaps finish) the search for a new pick, in this case it's the group itself that may be playing as much of a role in their budding success. So, even if none of these three tickle your portfolio's fancy, you may not have to look beyond their close cousins to find a name that works well.
Disclosure: I have no positions in any stocks mentioned, and no plans to initiate any positions within the next 72 hours.