On February 9, 2012 Myrexis (NASDAQ:MYRX), a biotechnology company focused on the development of small molecule therapeutics with novel chemical structures and distinct mechanisms of action, reported financial results for its second fiscal quarter ended December 31, 2011.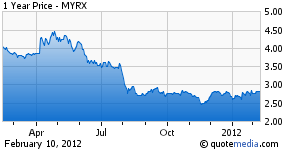 Robert J. Lollini, President and Chief Executive Officer of Myrexis, Inc., stated, "During the quarter, we continued to advance each of our programs consistent with our development objectives. Also, during the quarter we completed a corporate reorganization aligning our internal resources with our development strategy and current clinical initiatives. Continuing our commitment to control cash burn, since March 2011, we have reduced our headcount by 57%, resulting in estimated annual cost savings of over $9.0 million. We continue to seek out potential strategic partnerships to maximize the therapeutic and commercial value of our drug candidates and evaluate other strategies to enhance shareholder value," concluded Mr. Lollini.
Product Pipeline
The company has generated a strong pipeline of differentiated product candidates in oncology and autoimmune diseases.
The company's current partnering opportunities include:
Financials
The company ended its second fiscal quarter with $103.0 million ($3.92 per share) in cash, cash equivalents and marketable securities. The company believes that with its existing capital resources, the company will have adequate funds to maintain their current and planned operations through at least June 30, 2014. The net cash used in operating activities was $13.3 million for the six months ended December 31, 2011, compared to $15.4 million for the same six month period in 2010. This decrease can be attributed primarily to a lower net loss during the current period, as a result of headcount reductions during calendar 2011, offset, in part, by higher external development costs associated with the company's drug candidates.
Insider Transactions
There has been continued buying by a insider Jason Aryeh since my previous article.
Jason Aryeh was appointed a member of the Myrexis Board of Directors on October 19, 2011. Mr. Aryeh is the founder and managing general partner of JALAA Equities, LP, a private hedge fund focused on the biotechnology and specialty pharmaceutical sector.
As of January 31st 2012 JALAA Equities held 495536 shares of Myrexis. That equals to 495536 / 26,252,650 or 1.9 % of all shares outstanding.
Conclusion
I would be buying Myrexis as long as it trades below its cash position of $3.92 per share. I believe there is a very good chance of a buyout or other strategic partnership. I would continue to monitor the insider transactions going forward.
Disclosure: I am long MYRX.