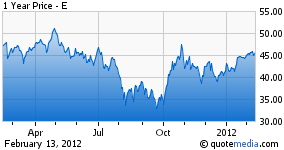 Eni (NYSE:E) is Italy's largest corporation by market cap, but as a stand-alone oil company is challenged by massive consolidation in the global oil&gas industry and is at risk of being dwarfed by fast growing emerging markets companies such as Petrobras (NYSE:PBR) and Sinopec (NYSE:SHI).
In a recent article I suggested that one way to avoid this is by merging with French firm Total (NYSE:TOT). This would indeed be the quickest way to grow, but would require the Italian government to relinquish its 30% golden share and both companies would no longer be national champions (and we know how prideful are the French!).
In case this turns out to be unfeasible, the firm could try to grow through acquisitions. Eni is about to get rid of its burdensome subsidiary Snam; this means less debt and fresh cash that could be put to work buying out a smaller company with promising international growth and reasonably priced. In my opinion the best complement to Eni's operations would be Spanish Repsol YPF (OTCQX:REPYY)
Repsol YPF, founded in 1927 in Madrid, is Spain's largest oil company, with revenues of $75 Bil. and operations in 30 countries. Its performance in 2011 and early 2012 has been excellent; worthy of notice:
Exceptional results in the LNG business, with operating income growing 368% to € 276 Million in the first 9 months of 2011, due to higher production and sales owing to production start-up at the Peru LNG plant.
Resumed production in Libya.
Upstream operating income 16% higher due to higher crude oil and gas realization prices.
A huge discovery operated by its Argentinian subsidiary, in one of the world's largest non-conventional reservoirs, the Vaca Muerta formation in Neuquén province, with gross prospective resources of 22 billion barrels of oil equivalent.
Began development of the Perla Field in Venezuela, Latin America's biggest ever gas discovery; Eni and Repsol each have a 32.5% stake.
New discoveries in Brazil, where it operates a joint-venture with Chinese company Sinopec.
Operating income of € 4.1 Bil in the first nine months of 2011, 1% higher than in the year-earlier period.
It is clear that Repsol is making steps in the right direction: its global footprint and profitability are growing and with a current EV/EBITDA ratio below 5, a P/E ratio around 6 and a market cap of only $ 33 Bil. is a potential takeover target, especially for energy hungry Chinese firms that are gobbling up resources in Africa and Latin America at a fast pace. To be honest, there are rumors that Argentinian subsidiary YPF will be nationalized and while Repsol would likely be adequately compensated, the threat might scare prospective buyers.
Eni's operation in Latin America (except risky joint ventures in Venezuela) are trivial, and its 33% stake in Galp (a Portuguese company with operations in Brazil) is of little significance, so an acquisition of Repsol would allow the company to gain immediate leadership in Spain and Argentina's oil markets and a privileged entry into an area of cardinal importance that is currently an Achilles' heel in its global growth plans.
Eni's executives should consider initiating talks with Repsol's management before the Spanish company becomes too expensive or before it gets acquired by a competitor.
Let's see how Eni and Repsol combined compare to other oil majors:
| | | | | | |
| --- | --- | --- | --- | --- | --- |
| ----- | Eni+Repsol | Chevron (NYSE:CVX) | Petrobras | Total | Petrochina (OTCPK:PCCYF) |
| Assets $ Bil. | 287 | 185 | 328 | 206 | 255 |
| Revenue $ Bil. | 210 | 190 | 126 | 188 | 220 |
| Profits $ Bil. | 15 | 19 | 21 | 14 | 22 |
| Reserves Bboe | 10 | 11 | 16 | 10 | 23 |
(source: Platts)
Disclosure: I am long E.