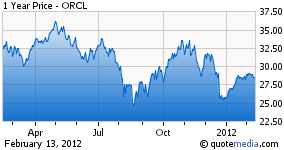 Wall Street is often unforgiving and rarely does it forget being disappointed. The end result is often an unrelenting beating of the stock price. For management of such companies, there's always the next quarter to prove yourself worthy of exiting the proverbial Wall Street dog house. Yet if the numbers arrive only slightly decent, you still just may end up sleeping on the couch. Because the only thing worse than not meeting expectations, it's failing to do so sequentially.
This is where database giant Oracle (ORCL) finds itself after recently missing earnings estimates. But since this was the first time it had missed in 10 years, I tend to think Wall Street's reaction was a bit of an exaggeration. During the earnings conference call, management spoke of some struggles to close sales as the quarter ended, which reflected uncertainty in financial markets and caused a number of customers to pull back on spending. Management also detailed that new software and hardware products, including Exadata and Exalogic, sold well and beat out servers that combine features from market leading competitor Intel (INTC).
However, I continue to remind investors that if one pays well enough attention, anticipation of such events can make the impact less forceful and this is where value investors should seek to take advantage of the disrespect given to a market leader. The fact of the matter is, for every blowout quarter from a company such as Apple (AAPL) there are indeed earnings misses from various other companies. But when the disappointment comes from a company such as Oracle, it should be taken with a grain of salt and appreciate that it is not the end of its empire.
Its Recent Hiccup
In the quarter ending November 30, the company reported a profit of 54 cents per share while analysts were projecting profits of 57 cents. The bright side of the report was that new software sales rose slightly - 2% year-over-year to $2 billion. Management also added that it expects hard revenue declines of 5% and 15% while also projecting new software sales growth of flat to 10% - another disappointment as analysts were forecasting growth of 7%.
As a long time shareholder, I can tell you that the company has had better reports. But one thing that it also has is good sound management. Warren Buffett once said, "When a management with a reputation for brilliance tackles a business with a reputation for bad economics, it is the reputation of the business that remains intact."
If you subscribe to this belief as I do, you will be hard pressed these days to find any management team who deserves more credit than those at Oracle. Because unlike many once prominent tech giants such as Research In Motion and AOL that once captured market niches only to see them slip away to more agile rivals, Oracle on the other hand has been able to maintain its lead in enterprise database and corporate efficiency. This is despite continuous assaults from Microsoft (MSFT) and Cisco (CSCO). I think for this reason, the company continues to be under-appreciated.
Managing Its Future
I think Wall Street is also overlooking the fact that Oracle had already anticipated weakness in certain segments of its business and has positioned itself for the technological shift within the cloud that will allow it to maintain its dominance in the corporate enterprise sector. Yet, it would seem that the market had developed a bit of anxiety over its earnings and the likelihood that a rebound in IT spending was less possible in 2012. But for Oracle, other streams of revenue and growth have always been par for the course. We have seen recent evidence of this strategy when it acquired RightNow, the cloud-based customer experience suite designed to help organizations deliver customer experiences across the web and social networks.
There is an accepted swap or trade-off when it comes to investing in certain companies or certain sizes. Particularly in technology, the bigger the company, the less enthusiastic you should be about growth prospects. Typically, bigger companies tend to be less volatile. They offer investors more security, and more often than not, they apply more conventional philosophies toward spending, thus all but eliminating their ability for speedier growth (if at all).
To date, Oracle's management has shown that they are the exception and not the rule to this idea. While that sentiment can be arguably applied to companies such as the aforementioned Microsoft (MSFT), Oracle chose to decline the invitation.
Summary
With the stock now trading at $28 after having bounced off its low of $24.72 in August of last year, its growth projections currently place a valuation at $35 - this is even on the most conservative assumptions. The bullish case for Oracle is simple: As businesses continue to strive for growth, it will place more demand on IT services. And as IT services get more complicated, it will require the level of expertise that Oracle provides to manage these complications. Oracle is a buy.