Recent job numbers are a welcome respite from the dismal economic growth and climate of the last few years. Although I would love to be optimistic that we will soon see robust growth, a quick decline in the unemployment rate and less income inequality, I don't see it in the cards, for myriad reasons that are more suited for a political forum or the like. That being said, that doesn't mean an investor can't make money from the circumstances of a substantial proportion of Americans -- the "unbanked," those unserved or underserved by traditional consumer banking. Here are two stocks I think will continue to do well in our current economic situation and have very reasonable valuations.
"DFC Global Corp (NASDAQ:DLLR) provides retail financial services to unbanked and under-banked consumers, and small businesses. Its primary products and services include short-term consumer loans, single-payment consumer loans, check cashing services, secured pawn loans, and gold buying services. The company also provides other retail services and products comprising money order and money transfer products, foreign currency exchange, Visa and MasterCard branded reloadable debit cards, electronic tax filing, bill payment, and prepaid local and long-distance phone services." (Business Description from Yahoo Finance)
4 reasons DLLR has deep value at just over $18 a share:
Management authorized a 5mm share buyback in December. This represents over 10% of the company's float and should substantially boost EPS in the years ahead.
DLLR's stock price is significantly under the consensus price target of analysts. The median price target for the 7 analysts that cover the stock is $30.
The company has beat earnings estimates each of the last four quarters and is selling for just over 7 times forward earnings.
·DFC Global Corp. is experiencing rapid earnings growth. It made $1.59 a share in FY2011, is expected to make $2.08 in FY2012 and analysts project $2.61 a share in FY2013.
"Cash America International (NYSE:CSH) provides specialty financial services to individuals in the United States and Mexico. The company operates in two segments, Retail Services and E-Commerce. The Retail Services segment provides pawn lending, consumer loans, and check cashing, as well as other ancillary services, such as money orders, wire transfers, and pre-paid debit cards. Its consumer loan portfolio includes short-term single payment loans, longer-term multi-payment installment loans, credit services, and participation interests purchased from third parties in the micro line of credit (MLOC) services channel." (Business Description from Yahoo Finance)
4 reasons Cash America is a buy $45 a share:
The company is expected to produce double digit revenue growth for both FY2012 and FY2012 and has a five year projected PEG of under 1 (.58)
The stock is under analysts' price targets. The consensus price target for the 10 analysts that cover Cash America is $61 a share.
Cash America has solid earnings growth. It earned $4.25 a share in FY2011, is projected to make $4.92 in FY2012 and analysts expect $5.69 a share in FY2013.
The stock looks like it has bottomed and has good technical support at just under current prices (See Chart)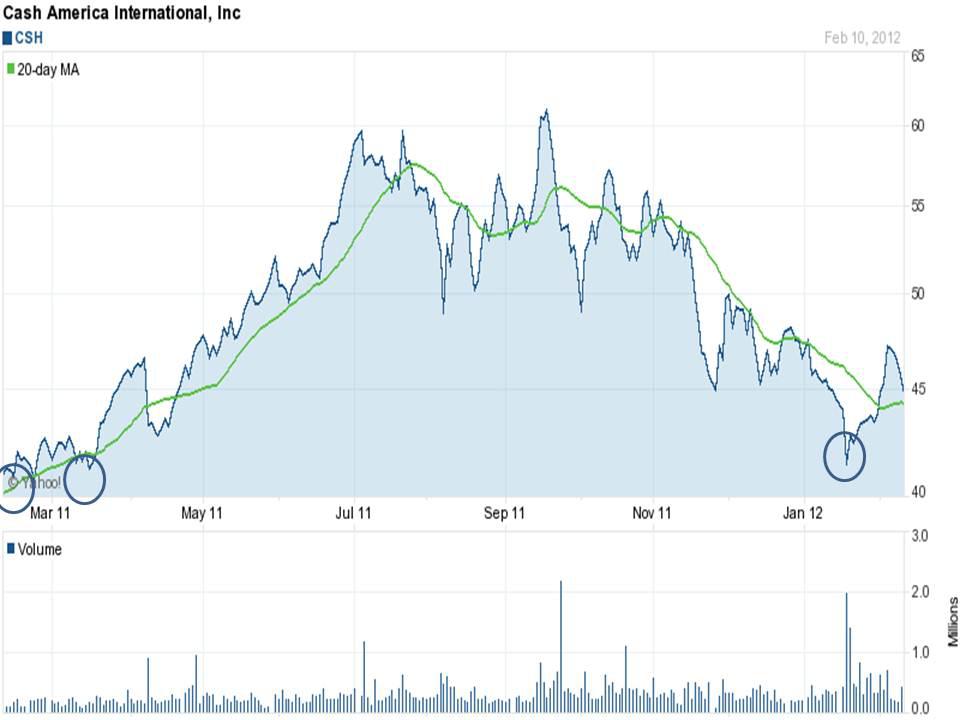 Disclosure: I have no positions in any stocks mentioned, but may initiate a long position in DLLR over the next 72 hours.