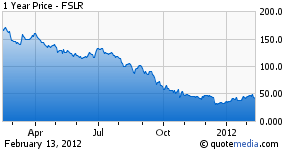 Contrary to what the fossil fuel fans think, First Solar (NASDAQ:FSLR) is not going anywhere.
FSLR was a very popular short last year and, after making up some ground early in this year, it has again fallen hard, with a major project threatened, shuttered capacity in Germany, a decision to abandon CIGS technology, risks to federal subsidies, and troubles finding a CEO based on its poor investment outlook.
All that bad news should be in today's stock price.
But First Solar has legs. Its cadmium telluride CdTe technology is proven, and it's in mass production. The company continues to reduce manufacturing costs while it increases yield, both in the labs and on the shop floor. Regardless of what happens to U.S. grid energy prices, there are enormous opportunities in creating energy off-the-grid and thin film technologies like CdTe are well-adapted to them.
For every cloud there is a silver lining. The recent panel price collapse has brought new customers. The purchase of major plants by a unit of Berkshire Hathaway (NYSE:BRK.A) means there is more capital available. Efficiency continues to rise, breakthroughs continue to be made. First Solar can now make a cell that's 14.4% efficient and the company says it will have 15% efficiency panels in full production by 2015. And if you're worried about the cost of your American-made solar panel, most First Solar production has been moved to Malaysia, which also happens to be close to its fastest-rising demand areas.
Companies like First Solar don't need salesmen or financial hotshots from other industries to succeed any more. They need people with production engineering experience, marketers who are alive to new and changing opportunities, and people interested in making a career in the space.
FSLR is not a speculation any more. It's an investment. Wait a few weeks for the bad news to sink in, then buy some and put it away with a minimum of a five-year time horizon. I think it will come good.
Disclosure: I have no positions in any stocks mentioned, and no plans to initiate any positions within the next 72 hours.