Longwei Petroleum Holdings Inc. (LPH) has gained the market's attention lately, and so many investors are learning more about this company. Still, many American investors probably do not know what Longwei means in Chinese-dragon power. Being a fundamentally focused analyst, I try most of the time not to be technical and certainly not to be superstitious. However, I cannot help noticing the matching of the company's name and the arrival of the dragon year on the Chinese calendar. The year so far has shown quite some dragon power, boosting stock prices in China and all over the world in the first six weeks of trading. Longwei Petroleum's dragon is still dormant, though, because its current stock price is still nowhere close to its fair value. In my opinion, the stock's advance so far this year is only a fraction of its potential multi-fold appreciation this year. Before I discuss its fair value, let me review its recently released financial results for the second quarter of fiscal 2012, ended December 31, 2011.
The company reported financial results for second quarter of fiscal 2012 on February 9, 2010 and hosted a conference call with investors and analysts on February 10. My reviews of key financial numbers for the quarter are as follows:
Revenue: Revenue came in at $126.4 million, or 1.25% lower than the low end of my forecast ($128 million). I overestimated the positive effects of increased inventory and advanced the level a little bit. Still, this is a satisfactory sequential and year-over-year increase under the temporary tight situation for the company.
Going forward, the sequential revenue growth rates for existing operations in mid and southern Shanxi should accelerate gradually each quarter for two reasons: (1) domestic consumption will likely increase at a much faster clip than in 2011 due to the China central government's mandate to boost consumption and (2) wholesalers' and retailers' gasoline/diesel prices will likely increase at faster speed, too, because the Chinese government is easing control of gas/diesel prices to allow them to increase in tandem with international crude oil prices (rather than waiting for 22-day, look-back period), which in all likelihood will keep on marching upward this year due to supply shortages and stronger demand under easing monetary policies worldwide. LPH's revenue and net profit will increase when oil prices increase because oil consumption is inelastic to changes in prices. In plain English, when the oil price increases 30%, the total quantity consumed by consumers and industrial buyers only decrease 10%, making total revenue for the oil providers rise 17% (1.3 * 0.9 - 1). Readers who have a hard time understanding this concept can think about the movement in crude and gasoline prices and the changes in revenue and net profits for all oil giants over the past several years.
Part of the temporary slowdown in the company's sequential revenue growth over the last two quarters could be attributed to the fact that it sold a significant amount of inventory to fund a major acquisition that the U.S. equity market refused to contribute additional capital to at a reasonable cost. Going forward, either one of two things should happen. If the acquisition is closed soon as the management plans, the new storage site alone should give the company 30% more revenue ($150 million or more) in the first 12 months of operation because it is servicing an area that does not overlap the company's existing operations and covers the super-sized Beijing metropolitan area. Thereafter, the facility's revenue could contribute 30% to the company's top-line growth for a couple more years because the total market in Beijing metro is so huge and the Huajie facility has a high storage capacity for inventory growth. In the unlikely scenario that the deal is canceled at the last minute due to some unusual circumstances - such as the provincial government blocking the deal for anti-trust reasons due to the fact that LPH's scale has grown considerably over the past two years and the company is now a dominant wholesaler in Shanxi Province - the company will have $86 million free cash. The company can then use the additional capital to significantly raise inventory levels in its two remaining sites to boost annual revenue growth from these two sites back to 15% to 20%. In the latter case, the company will likely have some reserve cash to immediately pay dividends or buyback shares.
Gross Margin and Gross Profit: Gross margin came in at about 18%, a little bit lower than my estimate. Gross margin got squeezed a bit due to a temporary mismatch between increases in international crude prices (which are tied to the price refiners charge) and retail gasoline prices (the prices Longwei gets from its customers).
I apparently missed this part in my calculations. As the management team said, retail prices increased on February 8, and will likely be increased several times more this year. I am not sure it will be increased by five times as the head of energy research said. I think an increase of four times or 12% is more likely. Regardless, the China central government is trying to shorten the time lapse between the movements of international crude prices and domestic gasoline prices. Therefore, the company's gross and operation margins, already stable compared with those of most other industries, should become even more stable. I think it is likely that the company can maintain an average gross margin of 19.5%-20.0% over the next 12 months.
Net Income and EPS: Net income came in at $15.2 million, with EPS at ¢15.2 per share. The numbers were moderately lower than my forecast, again due to less-than-forecasted gross profit. There were no surprises in operation and miscellaneous expenses.
Overall, this earning release is clear evidence that the business is real and its financial results are normal for an oil wholesaler/distributor. It is apparent that management is honest and straightforward and is interested in only presenting a true financial picture each quarter and not in cooking the books.
Several other important points that the management team discussed in the earning release and the conference call were:
During the conference call, the CFO confirmed my own research that demand in the area that Huajie is going to service is weak during the first quarter of the year because of a colder-than-usual winter. Therefore, it is the correct business decision to temporarily keep more inventory at the company's two existing sites in the southern part of the province rather than paying the balance of the acquisition and getting new storage tanks with no or low inventory.
The timing of the closing of the acquisition of the Huajie facility is temporarily delayed for multiple reasons. The most important ones, in my opinion, are: (1) the management team wants to accumulate more capital before paying the balance to close to deal in order to maximize the revenue run rate from the company's aggregated inventory and (2) the final paperwork needs to be reviewed and signed by government agencies, which takes some time. The CFO said that the transaction should be completed in a fairly short period ("much shorter than 6 months" as he answered a participant's question).
It will take roughly one quarter after the closing of the deal to fully ramp up to the management team's short-term target inventory level of $25 million for the new Huajie facility. The management team expects to generate at least $150 million annual revenue on that level of inventory (implying inventory turnover of six times a year). Based on the company's historical data and the fact that the new facility is going to service currently under-serviced cities and the Beijing metro, I think a higher turnover is certainly possible at this low level of inventory.
Reconciliation between SEC financial reports and annual financial report to Chinese government should be released within a month. More importantly, when responding to a participant's question the CFO assertively confirmed that there is no material unexplainable discrepancy between the two sets of financials. When a CFO put his entire reputation and professional life on the line to give such a clear answer to a blank-and-white question, I see no reason to second guess him. Note the key word "unexplainable." There can be perfectly valid differences between the two sets of reports because Chinese tax codes and GAAP standard treat many business transactions differently. Even IRS rules differ from GAAP standard in many areas. A company cannot just send its SEC filing to IRS and say it is done with its annual tax filing. According to the CFO, the delay in publishing the reconciliation is because the management team wants to use financial report to Chinese government for full calendar 2011, which just closed and are being filed with the Chinese government. The accounting staff concentrated on releasing the SEC 10-Q in January and will now work full-throttle in finalizing and submitting a full-year financial report to the Chinese government and reconcile with SEC reports.
The Board of Directors is considering dividends after the end of this fiscal year (June 30, 2012) after the Huajie facility is ramped up to short-term targets and operating normally.
With all the financial results for the trailing 12 months in place, I can now value the company based on TTM numbers. Note that it is more advisable to value a company using FTM (forward 12-month) numbers. Using FTM will probably result in a higher valuation for LPH because the company is expected to have much higher revenue and net profit growth over the next 12 months. However, since it is hard to give an accurate modeling on the company's FTM financial results with a high degree of accuracy before the new facility is onboard, I'll just be more conservative and stick to TTM numbers.
Fair Valuation Multiple Assessment
In my first article for LPH, I enumerated several key points regarding Longwei's business and contended that its business model is very simple, sustainable, and with very low risks and very stable margins, relatively speaking, compared with those of most companies in other industries. Let me go into more detail here to show exactly how stable and secure Longwei's business is.
First, most people know that oil and utility companies have strong and stable profitability. There is not much argument about this fact. So, let's compare Longwei to several best-known names in these two industries worldwide. A summary of the multiples of seven companies - Longwei Petroleum Holdings Inc. , Kinder Morgan Energy Partners (NYSE:KMP), PetroChina (NYSE:PTR), CNOOC Limited Common Stock (NYSE:CEO), China Petroleum & Chemical Corp (NYSE:SNP), Edison International Common Stock (NYSE:EIX), and Sempra Energy Common Stock (NYSE:SRE) - is shown in Table 1. To avoid subjectivity and uncertainty when estimating forward P/Es, I decided to use TTM (Trailing 12-Month) P/Es to compare the valuation level of LPH and its comparables.
(Click charts to expand)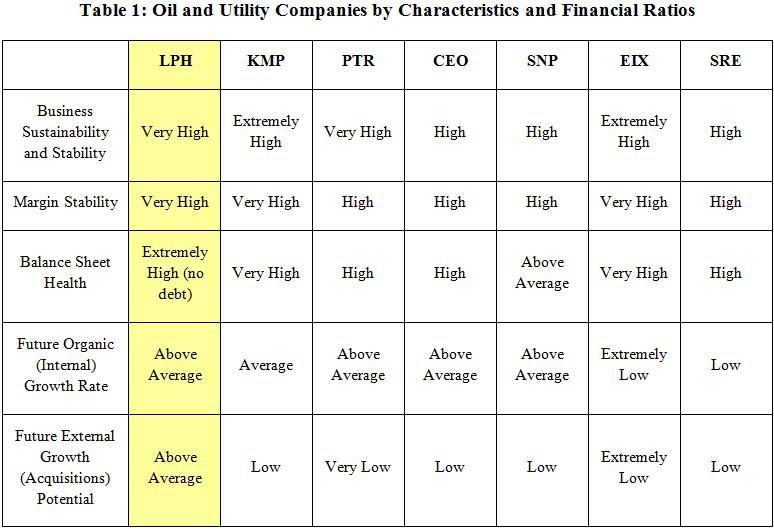 As we can see, LPH boasts the highest scores across almost all stability and risk gauges. This means that assuming the same growth rate, LPH's profits should deserve at least the same P/E multiple as these other oil and utility companies. In terms of pro forma revenue growth, LPH should have higher organic growth rate and more external growth opportunities than these other companies. The main reasons are: (1) the regions for LPH's current and foreseeable future operations have higher economic growth rates than the average growth rate worldwide and even the overall growth rate of China and (2) the company still has some untapped inventory storage capacity in its two existing sites and certainly at the new Haujie site it is acquiring.
With all these qualities, LPH is a defensive stock that can best resist economic downturns (see discussions on the company's revenue and profit sensitivity against changes in economic conditions below) and offers a good future growth opportunity (as discussed in the revenue section at the beginning of this article).
Now, I am not saying that the company is totally immune from economic slowdown. What I am saying is that, like all the comparables shown in Table 1, for any particular degree of drop in China's GDP, LPH will be impacted much less than companies in most other industries.
If we look closer, purely from the standpoint of business and financial risks, LPH is superior to the big three Chinese oil giants. This should not be of any surprise considering the differences between oil explorers/refiners' business and oil wholesaler/distributors' business.
First of all, oil wholesalers and distributors have much less event risk than do oil explorers and refiners. A summary of major operational risks for LPH, KMP, PTR, CEO, and SNP are shown in Table 2. Everybody knows oil explorers and refiners face a high risk of catastrophes at their oil-drilling sites, on tanker ships transporting crude across oceans, and at refining sites. [[BP]]'s gulf oil spill in 2010, the oil tanker accident off the coast of New Zealand last year, and BP's refinery catastrophe in Texas, in 2005 are still vivid and fresh in many people's memories. An accident in these areas can cost an explorer/refiner hundreds or even billions of dollars.
By not doing exploration and refining, LPH and KMP immediately stand out from other oil companies. The only operation risk with material impact to LPH is a major accident happening at its oil storage tanks. However, the chance of this happening is slim because workers are only putting in and getting gasoline and diesel out from these storage tanks. There are no high-risk activities such as drilling or refining at the storage sites. In addition, even explorers and refiners have storage tanks to temporarily store their products. So, they too face this slim risk.
If we look closer at just LPH and KMP, we find one difference between the two. KMP uses mostly pipelines to transfer oil, while LPH uses tanker trucks and railways. A pipeline is the most capital-intensive and has a moderate financial impact on a company if an accident, such as major leakage or blow-up, occurs. The financial impact of an accident on one tanker truck or a section of railway is much smaller. So overall, LPH faces even fewer operational risks than KMP. On the other hand, transporting through pipelines can give an oil distributor a higher marginal profit per ton of product transported when the volume reaches a very high level. So, I'll call these two factors a wash for LPH and KMP.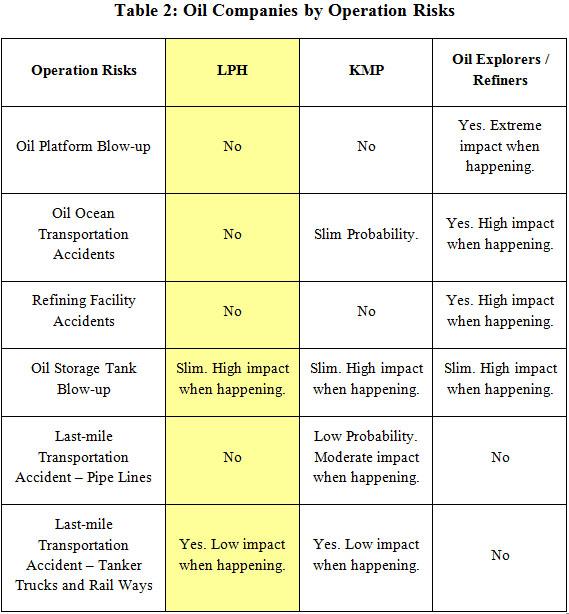 In addition to facing fewer operation risks, LPH also faces fewer financial risks than oil explorers and refiners, and even its biggest peer KMP, because the company has almost no debt on its balance sheet. However, since KMP and other major explorers' debt-to-equity ratios are still at a safe level, I'll ignore this slight advantage LPH has on financial risk and call it a par. The fact that all of these oil giants with super borrowing power keep their debt-to-equity ratio at low levels means that most experts in oil industry who knows it the best think that it is wise to use only minimal debt to avoid putting a burden on their businesses during periods of lower revenue run rates. Now, here is where I need to use some semi-qualitative judgment. I estimate that, on average, an oil explorer or refiner has a probability weighted annual accident loss to total sale amount ratio that is 4 times as high as that of an oil wholesaler/distributor. One may argue a 10-fold relationship between explorers/refiners' ratio to wholesalers/distributors' ratios because really more than 95% of the accidents I've heard about happen to explorers or refiners. For the sake of conservatism, I'd just assume a four-fold risk. Now, if I give operation risks 50% weight (the other 50% goes to financial risks), the blended risk level for oil explorers/refiners is 2 times as high as that for oil wholesalers/distributors (50% x 4 + 50% x 0).
So, under the basic asset valuation principal, all things being equal, an oil wholesaler/distributor should deserve a valuation multiple three times as high as that for an oil explorer/refiner. That's why KMP has a much higher P/E ratio than Exxon Mobil (NYSE:XOM), ConocoPhillips (NYSE:COP), or Chevron (NYSE:CVX) (although I think KMP is a little bit over-priced right now). Table 3 shows the EPS and P/E ratios for LPH and seven comparables.

* Numbers provided by Yahoo Finance.
** Closing stock price on 02/09/2012 divided by TTM EPS.
Since the average P/E ratio for all explorers and refiners is 9.46, the fair P/E multiple for oil wholesale distributor is thus 18.92 using the formula finalized above (9.46 x 2). As we can see, under this fair P/E multiple, KMP is apparently overvalued while LPH is drastically undervalued. This huge gap between the two stocks is especially staggering, considering how similar their businesses are as shown in the illustration below.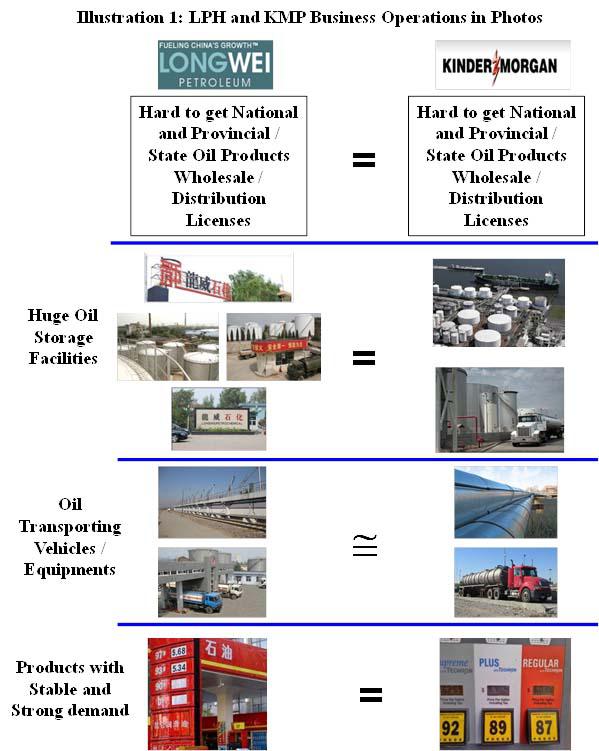 Now, surely there are some things that are not equal between LPH and the six big oil explorers. First, these guys are much bigger than LPH. However, as I explained in my first article for LPH, as long as an oil wholesaler/distributor's size goes beyond a certain level, size really doesn't matter that much to the firm's profitability and sustainability. The reason is that for oil wholesalers/distributors/explorers/refiners, SG&A is only a small percentage of the revenue and total cost. The majority of costs are in cost of goods sold and operating expenses, which grow more or less linearly as revenue grows. An oil wholesaler that has 10 times as much geographic coverage as LPH will need to have roughly 10 times as many oil storage sites, tanks, and transportation media as LPH.
The same principal applies to oil explorers and refiners. So, margins stay roughly flat for an oil wholesaler/distributor provided that the company passes a certain scale threshold. Although small compared to these international oil giants, with 120,000 tons of existing storage capacity, LPH is one of the bigger wholesalers/distributors in the central region in China. In addition, the oil business is a very localized business like real estate. A company has to be approved not only by central government, but also by local governments in order to operate in a particular region. A provincial or state government rarely grants new wholesale licenses for oil and utility companies in order to maintain stability in the local system. Just think about this: How many new utility or oil wholesalers have appeared in any particular state in the U.S. over the past decade? The average number is probably less than one. This is more true in China, due to the culture of tight and stable local inter-personal and inter-business connections. I won't be surprised if the CEO Cai's family has strong connections inside the Shanxi provincial government and even the governments of adjacent provinces as well. So, it's not like the three national giants can take LPH's home turf "regardless of costs" even if they want to make such a costly business decision. As the home-ground pride of the province, the Shanxi government will not allow these "outsiders" to stifle its own good boy. This may explain why LPH has the rare opportunity to buy this big Huajie site. In fact, I won't be surprised if Sinopec is ordered by the provincial government to sell the site to LPH. Of course, it's not like Sinopec is taking a loss on this. It still earns good profit from land and property development, but I bet Sinopec would like to operate the facility for countless years of stable and fat profits rather than selling it to LPH. Of course, this is just my own speculation. There is no official document or record to prove this. So, take a grain of salt on this.
The other difference between LPH and these comparables is brand recognition, particularly for American investors. Naturally, most investors trust these international giants more than a Chinese small/mid cap. However, for LPH, I really believe that it is not reasonable to overly discount the firm's fair value on its lesser brand name because there is no concrete evidence so far proving that the firm's business is not for real or its financial statements are grossly inaccurate in representing its financial results. When reconciliation between SEC financial reports and annual financial report to Chinese government is published as the CFO assertively promised in the conference call, it should dispel all residual doubts on the company's business and financial results.
I'll have an article dedicated to the realness of the company's business and reliability of its financial reports later. For now, I think it is fair to just apply the normal discount that I will give to a generic drug and brand-name drug on LPH's fair value to account for this factor. What I have found is that most retailers' own branded drugs sell at 30%-50% discount to a famous national brand's drug of same or almost same ingredients. Applying 40% discount to the fair P/E ratio generated above will give a new fair P/E ratio of 11.35 for LPH.
The last difference between LPH and the comparables is dividend payout. The seven comparables in Table 3 offer an average annual dividend yield of about 3.5%, which is not bad, but is by no means a table-pounding income yield for investors. There is no widely agreed-upon consensus of how much premium companies that pay dividends have over companies that do not pay dividends. Some may argue that there is no clear evidence suggesting that dividend-paying stocks enjoy a valuation premium at all. However, there are indeed some researches, such as this one, showing that dividend-paying stocks exhibit much less volatility in their stock price and are less likely to be materially discounted from the industry-average valuation level. I guess this characteristic has above-average significance for Chinese small/mid caps right now due to trust issue. This means that if LPH starts to offer 3% annual dividend yield (e.g., $0.05 quarterly dividends for a stock price of $6), the stock's valuation should be immediately aligned to its fair value. For now, I'll just be harsh and slash a 40% further discount for this factor. So, the final adjusted fair P/E multiple for the stock is thus 6.81 (11.35 x 60%).
For the past four quarters, the company has earned an EPS of $0.81. Using my final adjusted fair P/E multiple for the stock, its current fair value is thus $5.52. Although my valuation process is much more methodical and scientific than the ones used most other analysts covering the stock right now, the fair value as determined by my process actually come very close to well-known analytical house Rodman and Renshaw's target price. Table 4 shows this comparison.

So, from a fundamental standpoint, there is a strong consensus among me and the other analyst on how much the company and the stock are worth right now. The market has not yet awakened to this call; the beautiful and powerful dragon is still dormant.
In my eyes, the story of Longwei Petroleum is very similar to the story of New York Knicks' Chinese guard Jeremy Lin, who has become the hottest news in the NBA lately. With so many great qualities, managers and coaches in college and NBA basketball teams kept on turning blind eyes to his value for many years. It is glaringly obvious right now that these coaches' judgments were completely clouded by stubborn stereotype and perception of Chinese athletes, just like the stock market's overwhelmingly negative attitude toward all Chinese small caps including LPH right now. Can the stock market be dead wrong on LPH as the basketball world was on Jeremy? Will the power of dragon year finally wake up this dormant dragon in the kingdom of oil? We shall see pretty soon.
Disclosure: I am long LPH, CEO.
Disclaimer: My standard disclaimer for my analysis can be viewed here.