One of the most popular articles in Barron's magazine today is an article written by Robin Goldwyn Blumenthal on Saturday, February 11, 2012, titled Dana Gets Back in Gear. As this article is being written, Dana Holding Corp (NYSE:DAN) is up over 5% in moderately heavy trading. The basic story is about how Dana Holding Corp is resurrecting itself after filing a bankruptcy four years ago, based upon a global plan instituted by their visionary CEO hired last year, Roger Wood.
The Barron's article points out that Mr. Wood, comes from Borg-Warner (NYSE:BWA), where according to the article, he was a veteran known for maintaining strong margins without cutting R&D spending. He is apparently applying that same savvy at Dana. The following excerpt from the article highlights strong expectations for Dana over the next several years:
"Next week, Dana is expected to report that 2011 sales hit $7.6 billion, 25% above the 2010 level, and that earnings more than doubled, to $1.60 a share. Moreover, Dana sees profit rising by up to 28% this year. And its projected earnings-growth rate of 82% over the next few years is among its industry's best."
If these expectations prove true, then Dana represents an incredible long-term opportunity that today's upward movement in price only barely scratches the surface on. The following Estimated Earnings and Return Calculator translate the numbers of the Barron's article's expectation into graphic form. Therefore, the upside potential from owning Dana over the next few years is potentially huge. If earnings did grow at the rates suggested, today's investors are buying future earnings extremely cheap.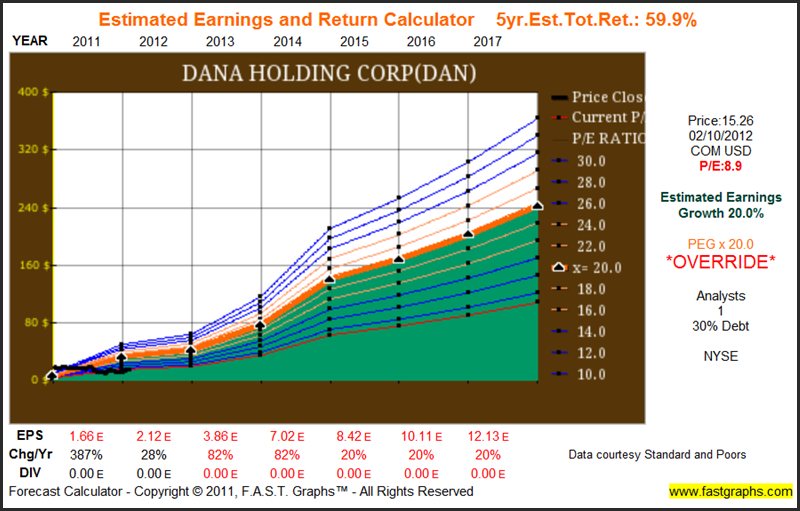 Click to enlarge
(Click to enlarge)
About Dana Holding Corporation taken directly from their website
"Dana is a world leader in the supply of driveline products (axles and driveshafts), power technologies (sealing and thermal-management products), and genuine service parts for light and heavy manufacturers. The company's customer base includes virtually every major vehicle manufacturer in the global automotive, commercial vehicle, and off-highway markets. Based in Maumee, Ohio, the company employs approximately 24,000 people in 26 countries and announced 2011 sales of approximately $7.6 billion."
However, if you look at the long-term history of Dana Holding Corp. the true cyclical nature of this company and its industry becomes vividly clear. Consequently, a prospective investor needs to really question whether or not today's lofty expectations can be relied upon.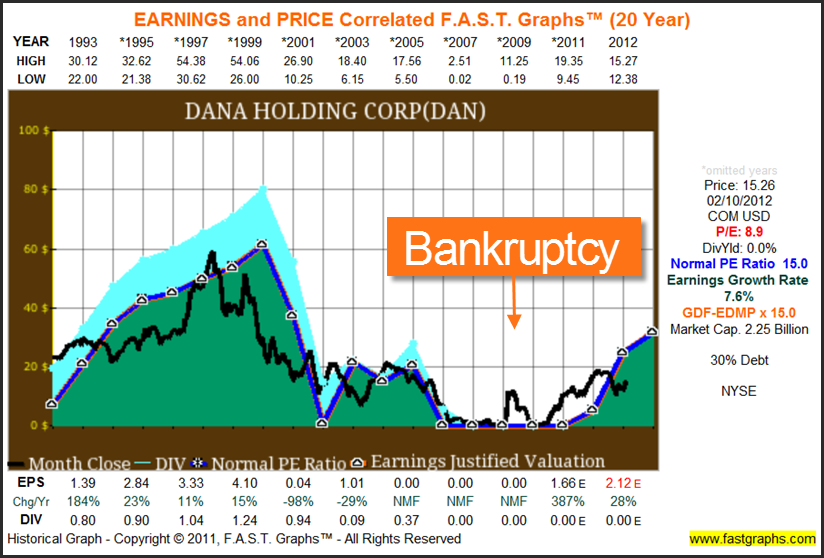 Click to enlarge
(Click to enlarge)
Over the long run, the sporadic and poor earnings record of Dana have not treated shareholders very well. The following performance results over the past couple of decades speak volumes about shareholder returns.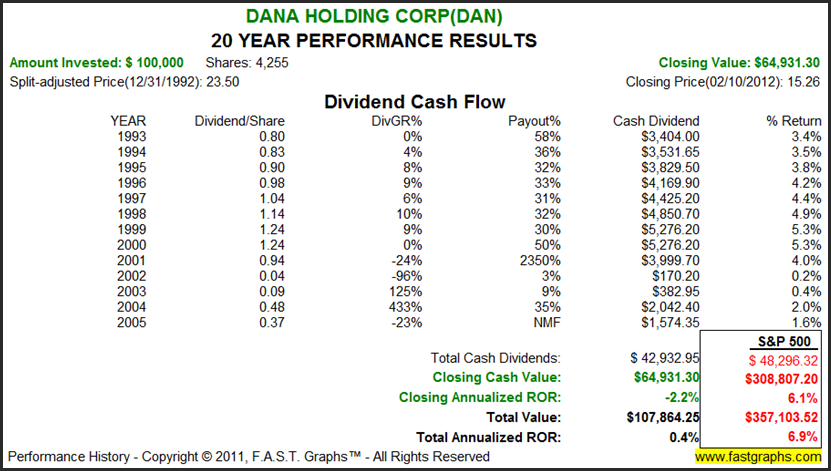 Click to enlarge
(Click to enlarge)
However, after coming out of bankruptcy, poor recent performance has been nothing short of spectacular. The following price only graph shows price movement since the beginning of calendar year 2009.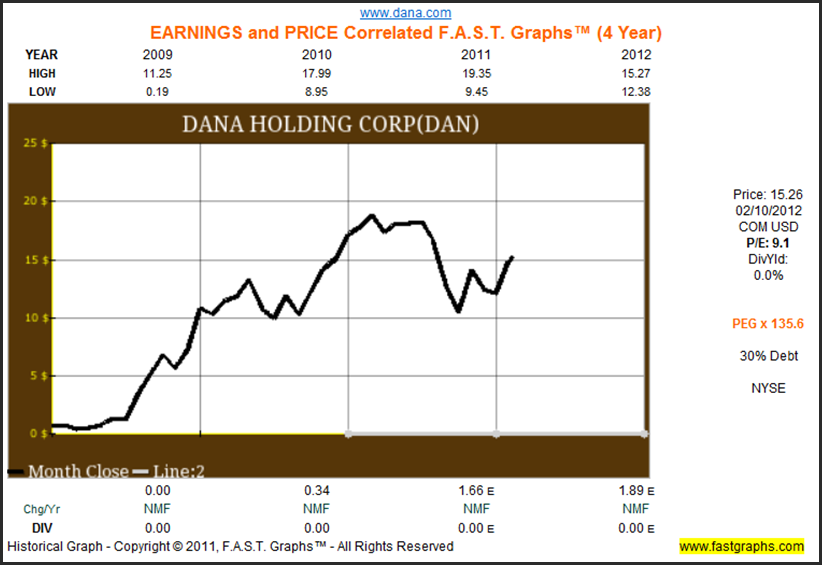 Click to enlarge
(Click to enlarge)
When the same price graph is looked at in the context of recent earnings achievement, it paints a clear picture of undervaluation. Even though the price has risen dramatically since 2009, the value that the market has capitalized earnings has remained rather low. On the other hand, even considering today's low valuation shareholder returns have been nothing short of spectacular. Currently this company can be purchased with a single-digit PE ratio.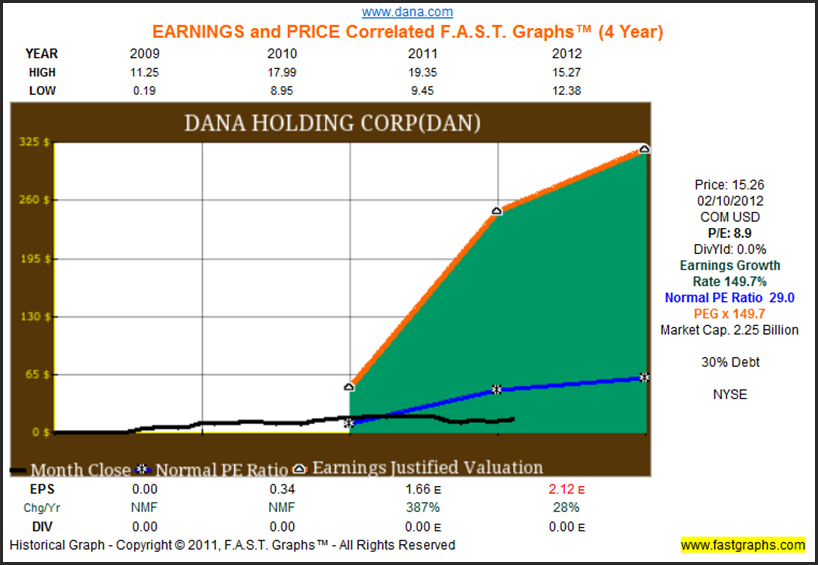 Click to enlarge
(Click to enlarge)

Click to enlarge
(Click to enlarge)
Summary and Conclusions
If the Barron's article is correct in stating:
"Conditions are ripe for a rebound in the auto, truck and supplier sector, says Tim Denoyer, an analyst at New York investment firm Wolfe Trahan. One big plus: The average age of cars and light trucks in the U.S. is at a record 10-plus years. Just the need to replace aging vehicles should keep demand robust for a while. Denoyer gives Dana an Outperform rating."
Then, we would have to agree with the closing sentence in the article:
"With Wood in the driver's seat of a revitalized, retooled Dana, investors should enjoy the ride."
We hope that the graphical representation presented in this article provide investors a clearer view of the opportunity that Dana Holding Corp. represents. Although the upside appears huge, we would add that so do the risks. The company does have a good balance sheet and their commitment to R&D mitigates some of the risk, in our opinion. Therefore, we suggest that Dana Holding Corp. represents a speculative intermediate-term to long-term buy.
Disclaimer: The opinions in this document are for informational and educational purposes only and should not be construed as a recommendation to buy or sell the stocks mentioned or to solicit transactions or clients. Past performance of the companies discussed may not continue and the companies may not achieve the earnings growth as predicted. The information in this document is believed to be accurate, but under no circumstances should a person act upon the information contained within. We do not recommend that anyone act upon any investment information without first consulting an investment advisor as to the suitability of such investments for his specific situation.
Disclosure: I have no positions in any stocks mentioned, and no plans to initiate any positions within the next 72 hours.