In the world of a consumer packaged goods (CPG) company, rapid growth is not usually the storyline. Companies like Procter & Gamble (NYSE:PG) and Johnson & Johnson (NYSE:JNJ) have maintained steady growth and built rock-solid businesses. What investors are able to obtain from these blue chip companies are both long-term stability and a steady dividend yield. Even though in this bull market, investors are looking for companies with growth and not yield, these five companies provide a strong investment opportunity whether we are in a bull or bear market. All with dividend yields above 3%, these are strong returning companies.
Kraft Foods (KFT)
Dividend Yield: 3.00%
Price/Earnings Ratio: 15.31
Total Debt: $27.5 Billion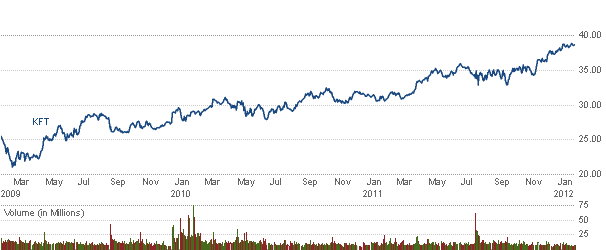 Click to enlarge
(NASDAQ:CNBC)
Fundamentals: KFT has long been a "safe haven" for investors. With a strong dividend of 3%, the company can remain strong in any economy. Kraft recently announced it was planning to spin off its snack business to minimize costs and stay true to its brand. Kenneth Zaslow of BMO Capital Markets states, "The incremental value of the spinoff is Kraft's ability to accelerate its cost-cutting efforts." This speaks to the company's ability and wiliness to cut costs and work to minimize risk and increase stockholder value.
Philip Morris International (NYSE:PM)
Dividend Yield: 3.8%
Price/Earnings Ratio: 13.77
Total Debt: $14.37 billion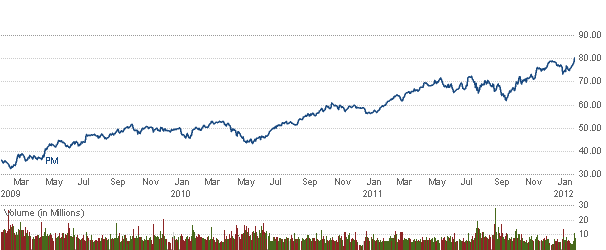 Click to enlarge
Fundamentals: PM just announced fourth-quarter earnings the company blew estimates away. With profit increasing by 40 basis points and sales increasing by 9%, the company is poised for continued growth.
PepsiCo (NYSE:PEP)
Dividend Yield: 3.2%
Price/Earnings Ratio: 13.96
Total Debt: $23.31 Billion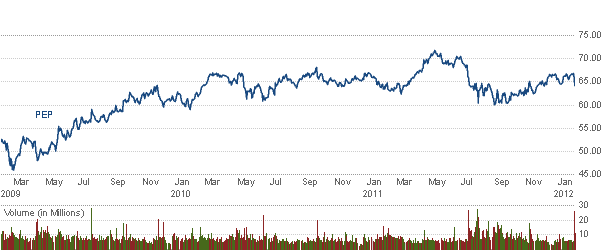 Click to enlarge
Fundamentals: PEP just announced fourth-quarter earnings and the company laid out a plan to increase profit margins to the level of its largest rival, Coke (NYSE:KO). PEP CEO Indra Nooyi offers us this:
Our goal is to continue on that earnings trajectory over the next 5 to 10 years, fully recognizing that we need to make changes in how we operate to address the challenges we identified in the review process. 2012 will be a transition year, in which we will be taking the appropriate steps to build a stronger, more successful company going forward.
Kimberly-Clark Corporation (NYSE:KMB)
Dividend Yield: 3.90%
Price/Earnings Ratio: 12.92
Total Debt: $5.92 Billion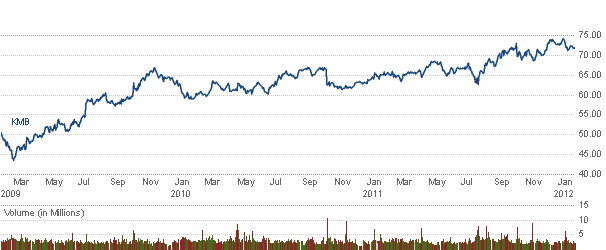 Click to enlarge
Fundamentals: Earnings from KMB are due out soon, but this should not change the long-term stability of the company. Forbes reports, "The consensus estimate is $1.29 per share, up 7.5% from a year ago when Kimberly Clark reported earnings of $1.20 per share." If the company sees continued income declines, the time may come to reconsider this investment, but with a 3.9% dividend, the company is currently in a strong position to reward stockholders.
Procter & Gamble:
Dividend Yield: 3.3%
Price/Earnings Ratio: 14.55
Total Debt: 28.98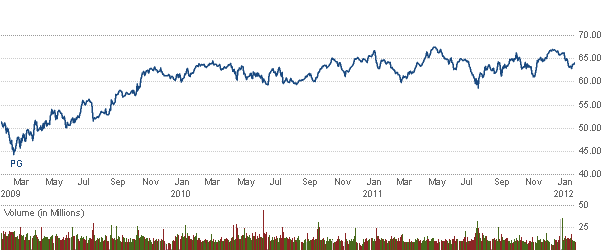 Click to enlarge
Fundamentals: PG and its large cap CPG counterparts reported strong earnings this past quarter due to increasing exposure in foreign markets. With a dividend payment of 3.3%, the company is in a position to continue to reward investors.
Conclusion: These five companies represent strong CPG companies that pay a dividend of 3% of higher. Though the market may be falling out of favor with dividend paying stocks, these companies provide investors with an opportunity to obtain a strong dividend with the prospect of having strong business models in any economic climate.
Disclosure: I have no positions in any stocks mentioned, and no plans to initiate any positions within the next 72 hours.