NetApp Inc (NASDAQ:NTAP) is expected to report earnings for last fiscal quarter after the closing bell on February 15, 2012.
What It Is: NetApp, Inc. engages in the design, manufacturing, marketing, and technical support of networked storage solutions. It supplies enterprise storage and data management software, and hardware products and services. The company was founded in 1992 and is headquartered in Sunnyvale, California. Netapp Inc trades an average of 7.5 million shares per day and has a marketcap of $14.7 Billion.
52 Week High: $60.70
52 Week Low: $33.00
Book Value: $10.61
Float Short: 4.88%
What To Expect: On average, 12 analysts are expecting a drop of $-0.05 in earnings per share compared to last quarter's results of $0.63. Investors will be looking to see a number north of $0.58 per share based on the earnings estimates.
Here is a look at the fiscal year revenue for NetApp: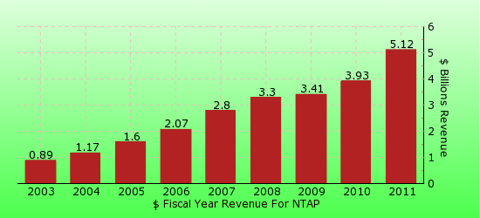 ---
Recent Stock and Valuation Performance:
The current trailing twelve months P/E ratio is 22.5. The forward P/E ratio is 22.21. The stock has moved higher in price 14.46% in the last month, with a one year change of -32.94%. The stock is performing a little better than the overall market with a slight relative gain. When comparing to the S&P 500, the year to date difference is 2.16%.
NetApp has rising revenue year-over-year of $5.12 billion for 2011 vs. $3.93 billion for 2010. The bottom line has rising earnings year-over-year of $673.10 million for 2011 vs. $400.40 million for 2010.The company's earnings before interest and taxes are rising with an EBIT year-over-year of $824.30 million for 2011 vs. $488.40 million for 2010. Rising revenue along with rising earnings is a very good sign and what we want to see with our companies. Be sure to check the margins in the earnings release to make sure the bottom line is keeping up with the top line.
Here is the last few quarters to get an idea how well they perform compared to estimates: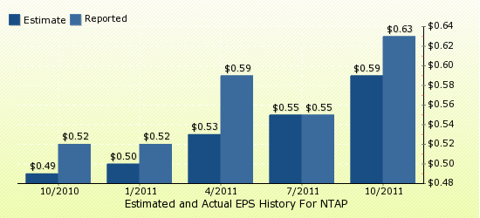 Reported earnings per share compared to the mean estimate. Differences are rounded.
Disclosure: I have no positions in any stocks mentioned, and no plans to initiate any positions within the next 72 hours.
Disclaimer: Paid2Trade uses information believed to be correct, but is not guaranteed and is not independently checked for accuracy. You may wish to use this article as a starting point of your own research with your financial planner.