Nvidia (NASDAQ:NVDA) will be releasing last fiscal quarter's results after the closing bell on February 15, 2012. We can review how Nvidia has executed for investors recently.
What it is: Nvidia Corporation provides visual computing, high performance computing, and mobile computing solutions that generate interactive graphics on various devices ranging from tablets and smart phones to notebooks and workstations. The company was founded in 1993 and is headquartered in Santa Clara, California. Nvidia Corp trades an average of 14.7 million shares per day and has a market cap of $10 Billion.
52 Week High: $26.01
52 Week Low: $11.47
Book Value: $6.51
Float Short: 3.01%
What To Expect: On average, 26 analysts are expecting a drop of $-0.10 in earnings per share compared to last quarter's results of $0.29. The number to beat is $0.19 per share based on the estimated mean earnings.
Analyst estimates range between $0.16 and $0.26 per share.
Here is a look at the fiscal year revenue for Nvidia.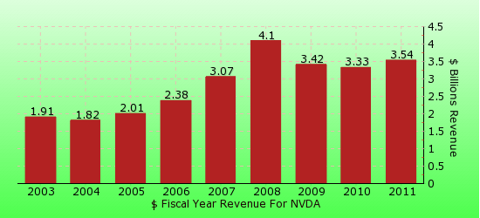 Click to enlarge
Recent Stock and Valuation Performance:
In the last month, the stock has increased in price 14.94%, with a change from a year ago of -31.68%.
The stock is performing well when compared to the general stock market up to this point. When reviewed with the S&P 500, the year up to date positive change is 9.63%.
For the same fiscal period year-over-year, revenue has improved to $3.54 billion for 2011 vs. $3.33 billion for 2010. The bottom line has rising earnings year-over-year of $253.15 million for 2011 vs. $-67.99 million for 2010.The company's earnings before interest and taxes are rising with an EBIT year-over-year of $255.75 million for 2011 vs. $-98.95 million for 2010. Rising revenue along with rising earnings is a very good sign, and what we want to see with our companies. Be sure to check the margins in the earnings release to make sure the bottom line is keeping up with the top line.
Here is the last few quarters to get an idea how well it performs compared to estimates: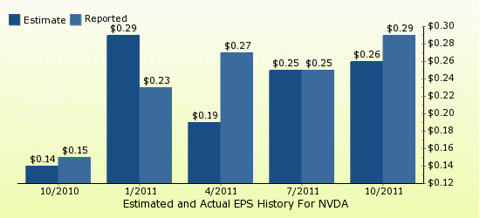 Click to enlarge
Reported earnings per share compared to the mean estimate. Differences are rounded.
Disclosure: I have no positions in any stocks mentioned, and no plans to initiate any positions within the next 72 hours.
Disclaimer: Paid2Trade uses information believed to be correct, but is not guaranteed and is not independently checked for accuracy. You may wish to use this article as a starting point of your own research with your financial planner.