The market started its week out on a positive note as stocks were moving higher on risk-off trading as Greece passed its austerity bill. The entire situation is not resolved, as Greece still has to present itself on Wednesday to EU finance ministers. Further, the country still needs to come up with around $400M in cuts. Overall, the situation seems to have been kicked down the road, but this is definitely not a situation that is all bullish. The country is in very dire straits and is going to be for years to come.
With the situation resolved, the market is going to have a lot of reasons to turn its attention at home. There is a ton of economic data out this week from the Philly Fed to retail sales to housing starts that will definitely be impactful of the market's move for the rest of the week. We can see this market rallying more on good data, and at the same time, the Greece headlines could be short-lived. Here are two stocks we like that we think can be good for buying and selling.

Two stocks we have on our radar are Polo Ralph Lauren (NYSE:RL) and Western Digital (NYSE:WDC). We like RL. We have been a fan of it long before earnings were very strong. Luxury spending is healthy, and RL is seeing great success in a lot of strong international markets. We believe that the company is a perfect candidate for bull put spreads moving forward as downside seems limited. Yet, the company is operating with an over 80 RSI and seems a bit overvalued in the short-term. We would like to see the stock flatten or have a bit of downside to bring that RSI down. On any move of RSI below 60, we are going to want to throw on a bull put spread. Western Digital has been having some strong moves down, and the stock may be getting a bit toppy. A dip below the 20-day MA at 37.00 would signal to us that there is some definite resistance for the company. They may be a nice candidate for a bear call spread.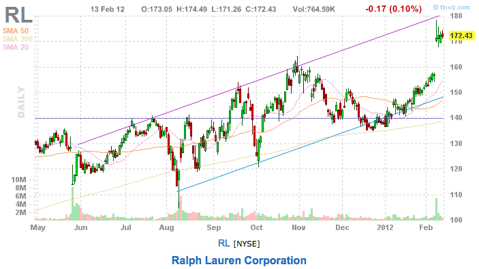 For tomorrow, the macro situation pins on data. Retail sales and business inventories will be important tomorrow as we have not had some strong data since two weeks ago. That data point will definitely move the market. Additionally, we have the Japanese BOJ rate decision for tomorrow. Many think they will follow in the Fed footsteps to keep interest rates low. We also get the important German ZEW survey as well as U.K. CPI. A lot of data is out tomorrow, and that can take the market in a lot of directions.
We had a lackluster day as we exited only one half position for a small gain. We locked in half of Fossil (NASDAQ:FOSL) $80 sold puts before earnings at 0.25 for a 3.33% gain. We added a long position in Baidu (NASDAQ:BIDU) as well as a 455/450 bull put spread in Apple (NASDAQ:AAPL) for a possible 13.5% gain.
We have the following positions. In our short-term equity portfolio we are long Dollar Tree (NASDAQ:DLTR) and BIDU. In our options portfolio, we are long Apple, Priceline (NASDAQ:PCLN), Dollar Tree, Weight Watchers (NYSE:WTW), Nordstrom (NYSE:JWN), Bed, Bath, and Beyond (NASDAQ:BBBY), and Discover Financial (NYSE:DFS). We are short SPDR S&P500 ETF (NYSEARCA:SPY). In our earnings portfolio, we are long CF Industries (NYSE:CF), VF Corp. (NYSE:VFC), EOG Resources (NYSE:EOG), Oil States International (NYSE:OIS), and Fossil. We are short AOL (NYSE:AOL). We have a reverse iron condor in WFM.
Chart courtesy of finviz.com.