There are many times when it makes sense to choose an unconventional investing path. For example, last year, scores of prominent voices insisted that interest rates would rise. "Bond King" Bill Gross denounced U.S. government debt. Heck, S&P even downgraded it. And yet, investors who gobbled up U.S. Treasury bonds benefited from the "contrary-to-public-opinion" upside.
The reasons for the unanticipated direction of yields are well-documented (e.g., expansion of the Fed's balance sheet, eurozone debt contagion fear, etc.). What's more, understanding the ongoing appeal of low-yielding U.S. government bonds is beyond the scope of this piece. Instead, I am interested in discussing the question, "When does it make sense to ignore popular sentiment?"
Market sentiment often refers to the prevailing attitude of investors via surveys (i.e., bullishness or bearishness). Consumer sentiment offers an indication of the so-called economy as identified by consumer opinion. Of course, opinions and attitudes only give us an idea of how people feel ... not how they act. And therein lies the challenge in deciding whether to go with the flow or whether to run the other direction.
As much as it may have seemed like U.S. bonds were finished in the initial months of 2011, the iShares 7-10 Year Treasury Fund (NYSEARCA:IEF) has remained solidly above its 200-day trendline since May. In the investing world, that's what many would call "strong support."
In truth, it doesn't really matter what our attitudes or opinions are about the value of treasuries ... it matters how we actually behave. Rationally or irrationally, the behavior of market participants has been to buy more of them.
Click to enlarge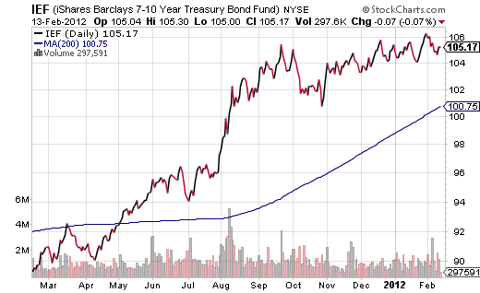 Here in 2012, one of the more common themes is that the sovereign debt of Europe will remain a poor investment at best and an unmitigated disaster at worst. Seriously, how many folks are expressing a desire to enhance their exposure to developed world foreign bonds? And along those lines, how many media personalities are revealing a Giselle-like passion to be paid in euros?
Listening to the sentiments, one might choose to short SPDR International Treasury Bond (NYSEARCA:BWX) and CurrencyShares Euro Trust (NYSEARCA:FXE). But do the emotions match the actions?
If one includes the United Kingdom, SPDR International Treasury Bond has roughly 65% exposure to European country treasury debt. Perhaps fortunately, the other 35% is comprised of "safer" sovereigns like Japan and Australia. And, of course, German bonds (5%) are often seen as a safer haven.
Nevertheless, BWX is not immune to flare-ups in Italy or Spain, let alone any effects of contagion to France, Poland or the U.K. So it may come as some surprise to see that BWX is back above a 200-day moving average. If it stays above, shorting may be ill-advised.
Click to enlarge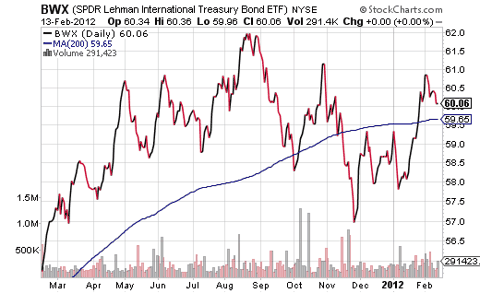 On the flip side, negative sentiment on the euro-dollar has translated into action. While the current price may be off its recent 52-week lows, FXE remains solidly below its long-term moving average.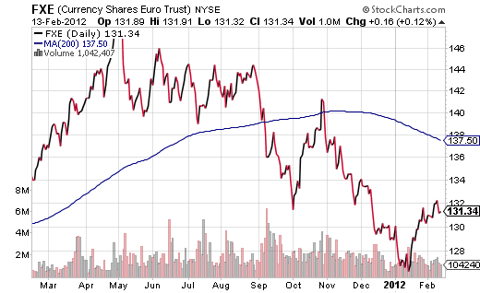 Disclosure: Gary Gordon, MS, CFP is the president of Pacific Park Financial, Inc., a Registered Investment Adviser with the SEC. Gary Gordon, Pacific Park Financial, Inc, and/or its clients may hold positions in the ETFs, mutual funds, and/or any investment asset mentioned above. The commentary does not constitute individualized investment advice. The opinions offered herein are not personalized recommendations to buy, sell or hold securities. At times, issuers of exchange-traded products compensate Pacific Park Financial, Inc. or its subsidiaries for advertising at the ETF Expert web site. ETF Expert content is created independently of any advertising relationships.