When Facebook (NASDAQ:FB) filed its IPO papers with the SEC on February 1, the news lit a rocket under almost all things internet. Stocks across the industry got revalued just because Facebook could be worth $75-100B. Even Groupon (NASDAQ:GRPN) jumped 5.3% on Feb 1 on its way to a 6-day jump off its $20 IPO price and into its first earnings announcement as a public company. Never mind that Facebook could eventually become a fierce competitor to Groupon.
The disappointment set in after Groupon reported a loss on February 8. Excluding some international tax items, GRPN could have reported a small profit. Nevertheless, the loss helped remind investors and traders that Groupon's massive revenue creation through its steals and deals does not easily translate into profits.
After earnings, I claimed that was the time to buy puts in GRPN: the pre-earnings premium on implied volatility had mostly melted away (see twitter feed). The market had managed to price the options near perfectly as the puts near-the-money (around the $22 strike) expiring February 18th remained flat despite GRPN's 14% loss on the day. Today's follow-through (Feb 13th) with a 7.5% drop occurred despite another general market rally. GRPN has now officially wiped away all the gains it made on Facebook's coattails. This may be the last time Groupon ever benefits from Facebook.
In the meantime, put options on GRPN have soared. For example, the Feb $22 puts expiring this Friday have roughly doubled from Thurday's close. While I expect the stock to once again linger around its $20 IPO price for a while, in short order, I also expect the all-time lows of $15 to get tested and eventually broken.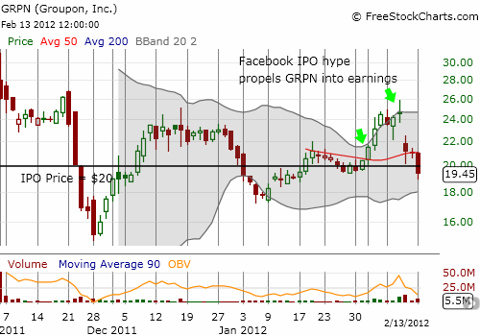 GRPN drops back below its IPO price and wipes out its gains from the hype over Facebook's IPO
Source: FreeStockCharts.com
Be careful out there!
Disclosure: I am short GRPN through puts.