The price differential between Nymex Crude and Brent Spot has widened once again. As of this morning (2/13/2012) the spread is about $19. Add another $1 to the spread for WTI at Cushing. Here's the most recent quotes:
| | | | | |
| --- | --- | --- | --- | --- |
| Nymex Crude Future | 99.55 | 0.88 | 0.89% | 06:38 |
| Dated Brent Spot | 118.23 | 0.76 | 0.65% | 06:49 |
| WTI Cushing Spot | 98.67 | -1.17 | -1.17% | 02/10 |
The spread is due to a variety of reasons including the glut at Cushing, the geopolitical risk premium tacked onto Brent (Iran, Iraq, Libya, etc. etc.) as well as the fundamental shift in U.S. oil production due to increased shale oil production coming out of the Bakken and Eagle Ford plays.
But here is a key point: Bakken oil has been trading at a huge discount even to WTI - most recently trading around $71/barrel! Here is a very helpful Bloomberg website for tracking Bakken oil priced for delivery at the Clearbrook, MN terminal.
Looking at the price chart, it's clear that Bakken crude, as traded at Clearbrook, MN, has dropped from near $100 at the beginning of the year to the low $70's. This is mainly due to the following factors:
1) the large growth in Bakken production in recent years to over 500,000 bpd and still growing rapidly
2) the lack of pipeline capacity and infrastructure to transport Bakken crude out of the region
3) the glut of oil at Cushing
So the price differential between Bakken and WTI is basically the additional costs to transport Bakken crude via train, barge, truck, or carrier pigeon to the refiners.
Now this is a great problem for a country to have because it is solvable and reduces our foreign oil import bill. It's also a great benefit to companies like Conoco Philips (NYSE:COP) and Marathon Petroleum (NYSE:MPC) - both of which have large Midwestern refining capacity that can take advantage of the low cost Bakken oil yet sell their gasoline based off more expensive WTI crude. Note in the quarter just reported, COP's downstream operations (soon to be spun off) outperformed its peers. I expect COP's downstream operations to continue outperforming into the future as its refining assets are well positioned geographically to take advantage of increasing Bakken oil production.
However, the reversal of fortune I mentioned in this article's title has to do with the reversal of the Seaway pipeline enabling it to send crude from Cushing, Okla. to the Gulf coast at Freeport, Texas (crude used to flow in the opposite direction). The Seaway pipeline, which COP recently sold to Enbridge (NYSE:ENB), can carry up to 400,000 barrels of oil a day. This will greatly alleviate the glut at Cushing and make way for more Bakken crude to enter the system at higher prices. Last I heard, Seaway work is progressing nicely and the flow south should begin mid 2012. In this press release Enbridge says "the line could operate in reversed service with an initial capacity of 150,000 barrels per day by second quarter 2012." Also, currently additional pipeline capacity is being added in the Bakken region.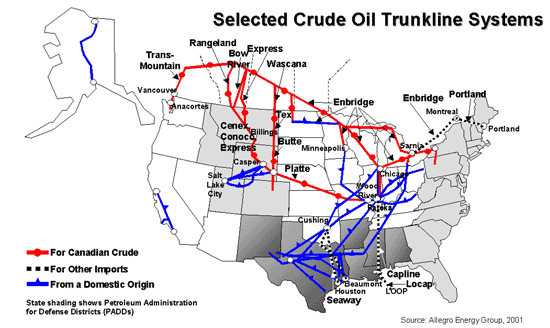 Those companies that will benefit most, of course, are the large producers in the Bakken who will pretty much overnight begin to receive much better pricing for their product. Companies like Continental Resources (NYSE:CLR), Whiting Petroleum (NYSE:WLL), and StatOil (NYSE:STO) (via its "takeover of the year" acquisition of BEXP) are likely to see significant revaluations, increased earnings, and higher stock prices. Smaller companies such as GeoResources (NASDAQ:GEOI) could see even larger gains as the value of its acreage jumps.
I continue to believe WLL would be great fit for Chevron (NYSE:CVX) or Occidental Petroleum (NYSE:OXY). Likewise, GeoResources would be a nice nugget for a number of medium sized companies looking to grow assets in the Bakken and Eagle Ford. We cannot forget that Exxon Mobil (NYSE:XOM) owns 400,000 acres in the Bakken and who knows, perhaps one day they will get a clue, stop drilling for dry natural gas in the lower-48 and move some of those rigs up to the Bakken. Perhaps the pipeline reversal will convince the company it can realize good prices for its Bakken crude.
Another company benefiting from the "reversal of fortune" will be Canadian oil-sands producer Suncor (NYSE:SU). Alleviation of the glut in Cushing will not only help Bakken oil move through the pipeline system, but more efficient movement of Bakken crude means more efficient movement farther up the pipeline tributaries - all the way to the "headwaters" in Canada.
My advice is this: if you believe in the scenario outlined above, the time to invest is prior to Enbridge flipping the reversal switch. I expect all the stocks mentioned in this article to start moving steadily higher on expectations of oil shipments to Freeport beginning in Q2. A key indicator to watch is the price of Bakken crude trading at Clearbrook, Minn.