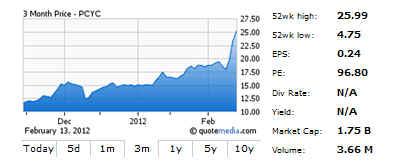 Pharmacyclics, Inc. (NASDAQ:PCYC) broke a new 52 week high of $24.45 per share on Monday on extremely high volume. The $1.75 billion market cap company's stock is up 71% YTD, beating the NASDAQ sector (NASDAQ:IBB) average growth of 16.6% in 2012. A majority of analysts list it as a strong buy or buy, with more upgrades likely on deck. Up over 400% in one year, this pharmaceutical stock with no debt seems like a dream come true in its sector. While it currently is a dream, it is one that will require a little waiting to fully come true.
Seeking a pharmaceutical company with a strong pipeline and solid financial backing is searching for the Holy Grail. Without strong sales yet pouring from marketed drugs, one might question PCYC's value. Whereas sector peer Regeneron (NASDAQ:REGN) has seen rapid growth on better than expected sales of its drug Eylea, Pharmacyclics' rise has largely been attributed to its fiscal stability and targeted potential in its pipeline and partnerships. The recent dip in promising but not quite yet producing Halozyme (NASDAQ:HALO) based on news of its raising cash attests to this sector volatility. Pharmacyclics' pipeline boasts 11 drugs in clinical trials, 4 in phase I and 7 in phase II. Lacking any phase III clinical trials does mean an investor has to have a bit of patience and faith in the company.
The recent market and its analysts seem to believe in Pharmacyclics' ability to follow through as much as Johnson and Johnson (NYSE:JNJ), whose Jaansen Pharmaceutical branch brokered a partnership with the company in late 2011 offering $150 million in upfront payment and $825 million in potential milestones for collaboration on its PCI-32765 oncological drug for which Pharmacyclics owns a patent. The partnership hopes to develop and commercialize the drug for global release in which PCYC and Jaansen will split profits equally.
The drug, a novel hematological malignancies treatment in phase II of clinical trials, is clearly the focus of the hope for the future for the company. In a perfect world, Pharmarcyclics would have a bit more strength in its pipeline and IP, but in the pharmaceutical sector beggars can't be choosers and financial stability is harder to come by than the science.
When a stock has this type of meteoric rise, it is only prudent to consider if it has reached its ceiling. The February 9th release of its Q2 financials has no doubt been a motivator in volume increase for the stock. PCYC booked a $58.6 million dollar net gain in 2011 with $56.3 million coming in the most recent quarter. With continued potential coming in 2012, investors could see a bonus as the pipeline matures and milestones are hit on PCI-32765 development.
Currently, Pharmacyclics has more in its partnerships than it does in its pipeline or product line, but the partnership aspect appears solid. The ceiling is likely not yet in sight for this stock, but investors wise to the sector's volatility should keep a keen eye out for any dips to take a position.
Disclosure: I have no positions in any stocks mentioned, and no plans to initiate any positions within the next 72 hours.