"Don't compete. Create. Find out what everyone else is doing and then don't do it." Joel Weldon (Motivational Speaker)
Many know that there is one buy-signal that is highly reliable and has a fairly good track record. It isn't rocket science either. It involves buying a stock shortly after that company's executives have done so.
There's only one thing better, and that is to serendipitously buy a stock before company insiders decide to do some more buying themselves. That happens in company cultures where in the recent past, when a stock gets oversold and undervalued, the officers or directors of a company scoop up a significant amount of shares. They do this partly because they are obligated by law to report it. When they report it the news and financial editors are notified and the story is promulgated.
Often time this leads to savvy investors following their lead and buying the stock in large volumes which often leads to the stock moving nicely higher. It doesn't always work out that way.
Take Chesapeake Energy (NYSE:CHK), which ironically on the very morning I'm wrote this article announced plans to raise up to $12 billion in 2012. This lifted shares of the company on Monday,Feb.13th by over 2% as the energy sector got an added boost from a Goldman Sachs upgrade of some key oil-service stocks.
Chesapeake's CEO Aubrey McClendon owns 3,248,140 shares, which means as of Monday's price he owns almost $73,538,000 worth of CHK stock. Yet, CHK has been stuck in a range between its 52-week low of $20.41 and its recent 2012 high of $23.49. CHK directors Donald Nickles and Richard Davidson each acquired 1,775 shares on Jan.31, 2012, and Chief Operating Officer Steven Dixon still owns 980,388 shares after selling 10,425 on January 4, 2012.
But with Chesapeake's stock price stuck in a narrow trading range, we may want to "beat the insiders" with an energy company you that appears to have more momentum.
A reasonable example of that is Magnum Hunter Resources (MHR). Chairman and CEO Gary Evans started this company in 1985 and he's accumulated 5,238,426 shares of MHR. Chief Financial Officer Ronald Ormand owns 2,210,100 shares.
In an interview Monday on Mad Money, Mr. Evans said that he designed this energy company "...to be taken-out [taken over] at some time in the future". That alone may be the reason he and the other officers and directors of the company may do more buying in the near future.
Magnum Hunter Resources owns 25,000 net acres in the Eagle Ford Shale. Mr. Evans said that these acres are surrounded by EOG Resources (NYSE:EOG), which of course fuels speculation that EOG is a likely acquirer. MHR has production that is 51% oil and 49% natural gas, but according to their website they intend on expanding their oil production. The website and Mr. Evan's speeches are a great read.
With the share price of MHR having reached so far in such a short period of time (see 6-month chart) I'd wait until it corrected at least $1 from its present price of $6.40 before becoming a buyer.
Another company with insider buying is Sturm, Ruger & Company, Inc. (NYSE:RGR), which was up over 5% Monday. Their CEO Michael Fifer owns almost 154,000 shares and that makes RGR a company where more insider accumulation appears likely. Another officer, Steven Maynard directly and indirectly owns over 94,000 shares. He increased his share holding by 22,741 on Feb.2,2012.
RGR engages in the design, manufacture, sale, and export of firearms in the United States. The company offers single-shot, autoloading, bolt-action, and sporting rifles; over and under shotguns; rim fire autoloading and center fire autoloading pistols; and single-action and double-action revolvers under the Ruger brand name. It also manufactures and sells accessories and replacement parts for its firearms.
The London Company of Virginia,a 406-year old "English joint stock company" owns an astounding 8.4% (1.6 million) of the outstanding shares of RGR. Who knows, perhaps their buying and selling is watched and duplicated by insiders at RGR. All we know for sure is the stock has moved dramatically higher and may still have a ways to go, in spite of the fact that it's near its 52-week high of $44.37.
Apparently not one single analyst follows this small-cap company which currently has almost a $840 million market cap. RGC and Smith& Wesson Holding (NASDAQ:SWHC) have been super hot since President Obama came into office. RGR alone is up over 400% since Obama's administration began. It's done much better than the price of gold.
That's partly because gun owners and advocates seem to believe that the Obama administration is likely to crack down on gun ownership. One rumor purports that the federal government may start requiring serial numbers on every round of ammunition. Another rumor has it that the feds will make it harder to buy certain handguns or limit the amount that can be sold. That may be one of the reasons that 2011 was a record year for gun sales, which surpassed 15 million for the first time ever.
With the anticipation that the President will be re-elected, gun sales may be even hotter in 2012. The prevailing logic is that assuming he is re-elected (and not concerned about re-election issues) he may be more willing to follow through on his own agenda regarding gun control.
RGR would be best purchased on a pull-back, and one is inevitable. Take a look at the 1-year chart and you can see the direction has been mainly higher, but that corrections have occurred. The only way it may go much higher (it's selling at over 20 times forward earnings) is that it could be a take-over candidate or the major shareholders may be planning to take it private. RGR should be on the watch-list of anyone who wants to "beat the insiders" at their own game.
"It is easy to be brave from a safe distance", said Aesop, the famous fable-teller of the 6th century B.C. That's why, as Jim Cramer likes to say, "you have to be in the game" in order to have the possibility of making profits.
That leads to the third company that may give us that opportunity. VistaPrint (VPRT) operates as an online provider of marketing products and services to micro businesses worldwide.
This clever company offers various paper based products to the business and consumer markets, including brochures, business cards, data sheets, desk and wall calendars, envelopes, folded cards, flyers, holiday cards, invitations and announcements, letterhead, note cards and note pads, presentation folders, and return address labels, standard and oversized postcards, sticky notes, personalized notebooks, photo flip books, folded business cards, personalized stickers, and mailing labels.
The company has some competition as you'd anticipate. President and CEO Robert Keane, referring to their competition said, "We are way ahead of anyone else."
VistaPrint has more than 18 million customers in 120 countries. And plenty of growth lies ahead as the weak economy has millions of companies (especially tiny businesses) desperately searching to cut costs. Their revenues, net income, operating cash flow and free-cash-flow make for a pretty picture, compliments of the information available on VistaPrints website. Look at the graphics below which tell the story.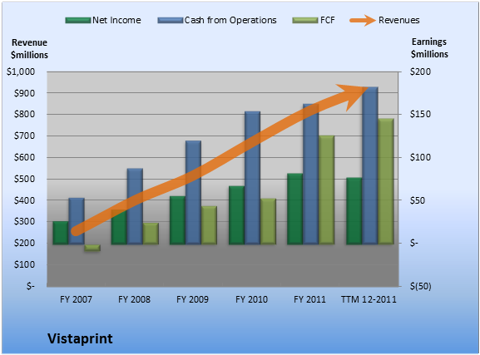 Click to enlarge
Source: S&P Capital IQ. Info-data is current as of the last fully reported fiscal quarter. Dollar values in millions. FCF = free cash flow. FY = fiscal year. TTM = trailing 12 months.
My friend Alexander Green, the Investment Director for The Oxford Club and Editor of The Insider Report wrote this Monday about VPRT. It's a good example of the quality of his work as well and I thank him for allowing me to share it here with you.
VistaPrint is picking up an average of more than 1.5 million new customers per quarter - and is receiving more than 50,000 orders a day.
Last quarter, however, the printer reported that earnings fell 6.8%. The stock is well off its 52-week high of $56.25. But there are good reasons to believe that the stock is about to bounce back. For starters, top-line growth is still good. Revenue jumped 28% last quarter. And I estimate VistaPrint may earn as much as $2 a share this year.
Alex confirmed that "... at least one insider seems to believe things are about to turn, too." Beneficial owner Thomas Smith has put his money where his heart is and purchased 250,000 shares in recent weeks, an investment of more than $8.6 million. That's the kind of confidence investors like to see that the stock is to some degree undervalued.
There are other companies we could discuss where officers of the company are just beginning to accumulate and amass shares of their company's stock.
InterDigital Inc. (NASDAQ:IDCC) comes to mind, as officers have started buying more shares as recently as January 30th of this year. They evidently realize that, as per the company's website, IDCC "creates fundamental wireless inventions that are at the core of mobile devices, networks and services worldwide." In the world of smartphones, networks and computer tablets, IDCC and their technologies have made a big presence for themselves in their nearly 40 years of being in business.
So these are just some of the examples of the kind of sleuthing we can all be doing to find companies whose insiders want to own more shares. If we get there ahead of their buying-frenzy, the rewards should be a whole lot sweeter.
Disclosure: I am long CHK.