With newly public companies, it is crucial to buy the stock at the right price. Few pundits would recommend buying an IPO, especially an internet/social media IPO on the day it went public. That is almost always a surefire way to lose money. But, if an investor can get access to a newly public company BELOW its IPO price, then that company, at the very least, warrants a second look.
Pandora Media (NYSE:P) is the world's largest internet and mobile radio service. Founded in 2000, the company went public on June 16, 2011 at a price of $16 per share. It is clear that demand for Pandora stock existed at $16. So, where is the stock trading 8 months after the IPO? Less than $14. Since its debut, Pandora stock has lost nearly a quarter of its value as investors fretted over the company's ability to generate profits and fend off the competition.

WeClick to enlarge think that at this moment, Pandora represents a great long-term investment in the growth of both social media and personalized music. Pandora's critics assume that the royalty payments that the company must pay for its music will destroy it. We, however, think differently.
Financials
Pandora, like many newly public technology companies, is not yet profitable, and for now, attracts investors with soaring revenue growth. As of the last quarter (Q3 2012), revenue grew 99% year-over-year, and the company posted revenue growth of over 114% for the first nine months of 2011. Below we provide an overview of Pandora's most recently available financial data. The next quarterly earnings release should occur some time in March. As a reminder, Pandora's fiscal year does not align with the calendar.
Pandora Financials
| | | | | |
| --- | --- | --- | --- | --- |
| | Q3 2012 | Q2 2012 | Q3 2011 | Q2 2011 |
| Subscription Revenue | $9.023 Million | $8.708 Million | $5.006 Million | $4.112 Million |
| Advertising Revenue | $65.985 Million | $58.258 Million | $32.683 Million | $26.723 Million |
| Total Revenue | $75.008 Million | $66.966 Million | $37.869 Million | $30.835 Million |
| EPS | $0.00 | -$0.04 | -$0.15 | -$0.04 |
| Cash & Cash Equivalents | $90.799 Million | $95.307 Million | N/A | N/A |
| Total Assets | $169.914 Million | $165.249 Million | N/A | N/A |
| Total Liabilities | $62.285 Million | $60.823 Million | N/A | N/A |
Pandora is not only steadily increasing revenue, it is also signing up more and more paying subscribers, with subscription revenues soaring by more than 80% in the last quarter. Pandora is making itself a service that is both engaging and useful to its customers.
Pandora broke even in its last quarter, a testament to the ability of the company to stem its losses. To be fair, Pandora guided for a fourth quarter loss of between 4 and 2 cents per share, most likely due to continued investments in its infrastructure and platform. Yet, analysts are far more bullish about 2012 and beyond. Merrill Lynch sees a profit of 1 cent per share in calendar 2012, 8 cents in calendar 2013, and 27 cents in calendar 2014. The firm has a price target of $19 for Pandora, representing upside of over 42% from present levels. Such growth (of 700% in 2013, and 237.5% in 2014) is difficult to find. Pandora is also slowly but surely strengthening the balance sheet as well.
The Business Model
The central thesis Pandora bears have is that the company cannot become sustainably profitable due to the fact that the more music its users listen to, the more it must pay out in royalties. In essence, the two metrics rise in lockstep.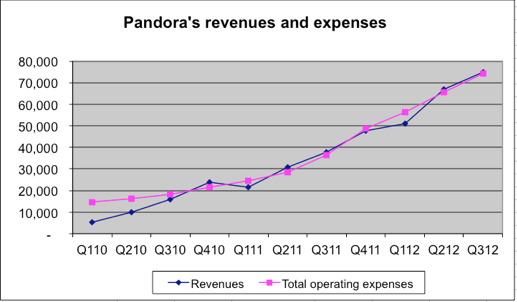 Click to enlarge
PandoraClick to enlarge broke even on a per share basis in the last quarter, but had net income of $638,000. Pandora actually posted a profit of $1.044 million in the year-ago period (on a GAAP basis, however, the company lost money due to the conversion of preferred stock). If it is true that Pandora's revenues and expenses (driven mostly by royalty payments), rise and fall almost in lockstep, then how can Pandora ever generate net income? So long as Pandora can increase revenue per user, net income can rise.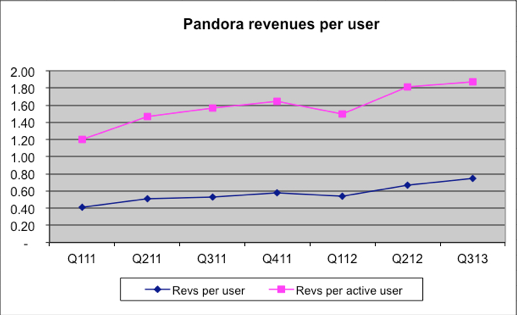 Click to enlarge
Therein lies the key to Pandora's future success. Pandora's ad based business model has both more risks and more opportunities than traditional radio advertising. Traditional, terrestrial radio stations buy advertising and then play that advertising to all their customers simultaneously, hoping that the station's ad buys were a wise investment. Pandora, on the other hand, buys its ads in a far more targeted manner than traditional radio, due to the treasure trove of data it has regarding its customers' listening habits. A person's musical tastes can speak volumes about their consumer tastes. As such, Pandora can target its ads in a much more precise manner, and charge higher prices as a result?
With that, one would assume that Pandora must simply wait for ad rates to increase, and when that occurs, the profits will come flowing in the door. Alas, it is not that simple. Pandora's future is predicated on mobile usage, not desktop. And as such, its future income will be determined by how much it can extract for mobile advertising. And that is going to be the main challenge for Pandora going forward. Currently, Morgan Stanley estimates that Pandora brings in about $20 of mobile revenue for each hour of listening. That same report estimates that Pandora will not be able to offset its royalty payments with mobile ad sales by 2016.
We think that Pandora will be able to successfully navigate the transition to a mobile world. Already, 70% of Pandora's usage comes from mobile, and the company has inked several partnerships to expand its reach, including deals with Kia, Acura, and Audiovox. The company had 2.1 billion listener hours in the third quarter of 2012, and that number is continuing to soar.
Competition
Pandora faces competition from both traditional radio and other online services, such as Spotify, MOG, and Rhapsody. Many bears argue that it is this competitive positioning that will ultimately sink Pandora, for music is music, and as such, Pandora has little to no product differentiation. However, that is not the right prism to analyze this company, or this industry through. Arguing that competition makes for an unsuitable investment means that the entire retail business cannot be invested in. In an industry that sells the same product (food, music, clothes, etc...), service and the way the product is offered become ever more crucial. Pandora founder Tim Westergren recently stated that he does not see iTunes (NASDAQ:AAPL) or Spotify as competitors to Pandora, for they are both subscription services (for the record, iTunes is not a subscription service, but that is how Westergren worded it). In fact, many Pandora users hear a song on the service and go to iTunes to buy it. There is no reason that Pandora and these other services cannot live side by side. Neither Pandora nor any other music service will ever have 100% listening market share. The thing to remember is that it does not need to. For Pandora to post sustainable profits, it does not need to control the entire market. As of the last quarter, Pandora controlled 66% of the internet radio market, and 4.3% of all radio listening. Pandora has a loyal and growing user base, and we see no sign of Pandora's competitive position eroding due to its music streaming peers. And as for Sirius XM (NASDAQ:SIRI), we think comparing the two companies is not a proper way to go about analyzing Pandora's competitive position. Pandora operates a "freemium" model, whereas Sirius XM pays automakers to install its radios in cars and then signs up users for its premium services. The two companies are targeting different segments of the market, and there is no reason that they cannot coexist.
The Future
Pandora is poised for great things, and a great interview with CFO Steve Cakebread, done by Rocco Pendola, did much to allay fears about the company. Cakebread pointed out that profitability in early stage companies is not very relevant; plenty of companies that were profitable from the beginning no longer exist. CFO Cakebread is confident that Pandora can ultimately have margins of around 20%. Furthermore, Pandora's cash flow from operations is positive. The company had cash flows from operations of $2.222 million. With 125 million users, Pandora will sign millions more users in the years ahead. The road to profitability is clear, and so long as Pandora can execute the transition to a world where music listening is done via mobile devices, we think the company will be able to generate consistent profits. Analysts agree with us, and the current Reuters average price target for Pandora is $15.05, representing upside of over 12%. We think that as Pandora proves itself to Wall Street and begins posting consistent profits, analyst estimates and price targets will rise. Pandora has delighted millions of users with its music service. And we think that in the long run, investors who add to or initiate positions in Pandora at these levels will be equally as delighted.