Interesting to watch the media scramble to come up with reasons the markets do what they do - ebb and flow. Gold and silver prices declined for the week and here comes chicken little again "the sky is falling, the bubble has burst, blah, blah, blah". The flavor of the day pinned lower metals prices on the ongoing Greek debt deal.
There was an "eye catcher" though on Kitco.com. Allen Sykora said:
Precious metals, along with most other markets, were caught in a "Greece fire" on Friday as a deal struck to get the country its second bailout appears to have been scuttled by last minute demands from European leaders.
The wisdom of the street dictates that any sovereign debt default within the eurozone will weaken the euro, strengthen the U.S. dollar and in turn weaken equities, Treasuries, and precious metals. Gotta be that way folks - no ifs, and, or buts. It is no surprise then that when the rumor or the appearance of yet another wrench being thrown into the solution process by either Greece, the EU or IMF that the bears take it as their signal to come out of hibernation and start eating "buyers" for breakfast.
The ongoing global debt problems can be compared to a wildfire. Reports declare the fire 85% contained just before the wind changes as red hot embers are whisked across fire break lines to ignite another area.
Rational thought dictates to proceed with caution. However, the bull market in gold and silver is far from over. A primary contributing factor (the growing global economic debt problems) support it continuing. The inflation/deflation cycle has yet to turn in favor of inflation, suggesting its continuance and giving support to precious metals bulls.
Research and Outlook
Prices have kick-started 2012 with a solid advance off of the December 2011 lows, which marked the completion of a larger correction. That correction produced a strong, "slap down"- type price decline, washing out many if not most of the weak hands in the process. This is something that precious metals traders have somehow mastered over the decades.
There are many contributing factors to both the bull and bear camp to serve as testimony that any one factor alone should not cause a trend reversal. The longer term advance in gold should not be hampered by the near term correction that began last week.
Near term support zones:
Gold (basis Spot Price) - 1673.50, 1645, and then 1616
(Click charts below to enlarge)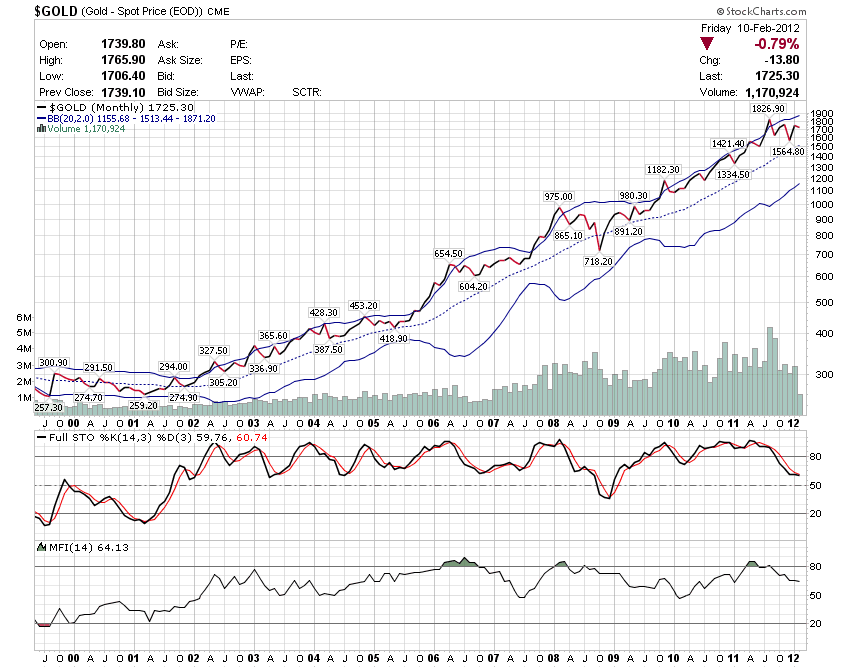 Gold ETF (NYSEARCA:GLD) - 162.50, 159.75, and then 157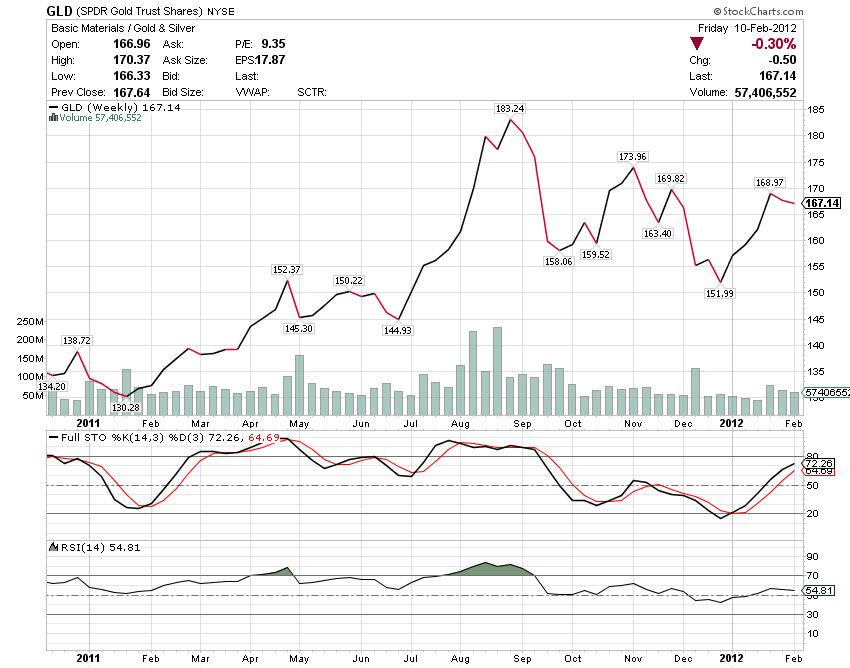 For traders looking for exposure to the mining shares sector you might want to consider Direxion 3x Bull and 3x Bear Gold Mining ETFs appropriately named Nugget (NYSEARCA:NUGT) and Dust (NYSEARCA:DUST).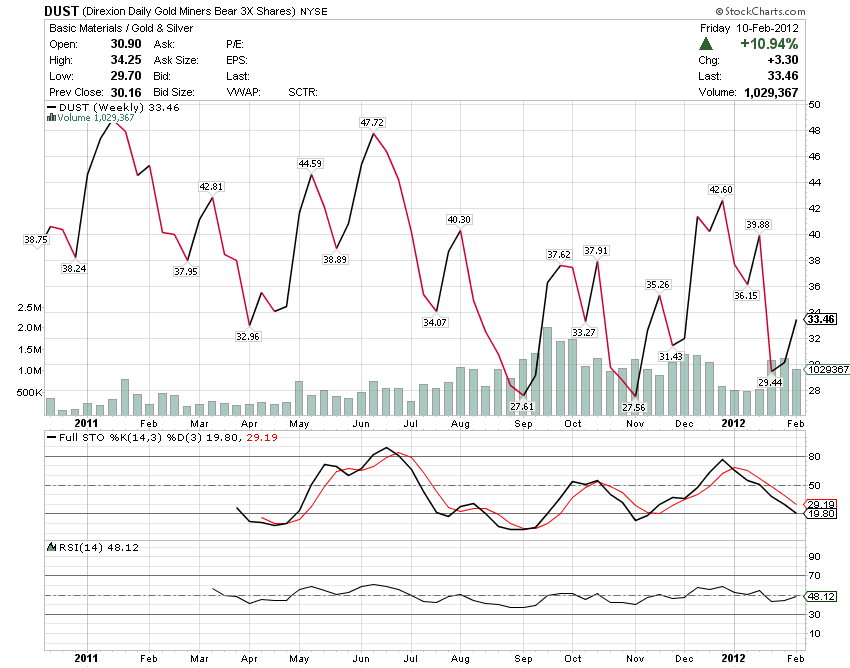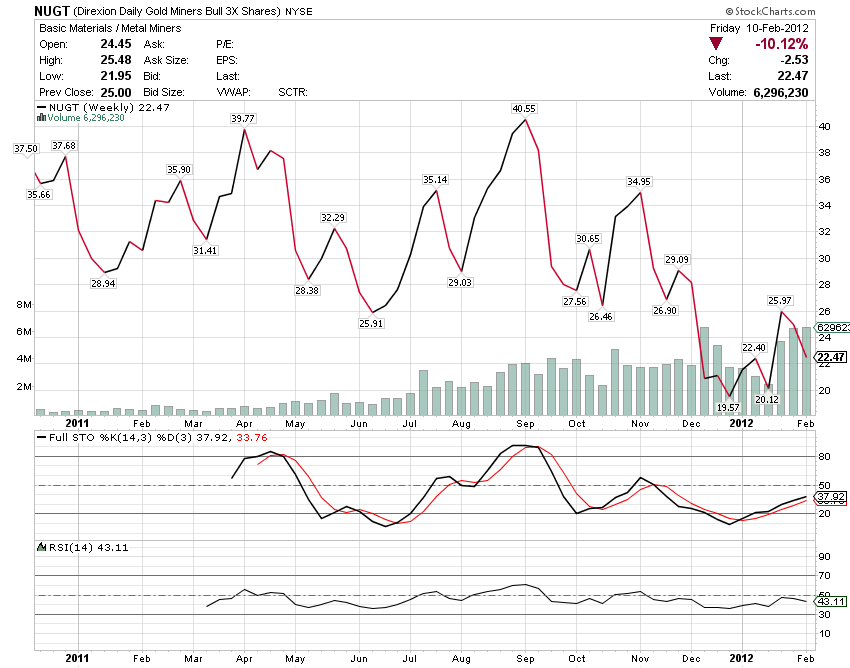 The charts above suggest that there may be a problem ahead with either the gold mining sector or a component company within the ETFs. Either way, it appears that NUGT may not participate as directly in the continuing advance in gold and silver.
Silver support zone:
Silver ETF (NYSEARCA:SLV) 30.50, 29.50, and then 28.60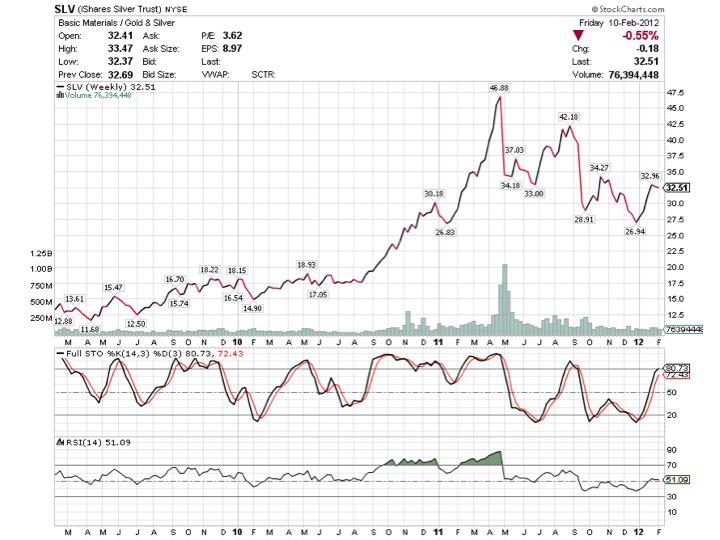 Conclusion
Off of the December 2011 lows, gold and silver have resumed their respective advances within the context of an ongoing bull market. Gold (spot) prices tacked on $242 or approximately 16%, while silver prices rose $7.80 or approximately 31% in 5 weeks. Technically, GLD and SLV had both reached overbought readings. A period of correction would not be unusual or out of the realm of possibility.
Expectations remain as previously stated in our Seeking Alpha articles 'Silver Set To Reach New Highs' and 'Purchasing Power of Gold During Cycles Of Inflation And Deflation'.